Oh, the joy the season brings! You have put the Christmas tree up, but you see your dog getting very much interested in what this new thing is. Probably plotting as to how to get its paws on the shiny new balls hanging there. So, how do you keep your dog away from the Christmas tree?
There isn't really a right or universal way to keep your dog away from the Christmas tree. However, there are some things you can do that might help. These include but aren't limited to training your dog to keep away from the tree, using a fence or barrier to keep them away, securing the Christmas tree in some way, or spraying it with a smell your dog doesn't like.
Dogs And Christmas Trees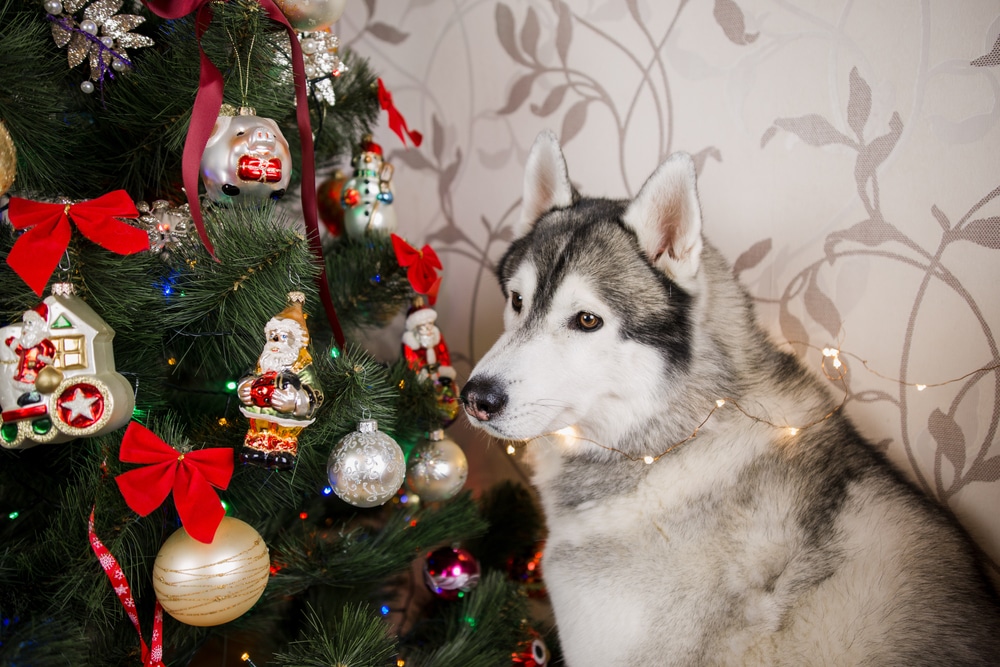 Every family wants to enjoy and share Christmas joy with their dogs. However, many times owners find themselves in a situation where the new Christmas tree either ends up on the floor, chewed up, or peed on. I have personally witnessed a lady that had to pup-proof her Christmas tree by hanging it upside down on the ceiling in order to protect it from her labradors. It's funny how dogs can bring out creativity in people, right?
What Makes The Christmas Tree Dangerous To Dogs?
There are several reasons you should keep your dog away from the tree. For starters, pine needles can be toxic to dogs and they could harm their digestive systems. The oil from the tree could irritate your dog's stomach and make them vomit. Also, the needles themselves could make a hole in it. Basically, almost all parts of the tree are toxic to dogs (apparently Sycamore trees aren't toxic to dogs at all though, but another festive decoration, cinnamon brooms, are). Plus, dogs' stomachs can't dissolve wood.
Some of the decorations can be dangerous too. They can be made of glass, for example, which if your dog breaks it, it could potentially hurt itself either by eating it or stepping on it. Other Christmas ornaments may be made from cloth, which could potentially cause a blockage in the digestive system.
Also, we all like a lit-up Christmas tree. Well, so does your dog. The flickering light may be tempting for your K-9 to pull on the lights and damage the cord, which could potentially electrocute it if the light is turned on. If not, they could pull down the tree, and it could trap them underneath.
Basically, there are lots of reasons to keep a dog away from the Christmas tree.
How To Keep Your Dog Away From The Christmas Tree
Here are some ideas to keep your dog away from the Christmas tree.
Train Your Dog To Stay Away
We know that dogs are curious by nature. We also think it's okay for them to give the tree a sniff or two. One of the tips we can share with you is training your pooch to not be interested in the Christmas tree.
To be clear, this will take time, but we recommend using positive reinforcement. This is when you reward your dog with praise and a treat when they successfully move away from the Christmas tree.
Consider Using A Fence Or Other Barrier
Probably having the tree in another room the dog can't get to is ideal, but it's not always possible. You should consider keeping your four-legged friend in its crate anytime you are not in the house. Another way to keep it safe is by using a fence or other barrier around the tree that your dog can't go through. You could also put the tree in a room and then put a dog gate in the doorway.
Consider Securing The Christmas Tree Down
Remember about my friend I told you about? Well, that is actually not a bad idea. You could try and bolt the Christmas tree down to the ground or try to secure it close to the wall. That way, at least if your dog does try to pull the tree down, it won't be able to. At the end of the day, if you are really, really desperate, just try to hang it upside down on the ceiling. It works if you do it right!
Spray The Christmas Tree Down With A Smell Your Dog Does Not Like
I know it may sound crazy, but desperate times call for desperate measures, right? Think about a smell your dog does not like and spray your Christmas tree with it. Just make sure the smell stays long enough to do its job.
Conclusion: How To Keep The Dog Away From The Christmas Tree
There is no reason you should not have a Merry Christmas together with your furry friend. Just make sure to take preventive measures so they and the tree stay safe and sound.
So, have you had an experience like this before? If you have, please share it with us in the comments below, as we could all learn something new while enjoying the season!