The festive season is here again! How exciting it is to enjoy all the food, festivities, and decorations that come with it. But how do we make sure our furry friends, as important family members, stay safe when it comes to the decorations (Christmas trees) in our houses? In other words, is it possible to decorate a dog-friendly Christmas tree?
Keeping your Christmas tree "dog-friendly" means being aware of the risks of the most common trees (fir, pine, and spruce) and decorating them with your furry friend in mind. This means keeping food decorations off the tree or higher up, as well as candles and fragile decorations. It also means making sure your Christmas tree has a strong base.
What Are The Risks Of Real Vs Artificial Trees?
In this section, we'll explain the risks associated with artificial and live Christmas trees.
Damage To The Gastrointestinal System
Although they look and smell great, the dropped needles from live Christmas trees can tear or block a dog's digestive system if swallowed or chewed off. Similarly, artificial Christmas trees can also cause damage or blockages if they're chewed.
Toxic Chemicals
Real trees sometimes have a chemical coating such as pesticides to protect them from insects during the production process. However, even artificial trees are a risk in this way, as often they contain chemicals to help make them resistant to fire.
Dog-Friendly Decorating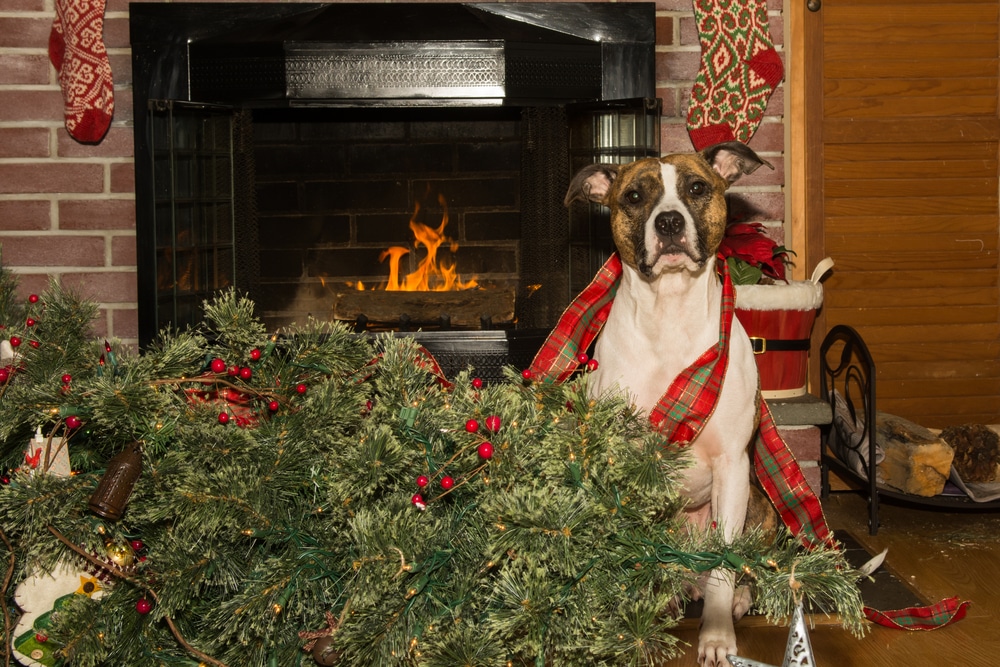 Now that we've discussed the most common risks to dogs concerning Christmas trees, we'll give some tips about how to keep your Christmas tree dog-friendly!
Lighting
Try to keep lights high enough so that your dog is unable to reach them, whether that's to chew them or get tangled up in them. If it's impossible to keep your dog away from lights, consider restricting their access by using a gate or other barrier.
Candles
Keep candles away from areas your dog can reach or knock over. It's also a good idea to test your smoke alarm regularly, just in case.
Food On The Tree
Although candy canes look pretty on the tree, it's less risky for your four-legged friend if you find somewhere else to put them. It can be tempting for dogs to jump and chew if they smell potential food items on the tree.
The Christmas Tree Base
To decrease the risk of your tree falling over, make sure it has the support of a strong base. This way, if your dog does get too close, it's more resistant. Alternatively, you can put the tree in the corner of a room or against a wall.
Decorations
Hang delicate and expensive decorations on the higher parts of the tree so your dog can't reach them. Make sure decorations on the reachable parts of the tree are shatterproof and tightly attached.
Risks To Dogs During Christmas Time
It's good to be aware of risks to dogs during Christmas, especially when it comes to the yummy food we enjoy!
The most common problems pet parents encounter during Christmas time involve gastrointestinal system problems and ingestion of food or foreign objects.
So, to make life a little easier, we've listed the most common Christmas-related substances that are toxic to dogs:
If by accident your dog does eat some of the above, don't panic! Keep a close eye on them for signs of a problem (we'll explain this in the next section) and make sure they can't eat anymore.
When To Call The Vet
A dog's reaction to a potentially toxic substance depends on a few factors such as its age, breed, and size.
A dog who has eaten something problematic may display the following symptoms:
Vomiting
Diarrhea
Lethargy (increased tiredness)
Increased drooling
Neurological signs such as tremors and seizures
If you think your dog may be unwell, contact your veterinarian as soon as possible. You can also contact an emergency vet or animal poison control, although we recommend contacting your primary vet first.
Conclusion: How To Decorate A Dog-Friendly Christmas Tree
So, now you know how to help your furry friend enjoy Christmas just as much as you! The main thing to remember during the Christmas period is to not let your dog enjoy festive treats however much they want to.
So, have you had an interesting experience with your furry friend over Christmas? Tell us about it in the comments below!