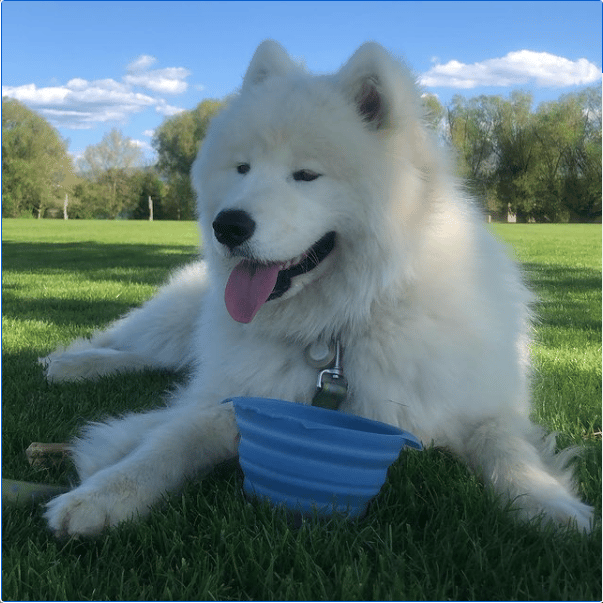 Grant Findlay-Shirras and Amanda Newman picked up Brody in February of 2019, when he was 7 weeks old. He is our fearless leader here at Happy Samoyed. Brody, aka Broadus, comes from a line of world champion Samoyeds. Grant and Amanda call him Broadus when he's being an exceptionally good boy. His relatives excelled in sled-pulling and finishing first in dog shows. Brody is the ideal happy Samoyed.
He's naturally well proportioned and his coat is the perfect shade of white. While other Samoyeds come in off-white, biscuit, and white biscuit, Bordy shines in his pure white coat. His stunning good looks and "polar bear-esque" face inspired Grant and Amanda to start an Instagram account. They posted pictures showing off Brody in all his glory. Brody quickly earned a large following and it is easy to see why!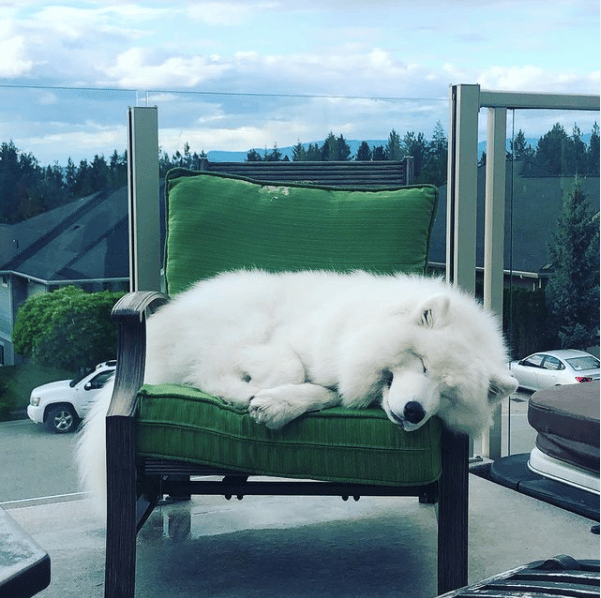 The Life Of A Happy Samoyed
Brody is now 2 years old and lives the life of a typical happy Samoyed. He adores exercise! He loves a good game of chase. And pretending to be a "mop," as Grant and Amanda drag him around the house. And of course, Brody's favorite activity is playing fetch with his blue and orange KONG - Classic Dog Toy, Durable Natural Rubber- Fun to Chew, Chase and Fetch - for Small Dogs. With all the exercise he gets up to, Brody always needs a good nap. So when he's not exercising, you can find him sleeping in his extra-large bed.
Through Brody's Instagram account, Grant and Amanda connected with hundreds of other happy Samoyed owners and lovers. They couldn't get enough of Brody. This got the couple thinking about a site dedicated to Samoyeds. The site would help build a community around the breed, and voila, happysamoyed.com was born!
Here at happysamoyed.com, we're delivering in-house content covering everything you'll need to know about Samoyeds; from growth charts, to exercise routines and grooming practices, we have you covered! Happysamoyed.com offers content for everyone. Whether you're a seasoned Samoyed owner, adopting your first Samoyed, can't get enough of the breed, or just an all-around dog lover! We hope you enjoy reading our articles and learning all about the happy Samoyed breed.
Get into contact with other Samoyed lovers and share your thoughts in the comment section of each article. Keep smiling!