Samoyed exercise needs are demanding. This bread is like the energizer bunny of dogs. They just keep going. So if you're considering getting a Samoyed of your own, you first want to make sure you can keep up with them.
Any Samoyed owner will tell you, these smiling white furballs have more energy than they know what to do with. Not only are Samoyeds playful and active dogs, but they're highly intelligent as well. This means, in addition to stimulating them physically, you need to stimulate them mentally too.
A bored Samoyed is a destructive Samoyed. So if you don't want your couch torn apart, then you need to make sure your Sammy is getting enough physical and mental exercise. From Samoyed exercise needs to different activities you can do with your dog, we'll cover it all in this article.
How much exercise does a Samoyed really need?
Adult Samoyeds will require a minimum of 1 hour of exercise per day. However, 2 hours per day would be ideal. These hours don't need to be consecutive. But, Samoyeds thrive on routine, so keeping your daily doggy exercise rituals consistent will do well for your furry friend.
If your Samoyed is still a puppy, they will require far less physical activity for the first 6 months of their life. During this time, the dog's bones are still developing and you don't want to over-exert them.
You may go on short walks, preferably in places where your Samoyed will have a chance to socialize with other dogs. But as a puppy, most of your dog's activity will likely come from playing with toys. A tug rope is a great toy to engage your pup in physical play.
Sale
legend sandy Puppy Chew Toys for Teething, 14 Pack Dog Chew Toys for Small Dog, Dog Toy for Boredom and Stimulating,Pet Toys for Small Breed with Dog Ball,Tug of War Rope Toys Squeaky Plush Toy
GREAT VALUE 14 PACK DOG TOYS ALL STAR: Various kinds of popular puppy toys, including rubber dog-ring toy, 4 shaped rubber toys, 5 rope dog toys, spiky ball and 2 plush toys, attractive in price and quality, breaks up the monotony of destruction. JUST BUY ONE, get the perfect combination. By encouraging positive games, this dog toy set helps to develop a healthy chewing habit and solve problems such as chewing, teeth cleaning, anxiety, boredom, training, and barking.
VARIETY CHEW TOYS FOR PUPPIES TEETHING: Natural rubber toys, specially designed for teething puppies and small dogs, meet all requirements. Thick ring dog toy was born to chew, available for long-lasting engagement, vent energy out and ease stress. 4 different shape rubber toys with hand-knotted rope are soft enough and bouncy, chewing to relieve sore & itchy teething issues. Bumps and grooves on them help to gum massage, fresh breath, scrape from the plaque, tartar to hidden germs.
SELF & INTERACTIVE PLAYING DOG TOYS FOR BOREDOM: Dogs will never stop getting fun from the squeaky toys. Frog and giraffe Plush dog toys are designed for self-playing. Inner squeaker makes a cute sound, attracts your pup, a great way to kill the boring time. Spiky ball for interactive games like chasing, fetching, etc. It helps to enhance the relationship between you and your furry friends. A perfect solution for fitness, exercise, and training.
DOG PULLING TOYS FOR INDOOR & OUTDOOR: Dog rope toys with plenty of uses, comes in 5 different varieties that offer to fetch and tug-of-war games, ideal gift for your pup. Whether at home or outdoors, rope toys with handles are perfect for dog to play with you or their friends. Using them as a puppy tooth floss cleaning toys, keep dental hygiene. All adopted natural cotton fibers, tightly hand-knotted, safe and washable.
SAFE & FUN FOR YOUR BEST FRIEND: Get 14 in one buy. A perfect combination of all kinds of dog toys, stimulate a dog's mental and physical, cooperate to keep your puppy grow up happy and healthy. 100% non-toxic, BPA free, chewing and playing without smell. Not for aggressive chewers. Welcome to contact us before or after your purchase with any questions. If you are unsatisfied, we guarantee a full refund or replacement for no reason.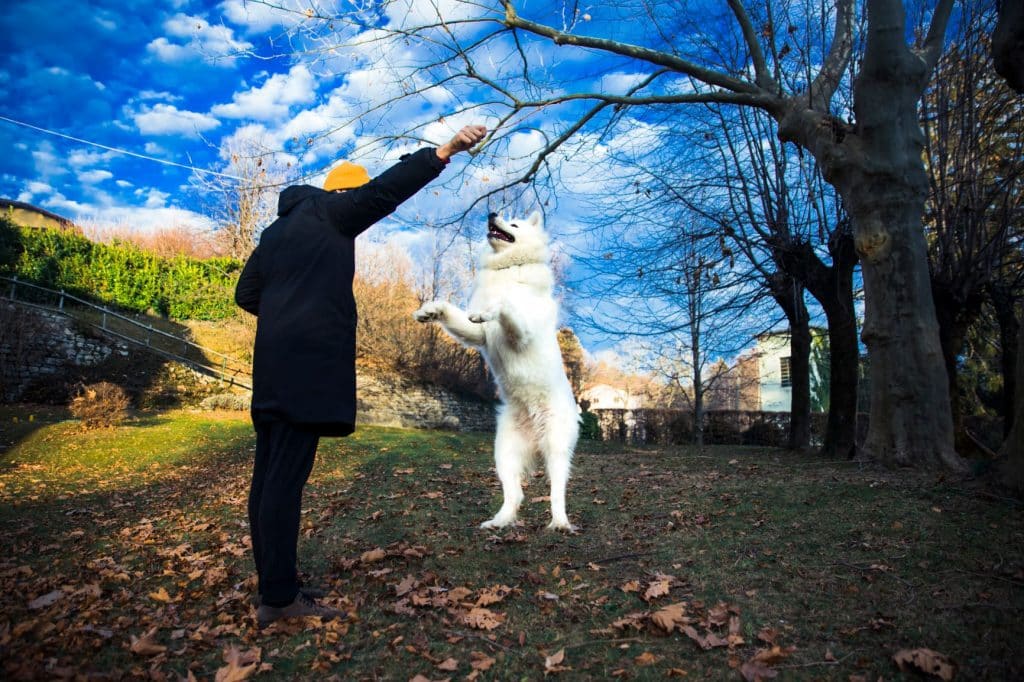 Ability vs need
Samoyeds need plenty of exercise. But, they aren't great at knowing their own limits. Like the energizer bunny, your Samoyed will just keep going and going when it comes to playtime. So it's up to you to recognize the signs of a tired Sammy.
Activities to try with your Samoyed
A daily walk with your Samoyed is a must. This gives your dog a chance to bond with you, socialize with others, and get some physical activity too.
It is possible for Samoyeds to go for off-leash walks. However, it's quite difficult to reach this point as Samoyeds have a strong tendency to run away. Try letting them off-leash in a controlled area, like your backyard first.
But a Samoyed's exercise needs require more than just walking to keep their minds and bodies occupied. So let's talk about some other activities to try with your Samoyed.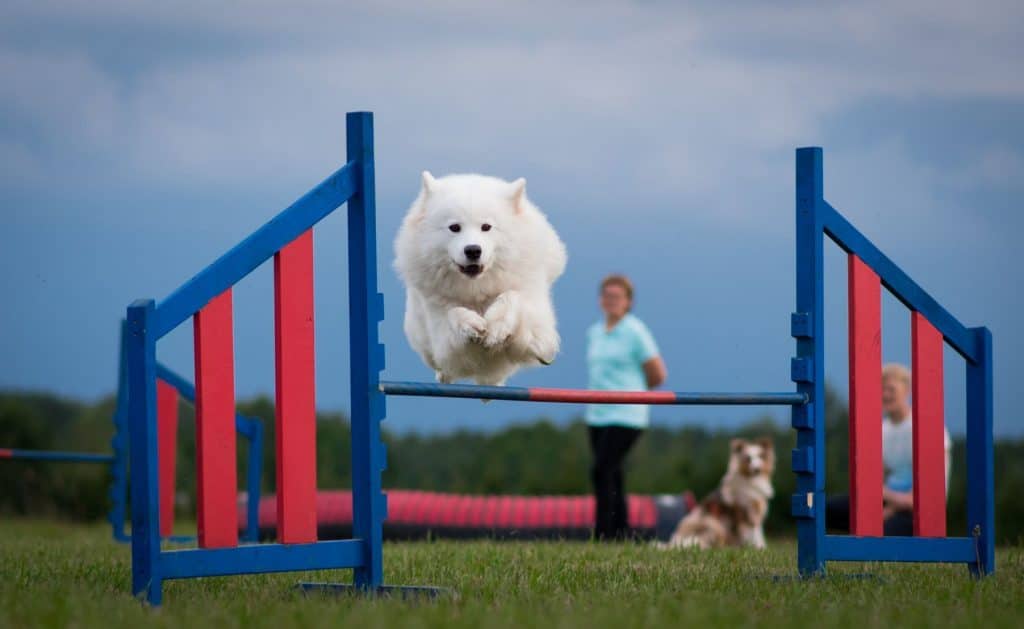 Agility training for Samoyeds
Setting up a backyard agility course will be a real treat for your canine companion. Agility courses require you to verbally guide your Samoyed through a series of obstacles. This type of Samoyed exercise works the body and the brain.
These obstacles might include jumping through tires, over bars, and running through a series of tunnels. The ultimate goal is to get through the course quickly and without error.
According to famous Dog Behavior Expert, Cesar Millan, agility training fulfills your dog's natural instincts. Millan also believes agility training is a great bonding opportunity for you and your dog.
And as a bonus, running the course will help you get in shape too. Setting up a backyard course is pretty simple. And you can find pre-built courses for good prices online.
MIDAS MARS Dog Agility Equipment – Obstacle Course for Dog Training – Includes Dog Tunnel, Weaving Poles, Stake, Hurdle – Agility Training Equipment for Dogs and Breeds
Ideal For Your Pet: Whether a professional dog trainer, dog show exhibitor or you simply want to challenge your best friend and naturally develop their instinct, the MIDAS MARS dog agility training equipment is an excellent choice for all sizes and breeds!
What's Included: This outdoor play equipment includes everything you need for a frustration-free, complete experience. You'll receive 8 x orange poles, 12 x blue poles, 1 x carrying bag, 9 x stakes, 10 x connectors, 2 x joints, 1 x tunnel bag, 1 x tunnel, 1 x square starting point, 1 x stake bag, 8 x metal stakes,1 x instructions for use.
Adjustable Height: Unlike similar products on the market, our agility hurdles feature a fully adjustable design according to your dog's size. The length of the horizontal pole is longer(44 inches), providing a safer experience for large dogs. Use half of the pole for smaller dogs and connect 2 poles for larger breeds!
Complete Training Experience: As a brand specializing in dog training, we are always up to date with latest techniques used for maximized performances. This dog obstacle course backyard is ideal for competition and show preparing, at the same time providing a healthy workout and energy consumption alternative, helping you bond with your best friend!
A Special Treat For Your Dog: Order the MIDAS MARS dog agility tunnel(23.5"(Dia.) x 59.7" (L)) with accessories as a thoughtful present for a dog owner, and you can be sure to win their appreciation! We'll also throw in an easy to hang around your neck whistle and a fun tug toy.
Backyard play for Samoyed exercise
Of course, you can't overlook the classics. Playing fetch in your backyard is still an excellent way for your Samoyed to get fit.
According to the People's Dispensary for Sick Animals, you'll want to ensure your backyard is secure before you head out for playtime. Samoyeds are expert escape artists. So, a loose fence post is basically an invitation to run off.
Hyper Pet K9 Kannon Dog Ball Thrower Launcher for Dogs (Small to Medium Breeds Up To 60 Pounds), Includes One Hyper Pet 2.5 Inch Tennis Ball
Catapult Fetch To A New Level: The Hyper Pet Ball Launcher is an interactive dog toy that launches tennis balls for dogs up to 75 feet (depending on surface). Load the tennis ball launcher, select launch distance, aim & fire for hours of fun
Easy To Operate With No Shoulder Strain: Unlike tennis ball throwers for dogs, place the nuzzle over the ball, firmly secure the ball into the nuzzle, and pull the seamless quick trigger to launch the dog balls to get your dog jumping and fetching
Multiple Launch Distances: Adjust the distance you launch dog tennis balls by pulling a lever. The further back you pull, the further the tennis ball blasts. More play means a healthier, happier dog. Playing strengthens the animal & owner bond
Clean, Hands-Free Pick Up: In addition to reduced shoulder strain, picking up the tennis ball using the nuzzle means no more picking up slobbery, dirty tennis balls. Includes built in storage for two addition 2.5 Inch diameter dog exercise balls
Dog Toys Included: Includes one K-9 Kannon Dog Toy (24" x 7.5" x 3") & one Hyper Pet 2.5" ball best suited for dogs up to 60 pounds. Dog balls should be small enough for your dog to carry, but large enough that the ball can't completely fit in their mouth
Can you dig it?
Samoyeds are natural diggers. So setting up a designated digging area in your yard will be an activity they will love you for. If you don't want to mess up the yard, try looking for a sandbox for your Samoyed instead.
CREATIVE CEDAR DESIGNS Octagon Wooden Sandbox
EASY TO ASSEMBLE SANDBOX KIT: The perfect DIY sandbox engineered with our "slot system" for quick and easy assembly. Only tool required is a standard Phillips screwdriver and anyone can do it. No need to be handy or good with tools! Kit includes all panels & hardware, eco-friendly ground liner, eco-friendly top cover, and instructions. Does not include sand.
REAL CEDAR SANDBOX IS NATURAL & BEAUTIFUL IN BACKYARD: (L) 84" X 78" (W) x 9" (H). 3/4" thick cedar panels hold up to 800 pounds of sand when assembled. Cedar timbers and green sandbox cover blend into any backyard play setting.
SMOOTH CEDAR WOOD PANELS & WIDE SEATS ARE COMFORTABLE & BUILT TO LAST YEARS: Naturally resistant cedar wood is perfectly smooth & features our special "eased edges" for maximum smoothness to the touch. Water-based stain is eco-friendly, bringing out and preserving natural cedar color that lasts. Engineered to remain sturdy and durable for a playtime solution that lasts through your child's younger years.
FUN FOR AGE 18 MONTHS & OVER: Transform any backyard or outside play area into a space where toddlers and children can socialize, entertain and explore. Large enough for multiple children to play at same time.
ECO-FRIENDLY TOP COVER & GROUND COVER KEEP OUT WEEDS: Weed-suppressant textile sheet allows for drainage and easy upkeep of your backyard sand box. Durable, eco-friendly polyethylene sandbox cover goes on in seconds to prevent excess moisture and unwanted animals.
Swimming
Swimming is an excellent form of exercise for humans and dogs alike. Now, Samoyeds aren't natural-born swimmers. But with a little training and a little encouragement, you can get your dog comfortable with hopping in the lake for a quick swim.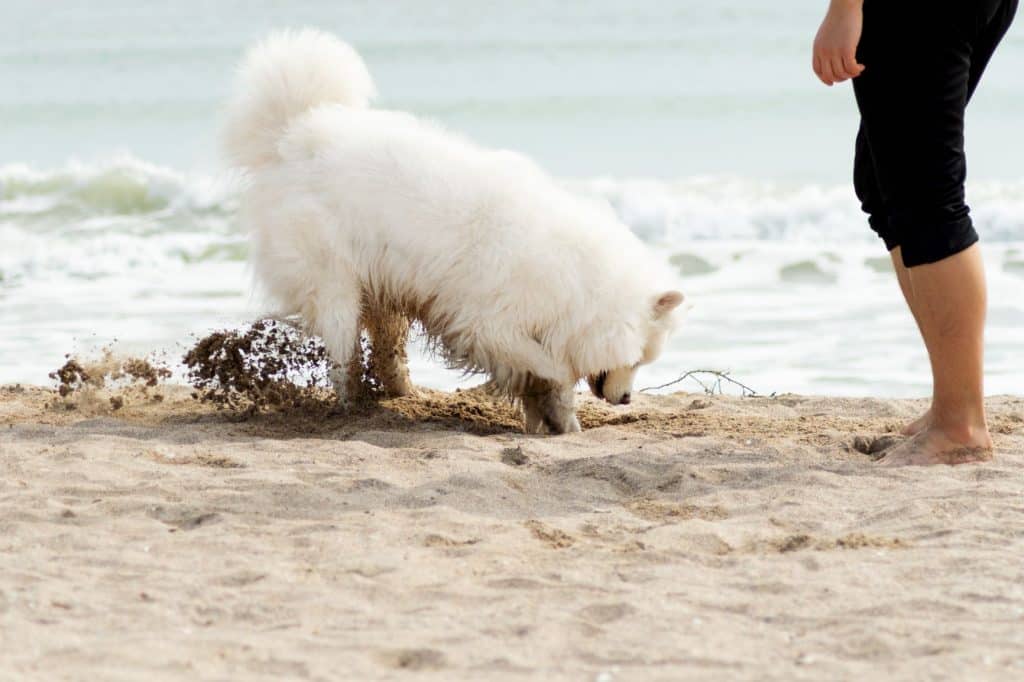 When is the best time to exercise with your Samoyed?
Samoyeds originate from very cold climates. And although their double coat helps them regulate their body temp, they can easily overheat in the warmer months. To avoid an overheated dog, try to get their physical activity done in the morning or late afternoon after the sun is past its peak.
What happens if your Samoyed doesn't get enough exercise?
If you don't foresee yourself being able to keep up with Samoyed exercise needs, then you shouldn't get one. This is because a Samoyed who doesn't get enough exercise will have too much pent-up energy.
Samoyeds demand attention. And they don't do well when left alone, either. A Samoyed who's left alone for more than a few hours at a time could bark loudly, rip up furniture, or get into something dangerous.
In conclusion…
If there's a Samoyed in your future, we hope you're ready for the physical demands that the breed comes with. But don't worry. Seeing your dog's smiling face each day makes all of the hard work worth it.
If you're already a Samoyed owner, what are your dog's favorite ways to exercise?