Samoyeds don't have very many cat-like features. They're large, pure-white fluff balls, built to pull sleds in harsh Siberian climates. And they're always smiling. One thing Samoyeds might have in common with their cat rivals is a deep hatred of water.
You might be wondering if Samoyeds like water; let's just say they won't be the first one in the car for a trip to the beach. But with enough exposure, and fun with their owners, Samoyeds can take a liking to water, and might even start reaching for their life-jackets instead of their leashes.
The Samoyeds Cold Wet Siberian Roots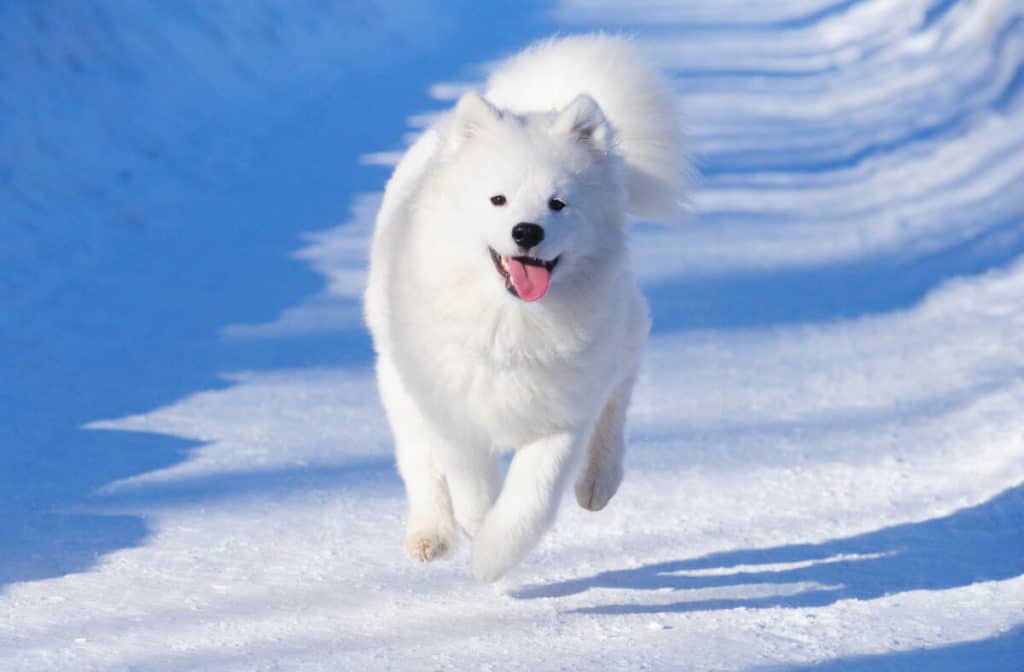 It's not that Samoyeds aren't used to being wet. They were bred to pull sleds through Siberian snow in the 19th century. The Samoyede people of Siberia treated Samoyeds kindly. They used them to hunt and herd reindeer, and in the night, they would double as blankets keeping the Samoyede people warm. Obviously, as Samoyedes trekked through snow, it would melt, and their fur would get wet. They eventually traveled out of Siberia to a harsher Antarctic climate.
Now you're probably not asking your Samoyed to join you on a trip to Siberia or Antarctica. You're only asking it to come for a trip to the beach or go for a swim in your pool. Will they be reluctant to join you?
It's Not That Samoyeds Don't Like Water…
Here's a scenario for you. You go to a fancy department store, like Saks on Fifth Avenue, and buy a thick wool coat. It's thick, heavy, and insulated. The only caveat is you have to wear that coat all the time, no matter the weather. And you can't remove it to shower or swim. And you'll be fine in cooler temperatures, but when things start to heat up, or when skies start to open up, there's no doubt you'll be uncomfortable. This is the life of a Samoyed.

They are not a breed willing to jump into a body of water for fun. Their thick double-walled coats leave them weighed down and sluggish when wet. For an active, free moving dog, this is not ideal. The coat is made of hollow hairs, which are great for protection, but non-buoyant. This weighed-down feeling is bad for water activities. With enough exposure, practice, and patience, your Samoyed will begin to feel comfortable riding the waves.
Non-Buoyant Fur? Is That Why Samoyeds Don't Like Water? Does That Mean Samoyeds Can't Swim?
The Siberian roots of Samoyeds do not leave them open to liking water. All the water they encountered was frozen. And when lakes and bodies of water melted, they were still ice-cold. Suffice to say, Samoyeds will not start in the swimming category of the Doggy Olympics any time soon. In water, Samoyeds tap into their basic canine instinct and begin to paddle. But they are not fast swimmers and this goes back to their non-buoyant fur weighing them down.
On a hot day, Samoyeds might like a dip in shallow water to cool off. In fact, Samoyeds will spend the majority of a hot day cooling off in shallow water. Most will not venture off into deeper waters to test their swimming skills. This is where you need to come in to train your Samoyed and help them overcome their fear of the deep end.
Are Samoyeds Afraid of Water?
It's understandable for Samoyeds to be scared of deep bodies of water. Being naturally uncomfortable in water paired with a sinking feeling they experience from their non-buoyant fur is scary. Samoyeds do not believe they can survive in water because of this sinking feeling. This leads to fear. Samoyeds have strong survival instincts, and they will not approach deep bodies of water unless they are confident in their swimming capabilities. I think most humans can sympathize with the Samoyed here.
Remember the Samoyed is bred to pull sleds. They're not used to carrying their own body weight, which is exactly what they have to do to swim. It's an entirely new experience for a Samoyed. Even though they are bred to pull large, weighed-down sleds, pulling their own body weight proves to be a problem.
With this being said, if your Samoyed does not like water, and you are keen on spending some bonding time with your dog in the pool, then you must train your Samoyedto overcome its fear.
Training Your Samoyed To Like Water & Become The Next Michael Phelps
Just because you want your Samoyed to like water and become a strong swimmer, doesn't mean it will. It takes time and patience from both of you to get the job done. Samoyeds do have an advantage over other water-fearing dogs when it comes to learning swimming techniques. Samoyeds are eager to please and they love spending time with their owners. They want nothing more than to spend as much time as they can with you. You are the center of their lives, and their entire well-being revolves around you. Samoyeds will happily join you on adventures outside of the home, even if those adventures lead you to a beach, near a large body of water. And their eager to please personalities make them prime candidates at a young age for one on one swimming lessons with you.
Prepare Your Gear
Start swimming lessons when your Samoyed is a young pup. The best time to train is when Samoyed is between 16-20 weeks of age. There's that old adage: "You can't teach an old dog new tricks." While this is not always the truth, an older Samoyed might be set in its ways and won't see the fun in swimming. Before you begin your lessons, it is a good idea to invest in a life jacket for your Samoyed. This will help them feel as comfortable as possible in the water and encourage them to power through their lessons. Most puppies will begin to flail and panic in the water because they feel insecure. A fitting life jacket will support them and keep them calm.
Fragralley Dog Life Jacket Safety Vests for Swimming Superior Buoyancy & Rescue Handle High Visibility Small Dog Life Preserver Lifesaver Coat for Summer (XS (Chest Girth: 13"-14.2") Coral Blue)
♥ SUPERIOR BUOYANCY & ADJUSTABLE FIT - Dog life jackets is constructed with premium EPE pearl cotton to enable strong buoyancy and keeping dog afloat in the water. dog life vest are lightweight, without restricting your dog's movement. Adjust belt with the quick-release buckles, you can adjust the belt to fit your pet perfectly.
♥RIPSTOP & DURABLE FABRIC - The professional ripstop life jackets consist of ripstop 600D oxford cloth.Our dog safety vest also offer a comfortable motion and doesn't restrict movement on land.
♥ Convenience & Safety- Adjustable belt and quick-release buckle makes the swimming vest easy to put on and taken off. and will help you get the best, snug fit to ensure comforty and safety for your pup. There is also a D-ring on the back which is perfect for dog leash.
♥ MULTIPLE SIZES - Available in XS-XXL sizes, fits for nearly all kinds of breed furry friend, Such as Teddy, Chihuahua, Beagle, Poodle, Bulldog, Schnauzer, Labrador, Golden Retriever, etc. Please Carefully read the HOW TO MEASURE & SIZE CHART illustration in the product pictures to get a right size for your pet. If your dog is close to the top measurement, please order the Next Size up.
♥ HIGH VISIBILITY & WORRY-FREE SHOPPING - This new dog life jacket is out with fashion bright colors. These eye-catching colors are cute for dogs. More importantly, it can let you spot your dog quickly in the water when it happens emergency. With this dog life jacket, no matter at pool, beach, surfing, rafting, kayaking, or boating. Free replacement of other sizes or 100% money back if you are not satisfied.
It's also a good idea to bring some fresh water to your training lessons. We've all been swimming and worked up a thirst even though we are submerged in water. Swimming is exercise and it's important for your pup to stay hydrated. If you're looking for an appropriate bottle to bring with you, try this doggie water bottle dispenser is perfect for outdoor activities.
DEYACE Dog Water Bottle, Leak Proof Portable Pet Water Bottles for Dogs, Puppy Water Dispenser with Drinking Feeder for Travel
Unused water can go back into the container easily by pressing the water key. One-key Open / Lock water, One-hand operation, open the lock key, press water key to fill water, release to stop water, moreover doesn't Wet Your Dog.
Silica gel seal ring plus lock key design, make sure the pet water bottle doesn't leak at all. No worry to get everywhere wet or waste water any more, and you can put it in your backpack without worrying about its leaking.
This portable dog water bottle is made of high quality food-grade plastic.Durable and recyclable, easy dismantling and cleaning. It will keep your pet health and vitality.
Reasonable capacity, enough for outdoor walking, hiking and traveling. You can put it into backpack or hang on your hand with sling rope, very easy to carry to anywhere you want. Enjoy the safe and funny outdoor act with your pet.
Purchase with confidence knowing we offer a 100% satisfaction guarantee. If our product does not meet your expectations, we will happily provide a replacement or full refund within 24 hours of your request.placement.
Helping Samoyeds Overcome Their Fear of Water
Before your Samoyed can become confident in the water, it needs to overcome its fear. Show them how fun the water can be. Play with your Samoyed in the water. Start in the shallow and work your way toward deeper territory. Never let your Samoyed go into the water on its own. Do not throw your puppy in the pool and let it "figure out" its own way. They will be extremely panicked and may not want to swim again. Always be there supporting them. Especially at the beginning. If you have fun together, your Samoyed will be inclined to join you for another session.
Start slow. Even if your Samoyed's paws are touching the bottom of the pool or body of water, this is ok. Your Samoyed will feel calm and confident to begin heading towards the deep end. Lead them to a spot in the water where their paws are not touching the bottom, and they'll have to paddle to stay afloat. Make sure this is a spot where they can turn back to safety if they feel uncomfortable. Let them get used to the experience of floating. It's also a good idea to make sure you can see the bottom of the water if you're not in a pool. This allows you to spot anything that could harm your puppy's paws while it learns. This is why the ideal spot to train your Samoyed is a No products found..
No products found.
Train Often
You'll want to be consistent with your training. Expose your Samoyed to water as often as possible, and make sure every experience they have is safe, secure, and fun. This will help your Samoyed like water and make them crave joining your pool sessions. They will begin to understand that there is nothing to fear. Eventually, they'll want to venture off into the deep end and test their skills. Again do not leave them alone or unattended. Always be with your Samoyed in the pool.
It's Not Always This Easy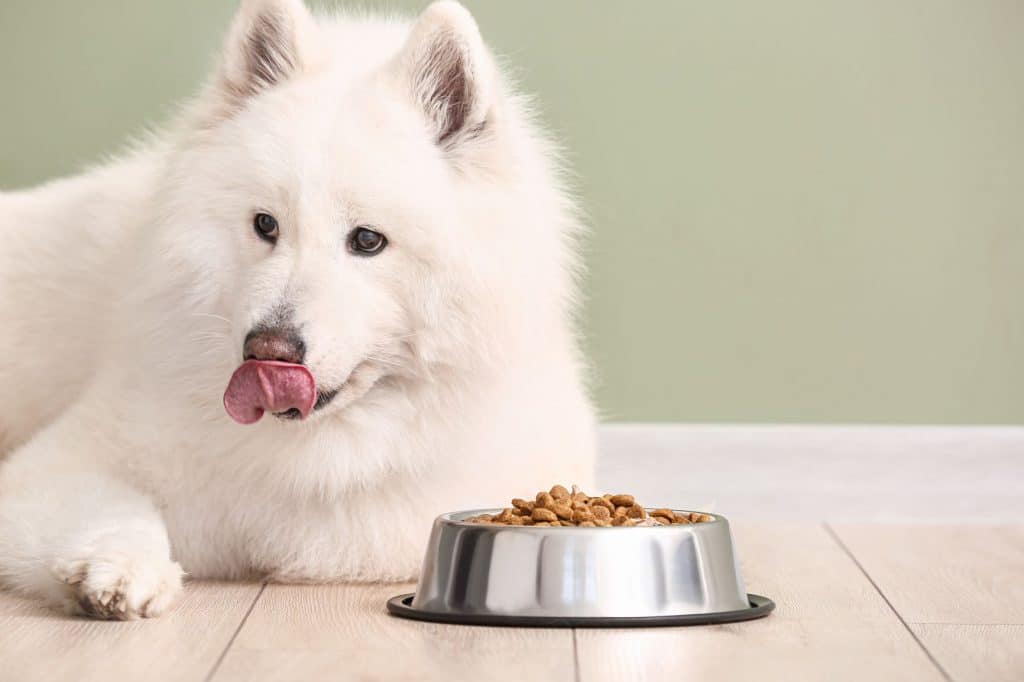 This is the ideal scenario for you and your Samoyed, and hopefully, this is the case. However, swimming lessons are not always this easy. Some Samoyeds just don't like water and they lack the curiosity to learn how to swim. They may leave the water, and come back in after some time. The key here is to be patient. Do not force you Samoyed to like water, and don't overdo your training lessons.
Fifteen minutes a day is more than enough time for your swimming sessions. Remember to have fun and engage with your Samoyed. Show them that there is nothing to be afraid of. If you're having a good time, your Samoyed will want to have fun with you. Give them compliments and talk to them as they improve their skills. Keep up the positivity and your Samoyed will be smiling and swimming in no time!
What To Do After Your Samoyed Swimming Sessions
After all of your swimming sessions, it's important to help your Samoyed rinse and dry off. Their fur will be very heavy after a swim session. This will be uncomfortable. If you leave a Samoyed with heavy fur, they won't learn to like water. Standard grooming applies to your Samoyed after it leaves the water. You'll want to rinse your Samoyed using dog-safe shampoo to remove all bacteria and chlorine that may be trapped in its fur.
Burt's Bees for Pets Oatmeal Dog Shampoo | With Colloidal Oat Flour & Honey | Moisturizing & Nourishing, Cruelty Free, Sulfate & Paraben Free, pH Balanced for Dogs - Made in USA, 16 Oz
PET GROOMING BRAND IN THE USA - Join the millions of pet parents who can t get enough of Burts Bees for Pets by using Americas pet grooming brand
SOOTHES AND SOFTENS - Burt's Bees Oatmeal Shampoo cleans, soothes, softens, and conditions your dog's dry skin and coat
MADE WITH THE HIGHEST QUALITY INGREDIENTS - This gentle formula includes ingredients like colloidal oatmeal, honey, and beeswax for sensitive skin
SUITABLE FOR ALL DOGS AND PUPPIES - This mild tearless shampoo is pH balanced especially for all dogs and puppies
SAFE AND GENTLE -   This formula is free of fragrances, sulfates, colorants, and harsh chemicals HOW-TO: Wet dog down. Apply shampoo from back of ears to tail, carefully avoiding eyes. Lather, rinse and have fun!
After you rinse your Samoyed, you'll want to brush and dry out its coat using a thick toothed comb. Dab your Samoyed down with a towel and run your fingers through its fur to ensure all layers are dry. Doing this leaves nothing harmful on your Samoyed, and of course, they will be clean and fresh.
In Conclusion
Samoyeds are not naturals in the water. It's not that they don't like water, they just need exposure to it. It will require patience, time, and effort to get them over their fear of the waves. Remember to make their experience as fun and welcoming as possible. Start slow with your Samoyed and guide them towards swimming excellence. You are the alpha and they will follow your lead. Soon enough, they'll be able to beat you in a swimming race!