Thinking about taking your dog to a beach in Suffolk, United Kingdom? Whether you're looking specifically at Lowestoft Beach or another beach in Suffolk, it's important to know if dogs are allowed there. So, can dogs go on Lowestoft beach or other Suffolk beaches?
Yes, dogs can go on Lowestoft Beach and other beaches in Suffolk. Lowestoft Beach does not allow dogs on the beach from May 1 to September 30 though.
How To Know If A Dog Is Allowed Somewhere?
Aside from reading our article, there are a few things you can do to figure out where dogs are allowed and when. This is true for dogs on Lowestoft Beach and elsewhere too. The best way to find out is to go straight to the source.
There are a few possibilities here. One is to go to the website for that location. This could be a county site, city site, business site, or more. Another possibility is to call someone in charge who could give you the information you need.
Also, if you live in or near or are visiting a touristy area, sometimes they will have tourist information organizations that can help you make decisions about where to take your dog. Ideally, you don't have to go to the location to read the signs telling you what is or isn't allowed, but that's always an option too.
You'll also want to keep in mind that not all dogs like water, so a beach may not be for them. With all that said, it's time to get into what Suffolk beaches dogs are allowed on and when.
Suffolk Beaches That Allow Dogs (And Why You Should Visit Them)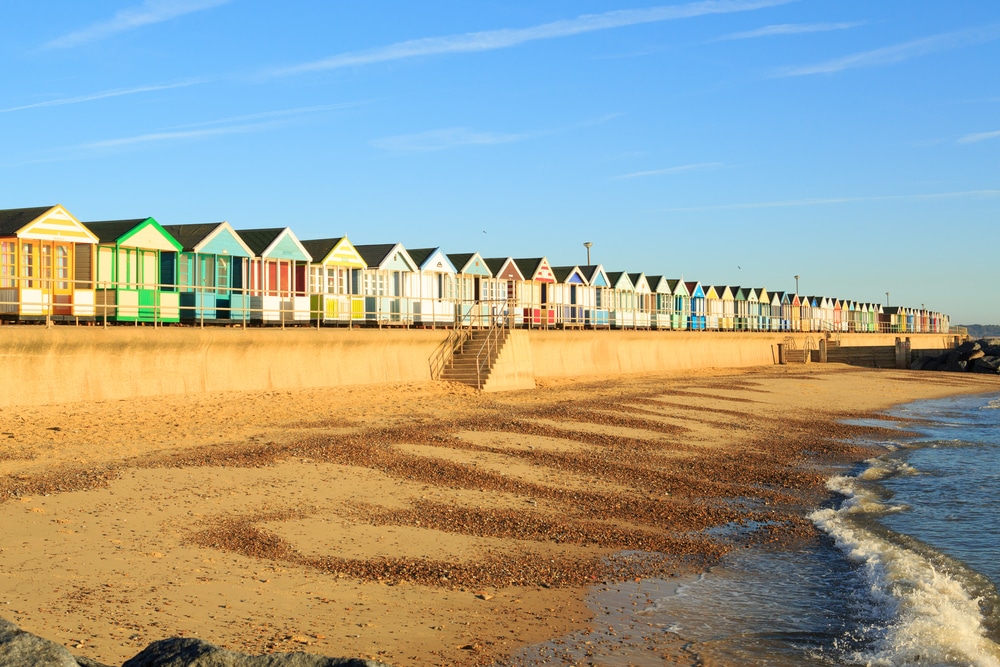 Although these Suffolk beaches are in no particular order, we'll start with whether or not dogs are allowed on Lowestoft Beach.
Lowestoft Beach
So, are dogs allowed at Lowestoft Beach? They are, but only at specific times of the year. They're allowed on the beach as long as it isn't from May 1 to September 30.
Why It's Worth Visiting
Lowestoft is one of those places that just has a lot to do. Not only is the beach nice, but you can go shopping, visit the Princess Royal Fountains, museums, and more.
Kessingland Beach
At Kessingland Beach, dogs are allowed to be there at all times of the year, which is great!
Why It's Worth Visiting
There's a big reason to visit Kessingland Beach, and that's that the beach is growing instead of shrinking. There are a lot of beaches that are shrinking as water levels push higher, but Kessingland Beach isn't one of them.
This means that unlike some other popular beaches, Kessingland Beach will have plenty of space for everyone, including dogs!
Felixstowe Beach
Unfortunately, Felixstowe's main beach is off limits to dogs from May through September. The good news is that there are beaches next to the main beach that allow dogs. Those beaches require leashes though.
Why It's Worth Visiting
In short, Felixstowe has a lot to do. There are attractions, places to eat, and, of course, the beaches themselves. If you want a place that has lots to do, then this may be the place for you.
Covehithe Beach
Yes, Covehithe Beach accepts dogs all year round, but is it worth visiting?
Why It's Worth Visiting
One of the interesting things about Covehithe Beach is that it's only accessible on foot or by bike. You'll have to park nearby, but this makes it feel a little more exclusive. It's still a great place to take your dog and let them roam around though.
Dunwich Beach
Good news! This beach also allows dogs all year round. Is it worth taking them there though?
Why It's Worth Visiting
So, while Dunwich Beach has no real restrictions for dogs, the surrounding heath area does. There are paths that lead through the heath. Owners are required to keep their dogs on leashes and stay on those paths from March 1 to August 31. This helps protect birds with ground nests in the area.
Walberswick Beach
Great news! You can take your dog to the Walberswick Beach at any time of the year!
Why It's Worth Visiting
There are plenty of small shops in the area. Plus, there are some hiking opportunities.
Denes Beach, Southwold
At Denes Beach in Southwold dogs are not allowed from April 1 to September 30. This is only the main part of the beach though. Dogs are still allowed on the pier (provided they're on a leash) and other nearby parts of the beach.
Why It's Worth Visiting
The pier here is famous and it's a popular, fun area. Plus, if you're looking for something more touristy but don't want to have to leave your dog behind, this beach might be the best of both worlds.
Aldeburgh Beach
Unfortunately, the main beach doesn't allow dogs during the summer months.
Why It's Worth Visiting
Even though dogs aren't allowed on the main beach during the summer, there is a beach nearby that they can go on. Also, Aldeburgh has a lot to do, especially when it comes to art galleries, food, and music.
Pakefield Beach
Pakefield Beach allows dogs all year round too!
Why It's Worth Visiting
Pakefield feels like a mix of the old and the new. There's a history in this area everywhere you go, but it's also got some fun things to do nearby. If you're looking for a quieter beach to visit, this may be the one for you and your canine companion.
In Conclusion: Can Dogs Go On Lowestoft Beach?
So, can dogs go on Lowestoft Beach. Yes, they can, but only at certain times of the year. At least you'll be able to take your to these other beaches while you wait.
So, what beach are you most interested in trying first? We'd love to hear your thoughts and why in the comments below!