Does grooming your Samoyed feel like a full time job? Taking care of that gorgeous white coat involves a lot of work, but without proper grooming your dog will be left with dirty, matted hair. Luckily, having the right tools can simplify the grooming process. That's why we've narrowed down some of the best Samoyed grooming tools that will make caring for your canine companion easier and faster.
With their friendly disposition, a fluffy white coat, and a smile you can't quite say no to, Samoyeds are one of the sweetest dog breeds around. But, grooming these long-haired beauties is quite a time-consuming task. Between daily brushings, frequent baths, and dreaded nail trimmings, dog grooming can start to feel like a real chore.
Whether you've been a Samoyed owner for some time, or are thinking of adopting in the future, we're here to make the grooming process enjoyable for both you and your doggo. Because, as any samoyed owner will tell you, with great cuteness comes great responsibility.
Best Samoyed Grooming Tools For Brushing
Now, we all know that brushing your dog is a basic but necessary step. So, how often should you brush your samoyed? We recommend brushing every single day. Yeah, you read that correctly.
Now, you might be thinking, "Every single day? That's unreasonable." But the truth is, brushing daily saves you a lot of trouble and time in the end. Remember that long luscious coat that made you fall in love with your teddy bear of a dog in the first place? Well, it tends to get tangled and matted quickly and as a result, your Samoyed won't be happy. Those who brush only once per week are left brushing out knots for hours to avoid or remove matted hair.
Now, we know you love your dog, but do you really want to sit for hours on a Saturday detangling their hair? Or would you rather brush them for 10-15 minutes each day to avoid these issues? We think the answer is obvious. Now, you'll need a few different types of brushes to get the job done right. So here are our picks for the best Samoyed grooming tools for brushing.
1. Slicker Brush
Slicker brushes are a tool any dog owner with a long-haired dog should have. They are flat brushes with small, fine wires placed close together.
These brushes are designed to get deep into your dog's coat to remove dirt and loose hair. Daily use of a slicker brush can help prevent your samoyed's hair from matting. Matting happens when wet or dirty hair clumps together in a big mass on your dog's coat. Daily use will also lead to a shiny, healthy-looking coat. And who doesn't want that for their dog? If you want an arsenal of the best Samoyed grooming tools, a slicker brush is a good place to start.
We really enjoy the Hertzko Self Cleaning Slicker Brush. The handle of this brush has a cushy rubber grip and a designated thumb rest, and as a result, it's comfortable to hold for long periods of time. The brush also has retractable bristles that make it easy to clean after brushings. 
Hertzko Dog & Cat Brush, Dog Brush for Shedding, Cat & Dog Grooming, Self Cleaning Slicker Brush for Pets, Grooming Brushes for Long Short Haired Dogs Cats, Deshedding Brush, Rake, Comb | Original
#1 SMALL ANIMALS, CAT & DOG HAIR BRUSH - Our pet grooming brushes for shedding fur and deshedding brush is high quality as this brush is voted Best Overall for 2022 by Spruce Pets - the ultimate dog brush for shedding and cat brush for shedding trusted by millions of fur parents!
EFFECTIVE SLICKER BRUSH - This Hertzko self cleaning slicker brush, a dog comb and cat brush for shedding rake comb also detangles fur and removes dirt and debris, keeping your furry friend's coat shiny and healthy.
PAWS-ITIVELY VERSATILE - This dog brush for short haired dogs and dog brush for long haired dogs is PURRfect for cats and dogs of all fur types - the perfect comb for grooming long haired and short haired dogs, cats, rabbits, and more!
EASY TO CLEAN LONG HAIR DOG BRUSH - Simply retract slicker brush bristles with the push of a button, then wipe away collected fur effortlessly - an easy and fast cleanup!
PAW-SOME SMART DESIGN - Hertzko self cleaning slicker brush is fine, angled bristles, ergonomic comfort grip, and push-button retraction make it easy to keep your pet looking happy and healthy.
2. Pin Brush
Similar to the slicker brush, pin brushes are designed to get deep into your dog's fur to remove dirt and loose hair. Unlike the slicker brush, pin brushes have much longer bristles.
Because of this, pin brushes can reach debris that might be stuck closer to the skin. To be safe, always opt for a pin brush with rounded ends to avoid scratching your dog's sensitive skin. We love the No products found.. because it's designed with comfort in mind. For both your dog and you. The bristle tips are rounded for safety and ease of brushing. And the all-wood handle is covered with a non-slip grip that makes it easy to hold.
No products found.
3. Deshedding brush
Samoyed owners know the shedding struggle all too well. As stunning as their double-coat of fur is, Samoyeds shed all year long. And even more so in the spring. If your home is feeling like the wild-west, with hairballs tumbling by, it might be time to invest in a deshedding brush. Samoyeds have a longer outer coat of fur, and a thick, wooly undercoat. Deshedding brushes specifically target loose hairs in your dog's undercoat. These hairs, when left alone, would either fall out onto your floor or turn into matted hair on your pup. You should always consult your vet before using a deshedding tool on your samoyed.
Our personal favorite brush is the FURminator Undercoat Deshedding Tool. The stainless steel bristles are designed to be gentle on the skin. To remove hair from the brush, you only need to push a button. And on top of that, the ergonomic handle makes this grooming task easier on your wrists. 
FURminator Dog DeShedding Tool, Grooming Tool For Dogs, Large, Long Hair
Stainless steel deShedding edge reaches through topcoat to safely and easily remove loose hair and undercoat
FURejector button releases hair with ease
Ergonomic handle for comfort and easy use
Remove loose hair without damaging the coat or cutting the skin when used as directed
Deshedding tool for large (51-90 lbs) dogs with long hair
4. Dematting comb/rake
As much as we try to avoid them, your samoyed will likely encounter some pesky mats every now and again. When matted hair is too tough, for a slicker or pin brush, to work through, you'll want to use a dematting comb. Remember, shaving your Samoyed is extremely ill-advised. Without their double-coat of fur, Samoyeds have no way of regulating their body temperature. Additionally, shaving can leave your Samoyed vulnerable to sunburns and their fur may not grow back properly either. These dematting tools, sometimes referred to as rakes, can save the day. But, as always, be sure to consult with your vet before trying any new tools on your pet.
When it comes to dematting tools with a good reputation, you can't go wrong with the Hertzko Undercoat Dematting Comb. We love how this tool grooms and massages your pet for the healthiest coat possible. The sturdy comb also has a rubber-grip handle and a thumb rest for comfort and control.
5. Finishing comb
A grooming comb or a finishing comb works to fluff up your Samoyed's coat. Because who doesn't love that fresh blowout look? You won't need to use a finishing comb every time you brush your dog. Once a week or so, when you do a slightly longer grooming routine, just run a finishing comb through their main and tail.
If you're looking for a quality comb with a super comfortable grip, then we recommend the Poodle Pet Dog Comb. We love that the comb has two styles of bristles to choose from. It even comes with a bonus travel comb for touch-ups on the go.
Sale
Poodle Pet Dog Combs for Grooming | 2 Pack | Stainless Steel Teeth Easily Remove Dirt | Proper Care Prevents Knots and Mats for Long and Short Haired Pets |Anti-Slip Comfort Grip Handle| Purple
#1 DOG AND CAT COMB - Best rated in 2023 by Top10Best and many more, and trusted by millions of pet owners.
THE PERFECT ALL-IN-ONE COMB: Combination spacing allows for touching up and finishing your pet's coat. The coarse spacing is great for breaking up the mat, loosening tangles and removing excess undercoat, while the medium side will remove that mat.
2 SIZES FOR ADDED CONVENIENCE: With one purchase, you'll receive a pack of 2 combs. One comb is more compact than the other, which makes it a useful travel comb for when you and your family are on the go.
ANTI-SLIP HANDLE FEATURES RAISED BUMPS FOR OPTIMAL COMFORT: The Poodle Pet Dog and Cat Combs were built with your hand and wrist in mind. Whether it's a tough coat you're tackling, a longer grooming session, or just wanting the most comfortable experience - this comb is engineered for you.
CAUTION: Call your veterinarian if you find anything suspicious. You know your pet intimately, and love it more than any professional grooming agent does, so when you spend that time carefully grooming your pet and you spot anything out of the ordinary, you'll be the first one to know and to administer care.
6. Best Samoyed grooming tools kit
If you don't have a samoyed yet but are thinking of getting one soon then we recommend investing in a grooming kit to get the best bang for your buck. These kits often include a few different styles of brushes which is great if you're starting with nothing.
We love this kit from Ruff 'N Ruffus because it includes a set of nail clippers too. Nail clippers are a vital samoyed grooming tool that we'll look at next.
Ruff 'N Ruffus Self-Cleaning Slicker Brush With NO- PAIN Bristles Gently Removes Loose Undercoat & Tangled Hair For Cats & Dogs Reduces Shedding by 95% +Pet Nail Clipper
★ GROOMING MADE EASY ★ Get essential grooming tools for dogs and cats in one swoop. This set includes a slicker de-matting brush,and heavy-duty pet nail clippers. Save money by giving your furry buddy a good groom from the comfort of home.
★ SELF-CLEANING SLICKER BRUSH ★ Removing knots, dander, and loose hair from your pet s fur just got easier. Press the button on the slicker brush after you're done and watch the bristles retract and the hair fall right off. Ideal for all sizes of dogs and cats and all hair types.
★FREE Bonus PET NAIL CLIPPERS ★ Give your pet s nails a nice trim the safe way. Our cat and dog nail trimmers stand out with their sharpness, durability, and a safety stop that prevents cutting nails too short. You ll love the high-quality stainless steel and the comfortable ergonomic handle.
★ COMFORTABLE, STRONG, AND DURABLE ★ Our Slicker Brush is especially designed with a COMFORT-GRIP and ANTI-SLIP HANDLE, which prevents hand and wrist strain no matter how long you brush your pet!
★ BUY WITH CONFIDENCE ★ We ve got your back with a 100% satisfaction guarantee. Reach out to us in case of any issues with your pet grooming accessories and we ll do all we can to make it right. Click Add to Cart now and get your kit completely risk-free!
Best Samoyed Grooming Tools For Nail Clipping
With the ongoing pandemic, most of us are spending more time at home than usual these days. So, those of you who once opted for professional grooming services might now be taking on those grooming tasks yourself. And nail clipping can be one of the hardest to do on your own, especially if your samoyed hates sitting still. Having a quality set of nail clippers will make the job a little easier for both you and your pup.
So here's a short list of nail trimmers we recommend.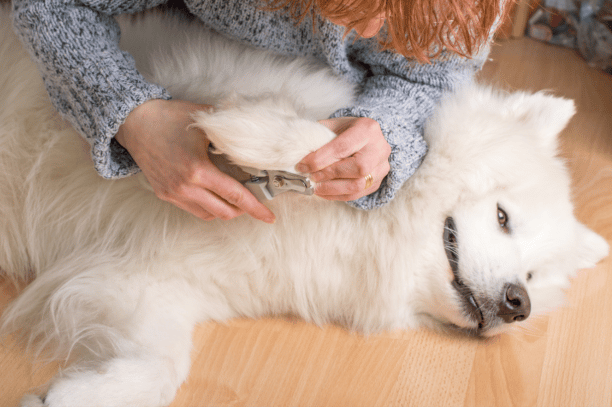 1. LAIKA Dog Nail Clippers
The LAIKA Dog Nail Clippers make the nail trimming job a little less intimidating. This user-friendly set of clippers uses sharp stainless steel blades and powerful springs to ensure you can snip even the toughest nails. 
The clippers also include a safety guard to prevent you from trimming the nail too short. The slightly wider handles on these clippers make them comfortable to hold as well. Bonus!
LAIKA Dog Nail Clippers and Trimmer with Safety Lock, Protective Guard to Avoid Over-Cutting, Pet Nail Trimmer with Nail File, Stainless Steel Blades & Non-Slip Handles for Medium and Large Breeds
🐶Professional Recommends: The Laika pet nail clipper is ergonomically designed Powerful and easy-to-use pet grooming tool, the nail trimmer is recommended by animal trainers, veterinarians, professional pet groomers and this item is using for medium and large dogs.
🐶One-time Cuts: Laika pet nail trimmers are made of high-quality 3.5mm stainless steel sharp blades, powerful enough to trim your dogs' or cats' nails with just one-time cut, even the toughest nails can be cutted smoothly and cleanly. And it will stay sharp for years to come for stress-free, smooth, quick and sharp cuts.
🐶Safe Stop Design As a Quick Sensor: Laika dog grooming clippers is safely outfitted with a safety stop blade that it can greatly reduce the risk of dogs being injured by cutting nails too short or cutting too fast. You can overcome your fear of trimming nails with our comfortable nail clippers. It also takes with a safety lock for easy storage after use.
🐶User-friendly Design: Laika dog nail trimmer is designed to keep you comfortable while grooming your pet, it features comfortable, easy grip, non-slip, ergonomic handles which stay safely in place in your hands to ensure ease of use and prevent accidental nicks and cuts for you and your pet.
🔔 Appreciation Gift: You will get a free built-in nail file which hidden in the left handle. You can use it to file the sharp nails after cutting your dogs and cats nails
Product Highlights:
Sharp blades
Powerful springs
Protects dogs blood vessels
Includes hidden nail file
2. WWVVPET Pet Nail Clippers with LED Light
The No products found. are a great choice for those who've never trimmed dog nails before. The tool has an ergonomically designed handle that helps you grip the clippers confidently. 
We loved the addition of the LED light. Not only does the light make it easier to see what you're doing, but it also illuminates your dog's blood vessel. This way, you'll have a better idea of where to cut the nail so you won't harm your Samoyed.
No products found.
Product Highlights:
LED light for protection
Retractable nail file
Transparent nail trapper to collect clippings
Sharp blades
3. Rexipets Dog Nail Grinder
If trimming your dog's nails makes you anxious, then a grinder might be easier for you to use. Some dogs react better to grinders than traditional clippers, while others don't like the vibration. So whether or not this tool works for you is dependent on how well your Samoyed handles it.
That said, the Rexipets Dog Nail Grinder offers an appealing level of control and precision. As a result, you will have more confidence. The cordless tool is USB rechargeable and has 2 speed options. There's an LED light to illuminate your dog's nail and prevent grinding it too short as well.
Sale
REXIPETS Cat and Dog Nail Grinder - Rechargeable Electric Pet Nail Clipper & Trimmer- Painless Paws Grooming - Quiet 2-Speed Motor. 3 Size Ports for Small, Medium, Large Pets- Up to 4 Hours of Charge
Safe and easy - Our electric, cordless dog nail clippers are built with an advanced diamond bit grinder that delivers superior control and precision. Noise levels are very low below 50 decibels and the gentle vibration does not startle pets
Easy Warranty - As a U.S company, we firmly stand by the lasting quality of our products. If for any reason you're not 100% happy. Please reach out to our customer service team.
Great for home and professional use - Advanced features allow you to easily file the claws of large, medium or small pets. For your convenience we provide 2 speeds and 3 size ports
Portable, lightweight and smart design - A special LED light below the grinder shines on your pet's claw so you can see it better, preventing over-grinding or cutting
What's in the box - Our nail grinder comes with a USB charging cable that you can use with any computer, power bank or USB adapter plug. Get 4 hours of use with every charge
Product highlights:
Easier to use than traditional clippers
USB rechargeable
Cordless
2 speeds and 3 sizes ports
LED light
Best Samoyed Grooming Tools For Bathing
If your dog is a frequent hole-digger, or simply can't stay out of the mud, they'll require more frequent bathing. You can bathe your samoyed as frequently as once per week. But in general, a young, healthy samoyed only needs a bath every six weeks or so.
No matter how frequently your playful pup needs a wash, here are some of the best samoyed grooming tools that will make splish-splashing in the tub a whole lot easier.
1. Vet Recommended OMG Extreme Dog Whitening Shampoo
If you want to keep your furry friend's coat as white as can be, then this whitening Shampoo is the way to go. The coconut-based formula is gentle on your dog's skin. But don't worry, it doesn't smell like coconut. In fact, the shampoo is fragrance-free. It's also free of soaps, detergent, and bleach.
Product Highlights:
Soap and detergent free
Fragrance-free
Bleach free
Won't affect topical treatments
2. Burt's Bees for Dogs Oatmeal Dog Shampoo and Conditioner
Sometimes, shampoo is not enough and you'll want to use a little conditioner too. This shampoo and conditioner combo from Burt's Bees is perfect. The light conditioner helps to hydrate your pup's coat and leaves it looking shiny.
Sale
Burt's Bees for Dogs Oatmeal Shampoo and Conditioner with Colloidal Oat Flour Honey For Pet
THE PERFECT SET FOR DOG GROOMING — This set features Burt's Bees for Pets most popular duo. You'll receive one 16 ounce bottle of natural oatmeal dog shampoo and a 10 ounce bottle of oatmeal conditioner for dogs
MADE WITH THE HIGHEST QUALITY INGREDIENTS — The Burt's Bees Oatmeal Shampoo for Dogs is made with a gentle formula consisting of ingredients like colloidal oatmeal, honey, and beeswax for sensitive skin
SOOTHES AND SOFTENS — Burt's Bees Oatmeal Shampoo and Conditioner set moisturizes, soothes, softens, and conditions your dog's dry skin and coat
SUITABLE FOR ALLL DOGS AND PUPPIES — This dog oatmeal shampoo and conditioner is pH balanced especially for all dogs and puppies
100% SAFE — Veterinarian recommended formula, free of fragrances, sulfates, colorants, and harsh chemicals
Product Highlights:
Sulfate and paraben-free
Cruelty-free formula
pH balanced for dogs
3. PetPotion Refresh All-Natural Waterless Spray Bath
If you're on the road or in a bit of a time pinch, this waterless spray bath is here for you. Think of this product like dry shampoo for dogs. The spray is naturally scented and can help you wipe off any quick stains your dog might encounter on-the-go. For instance, if your dog splashes through some puddles on a walk, you can spray and wipe them down before getting in the car. The key ingredients are shea butter, coconut oil, apple cider vinegar, and essential oils. Not too shabby, huh?
PetPotion No Rinse, Waterless, Spray Misting Shampoo for Dogs and Cats| USDA Organic| Reusable & Refillable (Refresh - Unscented - 5.5 oz)
Our PetPotion Refresh Organic, No Rinse Waterless pet shampoo is unscented. Perfect for cats/kitten dogs/puppies. Our unique bottle design offers a quiet, consistent, gentle spray stream that makes clean ups quick and easy. Our organic ingredients are Veterinarian approved and moisturize, condition & detangle the coat, while soothing and balancing the PH of the skin.
EASY TO USE, NO RINSE: It's like a dry shampoo for dogs! Our no rinse pet shampoo mist is easy to use. Shake well, aim and mist your pet generously, wipe off with a wet wash-cloth, or massage in & leave on. Air dries for soft fur. It leaves no sticky residue.
SUSTAINABLE: Our bottle is reusable and refillable. Refill options sold separately, so you never run out. It takes 15-20 gallons of water to bathe a dog, cleaning your pets with our misting shampoos conserves water.
NON-TOXIC & VET RECOMMENDED: Our non toxic dog deodorizing pet spray balances neutralize odors, doesn't mask smells with toxic perfumes. We NEVER use synthetic fragrances in our product. Used in Veterinary offices nationwide.
SAFE FOR DAILY USE: No need to go through the stress and drama of giving a full bath. Gentle and perfect for daily cleaning care. The perfect pet shampoo spray solution for active kittens/cats, dogs/puppies, senior pets, and special needs pets.
Product highlights:
Easy to use, no fuss
Earth-friendly bottle is refillable and reusable
Leaves dog smelling fresh
4. Patas Lague Luxury Absorbent Dog Towel
After a bath, your Samoyed needs to dry off. Air drying for Samoyeds is possible, but it often leaves them feeling too cold. Instead, try drying your dog off with a nice towel.
The Patas Lague Luxury Absorbent Dog Towel is way cheaper than a dog dryer, but it's loaded with luxury. Your Samoyed will feel like royalty when you wrap them up in this. And the towel has two pockets for your hands, to give you more control when drying your pup off. When it comes to the best Samoyed grooming tools, this towel is an underrated superstar.
Patas Lague Absorbent Dog Towel, Extra Large (35"x15") Quick Drying Dog Bath Towel with Hand Pockets, Microfiber Shammy Pet Towel for Dog and Cat, Machine Washable (Navy Blue)
🐾SOFT MATERIAL:This luxury pet towel is made of 2.5-inch-thick chenille material, soft and cozy enough to take care of your puppy's delicate skin and fur.Besides, dual handle pockets are designed for more convenient use.
🐾ULTRA ABSORBENT:Thanks to its premium microfiber fabric, the absorbent dog towel could soak up to 5 times more water and mud, and dries your pup 2 times faster than other normal shammy towels on the market.
🐾QUICK-DRY:Our quick-dry towel is a perfect time saver, cutting down the drying time in half. With this item, let your drenched pet clean and dry faster before it leaves wet foot prints and water all through the house.
🐾MULTIPLE CHOICES: A variety of bright colors are available here, just pick one you love! When your fur friend gets dripping wet after swimming at the beach, walking in the evening or washing at home, this microfiber quick-dry towel would get it dry and clean immediately.
🐾EASY TO CARE: Our dog bath towel is easy to clean. Just throw it into wash machine with cold water, hang it out to dry with extra loop or use dryer, then you will get a fresh new one.
Product highlights:
Soft microfiber material is gentle on hair and skin
Warm and luxurious feeling
Machine washable
Available in a variety of colors
Best Samoyed Grooming Tools For Optional Use
Once you're equipped with the best Samoyed grooming tools like brushes, nail clippers, hair trimmers, and bathing accessories, it's time to consider the optional grooming tools. While not essential per se, the items on this list will go a long way in making your job easier. And the best part? Your dog will love them too.
Sale
Once you're equipped with the best Samoyed grooming tools like brushes, nail clippers, hair trimmers, and bathing accessories, it's time to consider the optional grooming tools. While not essential per se, the items on this list will go a long way in making your job easier. And the best part? Your dog will love them too.
1. Flying Pig Pet Grooming Force Dryer
We know that drying your Samoyed off after a bath is important. And this dryer makes that process easy. Now, you could technically use a human hairdryer on the cool setting for this job, but that would take you hours. And we doubt that you or your dog want to sit still for that long.
The Flying Pig Pet Grooming Force Dryer is easy to use and gets the job done quickly and safely. Therefore you'll have a warm and satisfied dog in record time. What else could you ask for?
Sale
Product Highlights:
Adjustable warming settings
Powerful motor for quick drying times
Includes 10ft flexible hose and two nozzles
2. Serimer Pro Shower Sprayer
If hosing your samoyed off outside isn't possible, and your showerhead is fixed to the wall, listen up. This No products found. can be attached to a hose or your existing showerhead. This tool, while totally optional, makes bathing your Samoyed so much simpler. And most importantly, the tool is portable, so your Samoyed can enjoy a bath whenever needed.
No products found.
Product Highlights:
Wide, narrow spray removes shampoo with ease
For outdoor or indoor use
4. SUNCOO 48 Inch Portable Dog Grooming Table
Whether you're giving them a good brush, or clipping their nails, getting down to your dog's level can be uncomfortable. And as a result, the grooming process can take way longer. That's where a quality pet grooming table comes in.
This table from SUNCOO makes it easier for you to be accurate and comfortable when grooming your samoyed
SUNCOO 48 Inch Protable Pet Grooming Table for Large Dogs & 3.2 HP Dog Hair Dryer with Heater, Professinonal Foldable Dryer Trimming Table/Pet Grooming Blower for Grooming Slon or Home Use
Pet Dog Grooming Table: SUNCOO grooming table is made of stainless steel arm, table legs, and durable wood board, which enables it to be anti-rust and durable. The table top comes with coated anti-slip layers, round corners, and stainless steel wrapped edge, stops moisture leaking through into the wooden material below, built to last and easy to clean.
Back Saver& H-type Adjustable Grooming Table Arm - Outfitted with movable and 40'' tall adjustable firm grooming arm and noose to better fit for various pets of different sizes. One could simply use the clamp and security Loop to keep them in position for an extended grooming session. The perfect height of this table, makes it a better back saver.
Poowerful Pet Dryer: Output power: 600W~2400W adjustable; Voltage 110/120V; Variable Airflow: 56MPH-165MPH(miles per hour); Temperature Settings: 27℃/ 80℉or 60℃/140℉. Shell Material: Thickened rust resistant steel.
Relatively Mute & Versatile Pet Dryer: Pet dryer with thicked metal shell, new tech for noise reduction, an air filter system on both inlets to provide quiet, clean air to the pet and keep the fan and internal parts clean, ideal for sensitive nervous dogs.
SAFE&DURABLE: Inbuilt safety protector limits the heat of the air ensuring that it's always a safe temperature for your pooch. Lightweight and portable, durably built metal case, ergonomic handle, long flexible hose, all make it a safe and easy to use grooming tool.
Product highlights:
Durable table holds up to 330 lbs
Includes storage basket under table
Made from sturdy stainless steel
In Conclusion
So there you have it. These were our picks for the best samoyed grooming tools. Taking care of your Samoyed might sound like a ton of work on paper. And, it is. But at the end of the day, seeing that curled smile and shiny white coat makes everything worth it, doesn't it? As always, it's best to consult your vet before trying any new products out on your pet.
Do you have your own secret arsenal of dog grooming tools? Let us know your favorites in the comments below. And if you never want to miss a Samoyed article again, be sure to subscribe to our email list.