Are you ready to add semi-professional dog groomer to your quarantine resume? Great! But first, you'll need a quality pair of professional dog clippers to get the job done right. 
These days we're doing more and more at home. And whether you're forced to take on dog grooming duties because of pandemic closures, or you simply want to save a few dollars, this one is for you. 
We want our dogs to look and feel their best. So if your furry friend is long overdue for a trim, listen up. Human clippers simply won't suffice. These clippers are not designed to be used for long periods of time and can injure your pet.
But don't worry! We're going to explore the different types of dog clippers, and what you need to look out for when buying your first pair. We'll even include some of our favorite products to make the buying process as simple as possible for you. 
Can I use clippers on a Samoyed?
Clipping or shaving your Samoyed is not recommended. Samoyeds have a beautiful double-layer coat that helps them regulate their body temperature. 
Clipping or shaving this coat can have serious effects. Your Samoyed likely wouldn't be able to keep warm in the winter or cool in the summer. Additionally, it puts their sensitive pink skin at risk for sunburn and other irritations. 
In some cases, you may want to use clippers around the paws or ears of your Samoyed to give them a cleaner look. This is okay. However, it should be done with extreme care, and with a set of clippers designed specifically for the paws.
If you're wondering how to deal with the rest of your Samoyed's fur, there are plenty of grooming tools available that can keep that coat under control.
What to look for in quality clippers
Now, just because you can't use clippers on your Samoyed's coat, doesn't mean you can't use them on other breeds you might have. So let's talk about what a good pair of professional dog clippers should have. 
Noise level
Most dog clippers these days are marketed as "low noise." If you have an anxious dog or a dog who's never been around clippers before, the noise factor is huge. To keep your dog as calm as possible, look for clippers advertised as low-noise or low-vibration. 
Speed
When searching for professional dog clippers, with rotary motors, you'll come across two different speed options. Variable speed clippers and single-speed clippers. 
Single-speed simply means the blades rotate at one single speed. Whereas variable speed clippers will have multiple speed options.  
When shopping for clippers you'll often see numbers like 3000RPM. This stands for rotations per minute. 
While variable-speed clippers are more powerful, single-speed clippers have their advantages too. 
Motors and blades on single-speed clippers don't heat up as much as their variable-speed counterparts. This means you're less likely to cause any harm or discomfort to your canine companion. 
Blades
Most dog clipper blades are made from either steel or ceramic. Steel blades tend to stay sharper for longer, while ceramic blades remain cooler for longer. 
If you've got a larger dog who will take longer to groom, sticking with the cool ceramic blades will prevent any excess heat from irritating their skin.
You'll also find skip tooth clipper blades and fine-tooth clipper blades. The first is ideal for thick, dirty, or matted coats, while the latter is best for clean, smooth coats. 
Cord vs cordless
When it comes to cord vs cordless clippers, there are advantages to both. Corded dog clippers will never run out of battery power. If you're grooming a large dog or multiple dogs, you'll be able to clip them without pausing for a battery recharge. Corded clippers also tend to be more lightweight, as they don't have heavy batteries weighing them down.
Cordless clippers run on a battery. Since there is no pesky cord getting in your way, these clippers allow for more precision and freedom when clipping your dog's coat. Cordless clippers may be heavier and will require re-charging, but they are a great alternative when there's no outlet in sight. 
Most professional dog clippers will also indicate what type of dog they're designed for (ie: dogs with medium-length coats.) So be sure to find a pair that's specific to your pup for more desirable results.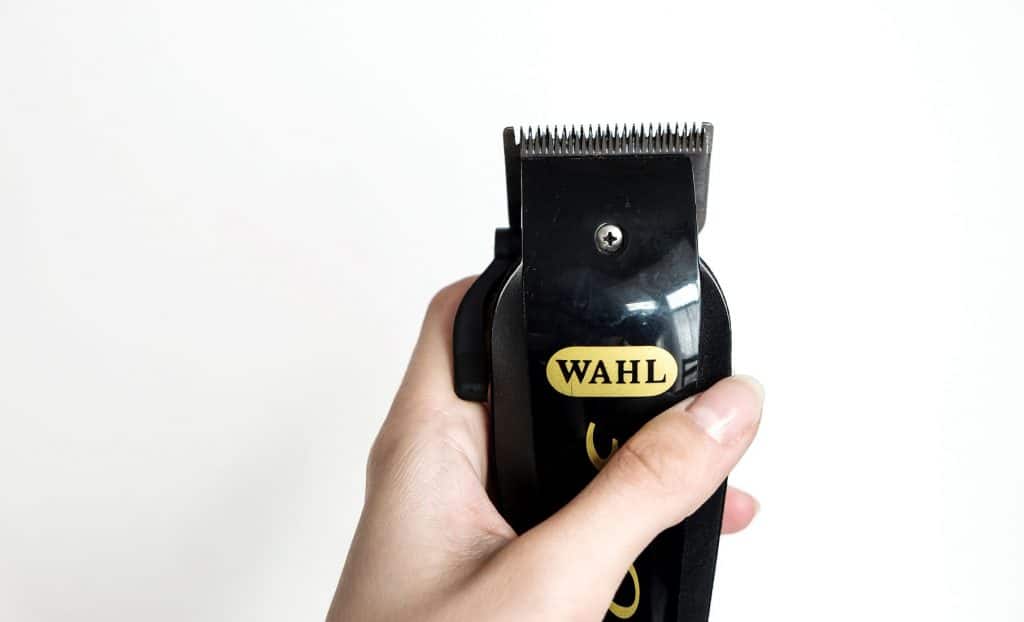 Best corded dog clippers
1. OMORC Dog Clippers with 12V
No products found.
The No products found. have a powerful motor at 6000 rotations per minute. This ensures a faster and cleaner cut and no clogging. 
The ultra-sharp steel blades and corded design make these clippers ideal for dogs with thick coats. Included, you'll find various comb attachments and other required grooming tools to get you started. For such a powerful product, the OMORC dog clippers are surprisingly quiet. 
No products found.
2. Oster Turbo A5
Oster A5 Hair Clippers for Dog, Cat, and Pet Grooming with 2 Speed Settings and Detachable Blade, Blue
Animal clippers deliver more strokes per minute and a wider blade sweep for faster clipping
Powerful, heavy-duty universal motor delivers 2 speeds: 3,000 SPM and 4,000 SPM
Clipper is ideal for grooming dogs, cats, horses, and livestock. Compatible with Oster A5 detachable Cryogen-X blades, and Elite Cryogen-X and Take Down Quick Wide blade series
Detachable A5 blade system makes blade changes quick and easy
Includes detachable #10 CryogenX blade, blade oil, clipper grease, cleaning brush, and replacement carbon brushes
Cords often limit us in one way or another. But the Oster A5 Hair Clippers for Dog, Cat, and Pet Grooming with 2 Speed Settings and Detachable Blade, Blue has a 10-foot cord that provides more freedom and range of motion than most. You can choose from two-speed options on the Oster, low speed at 3000 rotations per minute, or high at 4000. 
A ribbed handle makes these clippers comfortable to hold. And the blades have a full-tooth pattern that is often recommended for first-time groomers.
If you're using the clippers for long periods of time, be cautious of how hot the blades are getting.
Check Price
3. Wahl Professional Pet Clipper
WAHL Professional Animal Thick Coat Pet Clipper & Dog Clipper, Pink (#9787-300)
The Wahl Professional Animal thick coat pet and Dog clipper is a 2-speed professional clipper designed to glide through thick dog and pet coats with ease.
Great for all-over grooming and heavy-duty use, including mats and complete shave downs for dogs, cats, and other animals with thick coats.
Perfect for clipping Australian Shepherd, Golden Retriever, Golden doodle, great Pyrenees, Labradoodle, Poodle, Pekingese, Pomeranian, and other thick pet fur.
Whisper quiet operation and low vibration allows for a stress-free, easy grooming experience for you and your dog.
Includes Wahl's #7F ultimate competition Series blade for optimal clipping performance and fast, smooth, and safe clipping. #7F blade provides a 5/32-inch (3.8 mm) cut length.
The WAHL Professional Animal Thick Coat Pet Clipper & Dog Clipper, Pink (#9787-300) has 2 speeds that can help you glide through tricky matted fur. The clippers are lightweight and run quietly, making them great for anxious dogs who might be sensitive to loud noise.
Check Price
Best cordless dog clippers
1. Pet Union Professional Dog Grooming Kit
No products found.
If you're a new dog owner, this No products found. comes with many of the essential grooming tools you'll need to get started. It's designed for dogs with thin to medium coats. And the clippers have a low-vibration motor that makes these a quiet option, ideal for anxious pets. 
Despite being battery operated, these clippers remain lightweight. The rubber grip makes them easy and comfortable to hold as well. The rechargeable clippers have a decent battery life, usually staying charged for over an hour. 
No products found.

2. Wahl Lithium Ion Deluxe Pro Series Clippers
Sale
Wahl Lithium Ion Deluxe Pro Series Rechargeable Clipper Dog Grooming Kit with Heavy Duty Motor for Cordless Electric Trimming & Dog Grooming – Model 9591-2100
2 Hour Run Time - Allows for multiple grooming sessions with your pet before needing a recharge; wireless operation provides exceptional power & doesn't sacrifice power
Quick Charging – Equipped with a 10-minute quick charge for instant power, 3-5-hours for a full charge; lithium-ion battery holds a charge for up to a year without any memory issues
Self-Sharpening Precision Blades – Provide snag-free cutting, our high-carbon blades remain sharp for smooth grooming that creates a pleasant experience for your pet; Pro quality at home means fewer trips to the professional dog groomer
Add to Cart - Easy, cost-effective dog grooming at home. Low noise for stress-free grooming. Handles all fur up to double coats for large breeds and small dogs. Save time and money doing it yourself.
Made in the USA - Our clippers are made from domestic & imported parts; Wahl pet Grooming kits are the brand of choice for those who seek high-quality, long-lasting pet grooming electric clipping & trimming machines
When you're looking for professional dog clippers, Wahl is a trustworthy brand that you'll come across frequently. Their Wahl Lithium Ion Deluxe Pro Series Rechargeable Clipper Dog Grooming Kit with Heavy Duty Motor for Cordless Electric Trimming & Dog Grooming – Model 9591-2100 are designed for trims and touch ups in between larger groomings. 
The clippers are ideal for any sized dog and have a battery life of roughly 2 hours. The steel, self-sharpening blades can cut through thick coats without snagging. 
This is a single-speed clipper that operates without too much noise.
Check Price
3. PettingPal Dog Grooming Clippers 
The PettingPal Dog Grooming Clippers Heavy Duty Low Noise Dog Shaver 2 in 1 with Small Trimmer Blade Professional Quiet Rechargeable Cordless Electric Hair Cutting Kit for Dogs Cats Pets are ideal for dogs of any size. However, if you have a large dog that will take longer to groom, the cool ceramic blades will come in handy. We love that this kit includes wide and small blades, so you can tackle different areas with ease.

You can expect a battery life of 3-4 hours with these clippers. And the convenient LED display screen will let you know when the battery is running low.
The powerful motor has three-speed options available and is designed to run quietly as well. 
Check Price
In conclusion…
Giving your dog a top-notch haircut at home is possible. With the right tools and a little education, you'll be able to keep your pup looking fresh all year round. So go ahead and get those professional dog clippers you've been thinking about. Your dog will thank you.
How confident are you in your at-home grooming abilities? And have you developed any must-try grooming techniques? Let us know in the comments section below!