A Samoyed is bred for training, learning, and exercise. The breed grew up in a snowy Siberian climate working with the Samoyedic people. The tribe would begin Samoyed training at a young age teaching them to become exceptional sled pullers and livestock herders. Samoyeds quickly became another member of the tribe. Their love for people makes them eager to please, and they will take to new training routines if they are delivered at a young age. So what can you learn from the Samoyedic people and other Samoyed owners when it comes to training your dog? Let's find out!
Becoming The Leader of The Pack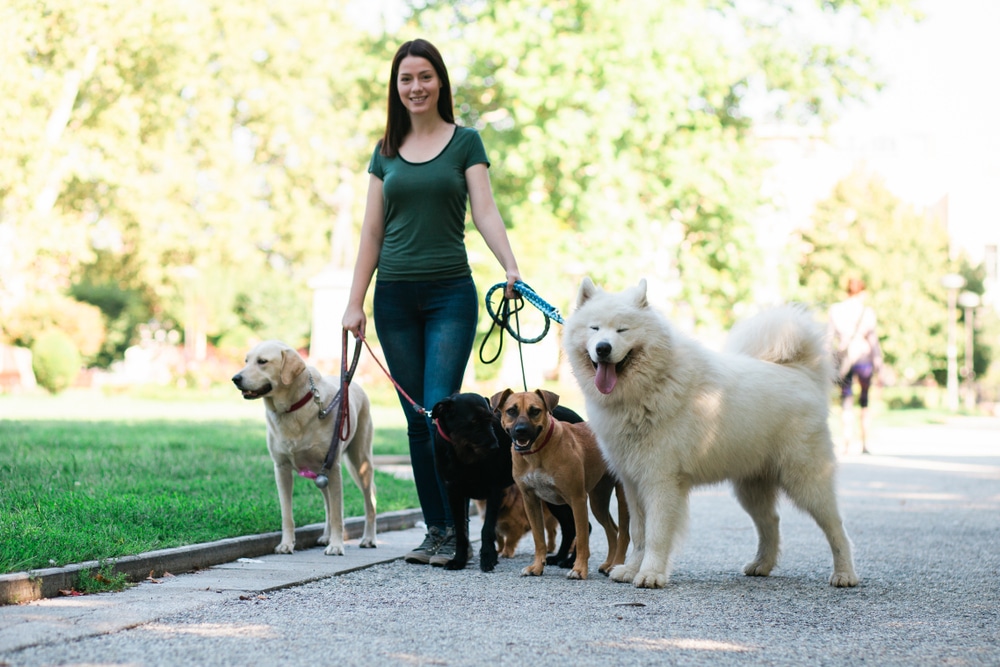 Back in Siberia, Samoyeds would work in a pack. Their pack consisted of other Samoyeds and members of the Chukchi tribe. Since a Samoyed is a pack animal, they need a strong alpha leader to guide them through training. If you're an individual owner of a Samoyed, then you need to establish yourself as alpha before you can start training. If you're a first-time dog owner this may be a difficult task, since you're new to the entire experience. An alpha earns the respect of the pack. This means you might need to instruct your Samoyed until they learn right from wrong. For example, if you come home to find your shoes constantly chewed up, you need to put an end to this behavior through discipline and training.
Becoming the alpha requires patience and persistence. Your Samoyed might not always respond to your requests, and they may continue to chew your shoes even after you've disciplined them several times. As alpha, you need to stay on top of this behavior until it disappears. Becoming alpha goes as deep as leading your daily walks. You must make sure you are a few steps ahead of your Samoyed at all times. This shows that you are in charge and leading the way. Remember, becoming alpha isn't about dominance, it's about leading your dog. All dogs want a leader to listen to. Establish yourself as alpha to your Samoyed and you've simplified your training.
Are Samoyeds Difficult To Train?
On paper, Samoyeds have a reputation for being a dog for experienced owners and veterans. That's because they are not exactly easy to train. Much like their Siberian cousin, the Husky, Samoyeds are working dogs and they need mentally stimulating activities to keep them occupied. They are a very intelligent breed, and they will get bored with menial tasks. Some training tasks are menial and boring, which means your Samoyed might urge you to do something else. In these situations, maintain your alpha status and continue to lead your Samoyed through the training exercise.
Samoyeds are a stubborn breed. They have a strong sense of freedom and like to live on their own terms. Their free spirit makes them endearing as a breed, but it's also a setback when it comes to training. Once a Samoyed is outside, it will want to play, not train. Your Samoyed wants to be free to explore the world and keep itself mentally stimulated. Performing a lineup of rigid and repetitive tasks is not your Samoyed's idea of fun, and they will try to resist. Keep your Samoyed focused on training and completing the task at hand. Again, your patience and persistence will win in these situations.
Obedience Classes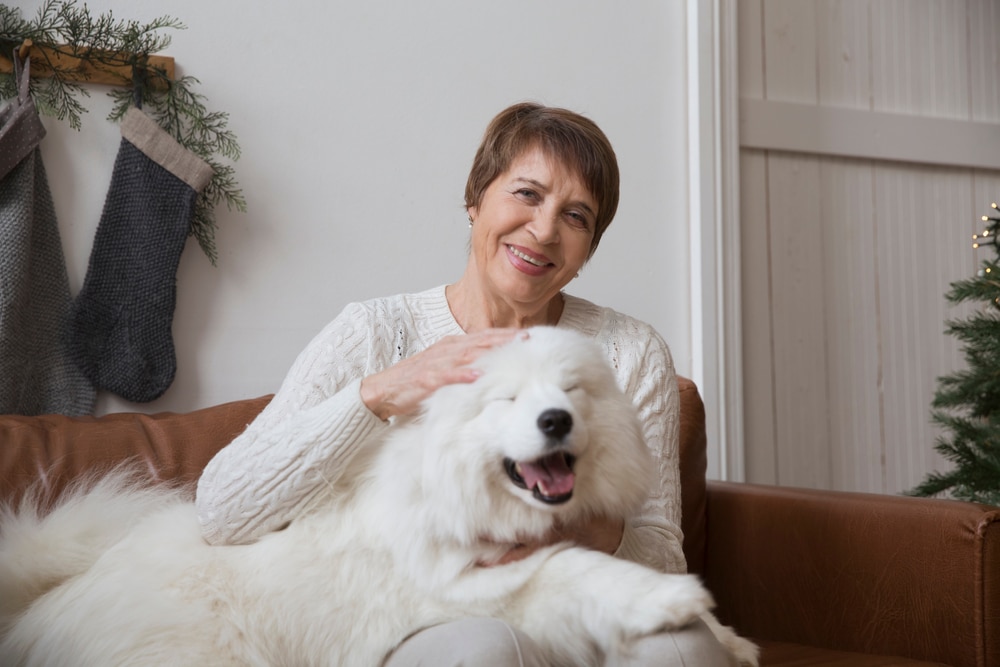 While it is possible to guide your Samoyed through training sessions, it is recommended that you sign your Samoyed up for obedience classes at a young age. These obedience classes will make training your Samoyed easier. After socialization in these obedience classes, your Samoyed will have a solid foundation for future training.
It's not that you can't teach an old dog new tricks, but it is more of a challenge to do so. After socialization in obedience class, it is important to start training your Samoyed immediately. The older your Samoyed gets, the more set in their ways they become, and the more difficult they are to train. It's much easier to start training your Samoyed as a puppy. In their youth, Samoyed's are still developing their personalities and behaviors. This is the perfect opportunity to train them into developing new habits that will last a lifetime. When a Samoyed is older, you have to break its old habits before you can teach them new ones. This proves to be a difficult task.
What Should I Use Samoyed Training For?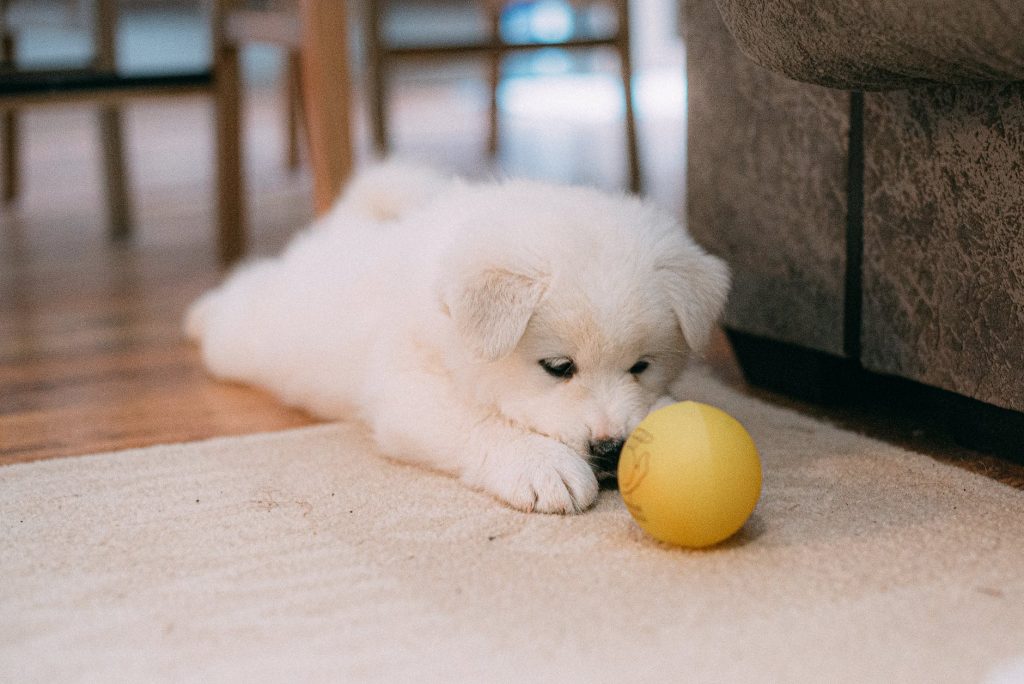 When you think of training, you may only picture teaching your Samoyed cool tricks to impress your friends. While these are fun, there are some essential skills your Samoyed needs to learn to make both of your lives easier.
There are several basic vocal commands to teach your Samoyed in training. These are the most essential skills your Samoyed needs to learn. Most of these commands would be covered in their obedience classes. Here are some examples:
"Sit"
This command will come in handy every day of your Samoyed's life. Whether you're out on a walk with your Samoyed, or you have guests coming over to your house, the sit command will be used often, so it's important that your Samoyed knows what to do when they hear it.
"Watch Me"
You may not be familiar with this command, but it is crucial, especially in areas with a lot of traffic and people, where your Samoyed might not feel comfortable. This is another command your Samoyed might be taught in obedience class. Some dogs will need this command when they see cars, squirrels, or other objects enter their sight.
"Down"
Sometimes the down command can be difficult to teach any dog. This might be the most important command for a Samoyed. They tend to get very excited when they meet new people or see an old friend. When they get overly excited they might jump up on the person or other dog, not in an aggressive manner, but to show affection. However, guests in your home might not appreciate this, so it is important to teach the down command.
"Wait"
This is another important command for your Samoyed to know when you have visitors. Once your Samoyed learns this command, they will wait before approaching guests, allowing them to become comfortable. To teach your Samoyed this command you'll need 2 people. Have one person enter the home, while the other delivers the "wait" command.
Using Positive Reinforcement During Samoyed Training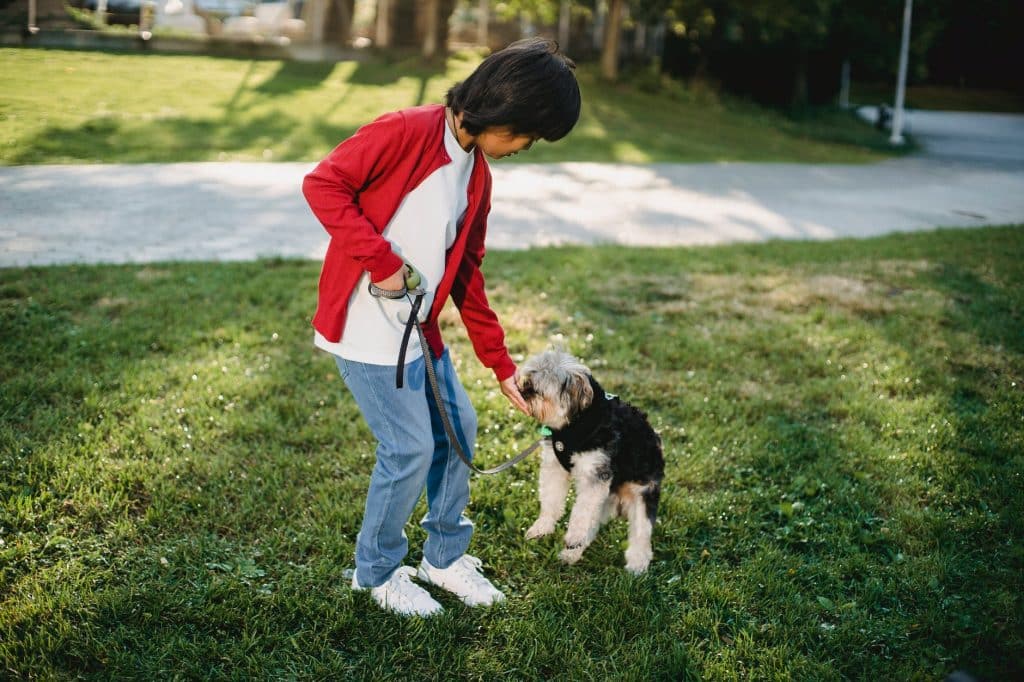 Positive reinforcement involves rewarding your Samoyed when they respond to your training. The majority of the commands above can be taught with the use of No products found. For example, when your Samoyed obeys the sit command, you can reward them with a treat. You can even incorporate the treat into the training by holding it above your Samoyed's head. Then start moving the treat behind your Samoyed's head, and when they crouch, give the "sit" command. When they comply, give them their treat.
No products found.
While positive reinforcement is effective, you should not fully rely on it when training your Samoyed. Treats can be used for motivation, but you want to make sure your Samoyed isn't only listening to you because it wants to be fed. If your Samoyed is only obeying you for a treat, then it is the leader, not you. After all, if your dog isn't hungry, they won't follow your commands.
That's why you need a balance of positive and negative reinforcement to properly train your Samoyed. Positive reinforcement encourages your Samoyed to repeat a behavior, while negative reinforcement will discourage them from performing a behavior. It's important to be comfortable with telling your Samoyed "No." Not all training needs to end with a reward. Negative reinforcement is all about your tone of voice and body language. This helps you correct your Samoyed's behavior without being cruel.
How Much Time Do I Have To Spend Samoyed Training? The difficult personality traits of the Samoyed can be overcome after dedicating more time to properly training your dog. You have to train your Samoyed regularly. They will not learn with only 1 training session per week. Think of them as kids attending school. Kids don't go to school 1 day per week, for an hour. They are there 5 days a week, for 8 hours, learning a variety of subjects. Now you don't have to train your Samoyed for 8 hours per day. However, you should train them at least once every other day, for at least an hour. And try to keep the training sessions as playful as possible, so your Samoyed doesn't feel like it's working.
Bad Habits To Look Out For While Samoyed Training
Every breed has its fair share of bad habits, and Samoyeds are no exception. These dogs are workers and they love to dig and get dirty. They dig for fun, but sometimes, especially after you've just cleaned their coat, you'd rather have them avoid digging. While you can't train this instinct out of them, you can certainly train them to obey your commands. And if you ask them not to dig, a properly trained Samoyed will obey you.
In addition to this, Samoyeds make excellent watchdogs. They bark when a new guest enters your home. However, their barking should stop within a few minutes. If they do not stop barking, then training is required.
Samoyeds also have a deep need for attention. They are pack animals and they want love and affection from their alpha. In fact, the more attention you give your Samoyed, the easier it will be to train them. But you can't be there for them all the time. Because of this, you'll want to train them to be left alone for a few hours on end.
Conclusion
While Samoyed training is not easy, it is certainly possible to take on the task by yourself. Remember you are the alpha and what you say is law. With patience and persistence, you and your Samoyed will progress through training sessions. If you are a first-time dog owner or require extra assistance, it is recommended that you enroll your Samoyed in obedience classes.
These classes will give you a solid foundation to work with and make training much easier. If you want to learn more, there are books available to help guide you through training sessions, and learn new techniques along the way.
Sale
Do you have any interesting Samoyed training stories? Or even a few tips and tricks that you can leave for others to help them through their training sessions? Leave a comment below!