Isolation can be no fun. With people spending most of their time at home these days, it can get kind of boring binging Friends for the fifth time. You might need a reason to get up, get out, and get active. You may also be craving some companionship, especially if you live alone. What you need is one of these 5 intelligent dog breeds!
But not just any dog, a kind loving breed who will be at your side no matter what. And help get you off the sofa on lazy days. Below we'll talk about 5 intelligent dog breeds sharing an active mentality and loving personalities. Every dog on this list strives to make you happy. And each offers a different temperament, making them appealing to different lifestyles. So let's dive into some information on these cute, cuddly, happy, and intelligent dogs!
1. The Mighty Siberian Husky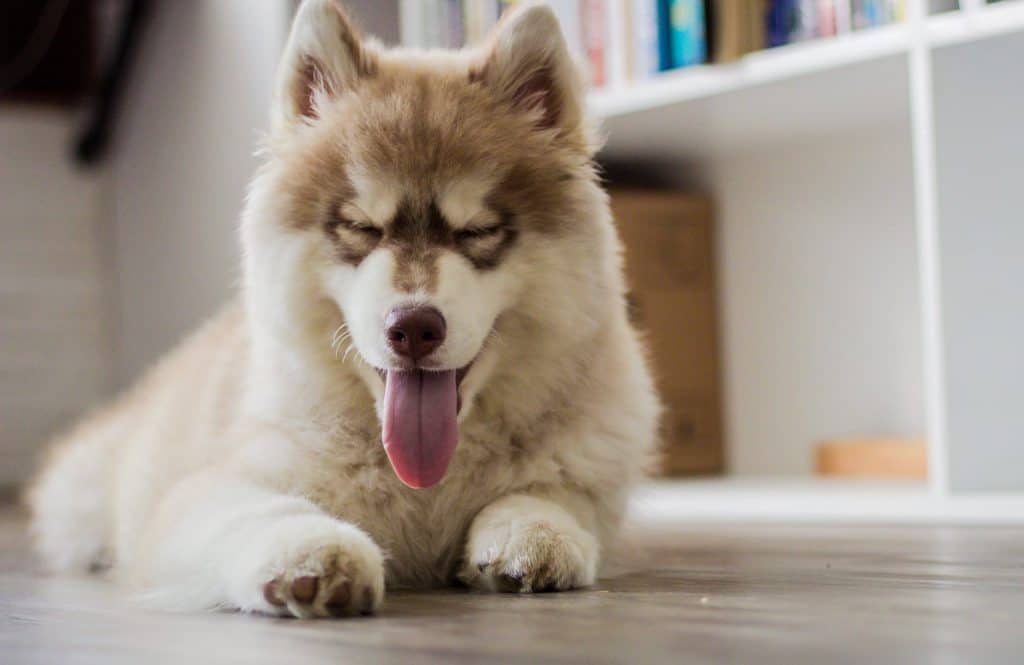 This might be the most familiar face on our list. The Siberian Huskies' wolf-like appearance can make it intimidating at first. However, these dogs have a kind heart. Their thick coat protected them from harsh Siberian winters and it comes in a variety of colors. Typically, Huskies wear gray, white, and black coats. If these dogs were actors, they'd always be cast in lead roles. The Siberians' dreamy blue eyes and strong appearance can win the admiration of anyone crossing its path. But do not fall prey to their beauty trap. These dogs can be a handful, and they certainly aren't built for first-time dog owners.
The Wolf Pack
The Siberian Husky used to hang out with the Chukchi tribe in Siberia. They are one of the oldest dog breeds. They were very close with the Chukchi people, doubling as family pets in addition to sled-pullers. Huskies were also used as blankets for their owners, keeping them warm at night.
Siberian Huskies traveled to Alaska in 1908 to be used as sled dogs during the gold rush. They starred in the All-Alaska sweepstakes, which is a 408-mile (1.6 kilometre) dog sled race, and they continue to be active competitors. This intelligent dog breed became popular in colder North American climates. Although they adapted from their Chukchi roots they still hold many features from their time in Siberia.
Intelligent & Athletic: One Of The Best All Around Dog Breeds
An average male Husky stands between 21 to 23.5 inches (53 to 60 centimetres) weighing around 45 to 60 pounds (20 to 27 kilograms). Female Siberians stand between 20 to 22 inches (51 to 55 centimetres) and weigh about 35 to 50 pounds (16 to 22 kilograms). The Siberian is a powerful medium-sized extremely athletic and intelligent working dog breed. They are affectionate but also give you personal space. Their intelligence can be used for good if they are properly trained, or destruction if left untrained. Siberians are not naturally aggressive and do well with everyone welcome in your home, including other animals and children.
Siberians were pack animals back in their days with the Chukchi people. They need a strong alpha leader to train them and keep them in line. This needs to be you. Training will be a breeze if your Siberian respects your authority. However, it will often challenge your standing as alpha and try to take control in different situations. For example, Huskies can get carried away during playtime. And their size can be difficult to control. In these situations, you cannot lose your temper as alpha. With a calm collected hand, guide your Husky back towards obedience.
To solidify your alpha position, make your Husky wait for its treats. This shows that you control the food supply and you are the keeper of everything that is valuable to the Husky's life (i.e Toys, Shelter). Doing this on a consistent basis will remind your Husky who is in charge.
Exercise & Training Required
One of the last things you want in your house is a bored Siberian Husky. It is not a dog to sit and mope around in boredom. Huskies have a lot of energy and if they don't receive at least an hour's worth of exercise, they will expend that energy destroying your house and property. If you leave a bored untrained Husky alone in your home, you may not have anything to come back to. There has even been a case of one Siberian chewing through a cement wall, so your sofa doesn't stand a chance. Watch out for your flowers because Siberians love to dig up your yard as well.
To rid them of this chaotic energy, go on long jogs with your Husky. They are the ideal dog for an athletic individual or family. You can even set up a designated digging area in your backyard to keep your Husky preoccupied. Just ensure you build a wall around the area because Huskies have a habit of escaping and going on self-guided neighborhood tours. A preoccupied Husky is a happy Husky, and a happy Husky stays out of trouble.
Obedience Tools
Advanced obedience classes are essential for owning a Siberian. This is not one of those intelligent dog breeds for first-time owners. The Husky is so intelligent it will behave like an A+ student in obedience class, then turn into an absolute terror at home. But your will and patience will triumph over your Husky's behavior. And eventually, the teachings of obedience training will be applied at home. If you want a head start on training your Husky before enrolling it in classes, consider a few books.
The Siberian is a fun-loving dog and with enough training and exercise, it will make a loving addition to your life. It also has an interesting Siberian cousin, who may be an even better fit for you.
2. The Samoyed: The Other Siberian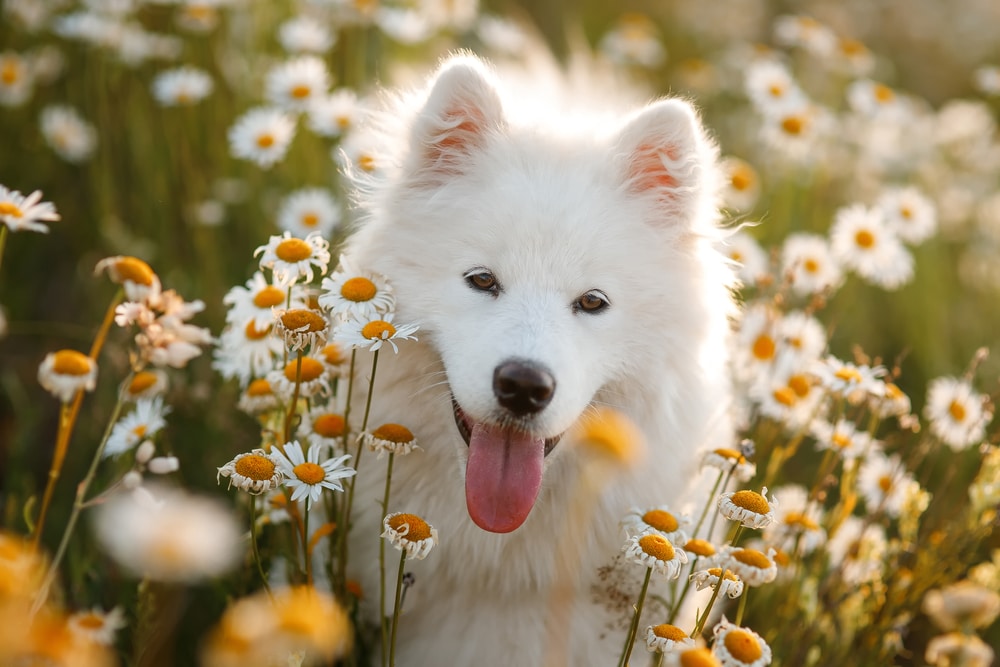 Light. Fluffy. Soft. Clean. Adorable! Wool blankets. These are some phrases that might spring to mind when you see a cute picture of someone's favorite dog breed, the Samoyed. At first glance, the Samoyed can be mistaken for a polar bear cub. Look again and you'll see one of the happiest fur balls you'll ever meet. However, that happiness depends on the Samoyed getting to see its owner….a lot! If you're thinking of adopting these bundles of fun, get ready to spend as much time with them as possible.
Another Member Of The Siberia's Intelligent Dog Breeds
The Samoyed shares a lot of similarities with its Husky cousin. Both grew up in Siberia protecting tribes of people, with the Samoyed protecting the Samoyede tribe, hence its name. Samoyeds were sled-pullers, live-stock herders, and doubled as warm blankets for the Samoyede tribe. Their calm demeanor made them better herders than hunters. The Samoyede people treated these dogs like family, allowing them to join in on family activities at the end of the day. This built a lasting attachment to owners and their families. Like the Husky, the Samoyed is a pack animal looking for an alpha to lead it. Again that alpha must be you.
Moving out of Siberia, Samoyeds became a hit in England. With plenty of intelligent dog breeds to choose from, Queen Alexandra became a Samoyed enthusiast.
A Dog That Loves You
According to the Samoyed growth chart, male Samoyeds stand about 21 to 23.5 inches tall (53 to 60 centimetres) while females are 19 to 21 inches tall (48 to 53 centimetres). Males will weigh 45 to 66 pounds (20 to 30 kg) and females weigh 35 to 45 pounds (15-20 kilograms). Like the Husky, they are an intelligent and athletic breed.
However, the Husky will often give you space and has the capacity to be a "lone wolf" at times. The Samoyed does not have this capacity. They love you and want to be around you all the time. They like to be left alone for no longer than 4 hours. You are their leader and they often get bored when you are not around. Like the Husky, the Samoyed is intelligent and this intelligence can lead to mischief in your absence. Going grocery shopping or running errands is no problem. But a full day of work at the office could leave your Samoyed in distress.
Eager To Please, Easy To Train
Since Samoyeds want nothing more than to see you happy, training them is a breeze compared to their Husky counterparts. Enrolling Samoyeds in socialization classes and doggy kindergarten will leave them obedient and well tempered. You will still run into problems with the breed if you don't give them enough attention and exercise.
Samoyeds need about two hours of daily exercise to keep themselves stimulated. They love going on long walks because of the sights and sounds. Any exercise involving mental and physical stimulation is great for a Samoyed. Make sure to keep your Samoyed on a leash on your journeys. Their hunting instinct will have them chasing any critter crossing their path. Like Huskies, Samoyeds also love to dig. A designated digging area or sandbox is recommended.
Modern Home 4ft x 4ft Weather Resistant Outdoor Sandbox Kit w/Cover
TOOL FREE ASSEMBLY - No additional tool needed to assemble. Sets up in minutes. just snap together, install the liner, add sand and your kids will be having fun in no time.
DURABLE - The all weather HDPE material is designed to be left outside year round. Each panel is molded HDPE that won't rot, warp, chip or splinter like wood.
UV-RESISTANT - All panels, liner and cover are UV resistant to protect against the elements for product longevity.
SEATING - Includes 4 quarter circle corner seats allowing kids to have a place to sit without having to sit directly in the sand.
5 YEAR WARRANTY - Each sandbox includes a 5 year manufacturer's warranty against defects.
Exercise, exercise, exercise
Samoyeds have a lot of energy, and your goal as their alpha is to get them to expend as much of that energy as possible. Doing this daily will build a healthy relationship between you and your Samoyed. For example, before you leave the house for work, take your dog out for a jog. Like the Husky, the Samoyed is the perfect breed for athletic and fitness-oriented individuals and families. If you get up early in the morning to work out, bring your Samoyed along with you. This is the best way to ensure the life of your sofa cushions. A restless untrained Samoyed will make chew toys out of valuable objects. And while you are on your run, let your Samoyed do its business. Your Venetian rug will thank you. If you're looking for a good toy to really wear out your Samoyed, try a ball launcher.
Chuckit! Classic 26M Dog Ball Launcher, 26" Length, Includes Medium Ball (2.5") For Dogs 20-60 Pounds, Made in USA
Launch Balls for Dogs Farther & Faster: This interactive dog toy upgrades the classic game of fetch by enhancing your throwing speed and distance with less effort. Your dog is challenged to run farther and faster with this ball launcher for dogs
Convenient & Slobber-Free: Designed to extend your reach this tennis ball launcher reduces need to bend over to pick up muddy, slobbery balls. Includes brightly-colored, high-bounce Chuckit! Ball that float and are highly visibile for pets and pet parents
Fetch Facts: the ChuckIt! Classic line dog toys changed the game of fetch over 20 years ago and was an instant dog toy classic. The PRO style offers higher performance with a comfort grip handle; SPORT style has a slim ergonomic handle for added speed
Sizing matters: Compatible with 2.5" diameter tennis balls or medium Chuck it balls best for dogs 20-60lbs. Balls should be small enough for your dog to carry, but large enough that the ball can't completely fit in their mouth. When in doubt buy a size up
Make Fetch Happen: ChuckIt! interactive dog toys are designed with you and your dog in mind to enrich the human-animal bond and help dogs stay active. Our Indoor and outdoor dog toys include dog balls, dog pool toys, tumblers, puppy toys, flyers and more
It's easy to mistake the Samoyed's white coat and stunning smile for the next dog on our list.
3. The American Eskimo: The Samoyed's Clone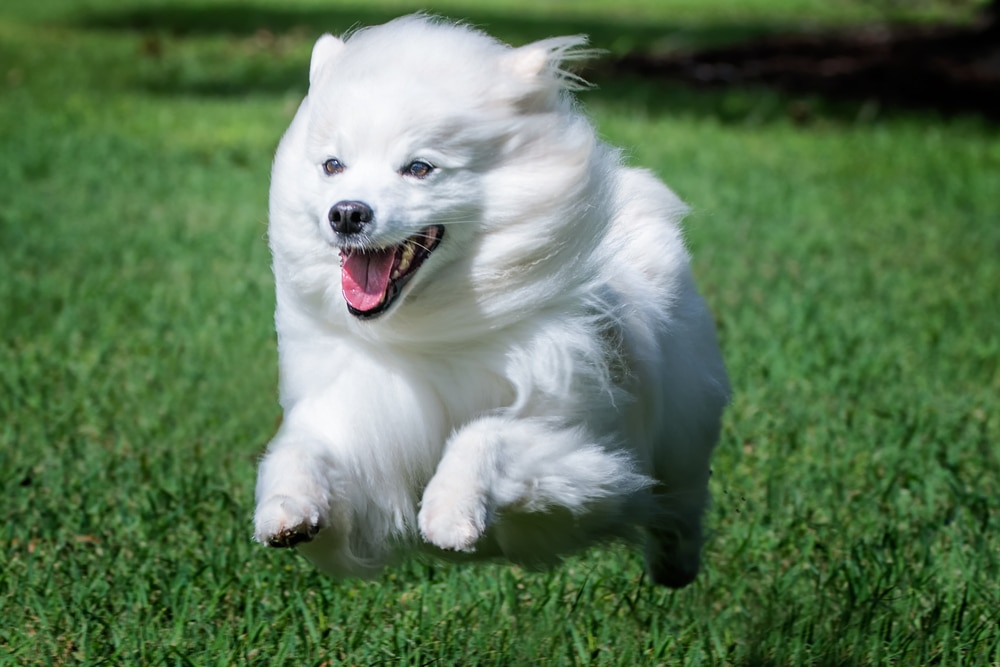 Without a deep knowledge of dogs, you wouldn't be able to tell the difference between a Samoyed and its American Eskimo clone. Both offer thick white coats, cute smiles, and charming stares resembling polar bear cubs. The Eskimo rivals the Samoyeds beauty and intelligence, often noted as one of the most intelligent dog breeds. Like the Samoyed, Eskimos make great companion dogs and love to participate in family activities. This is an intelligent dog breed that loves to learn new tricks! 
This Battle Of The Identical Intelligent Dog Breeds Starts At The Circus
The Eskimo is certainly not afraid of the big stage. This dog performed in circuses throughout the United States during the 19th century. The exact origin of the Eskimo is unknown, but it does have Nordic roots. Many believe it arrived in America as a companion to German families, most likely a descendant of the white German spitz. The dog originally had the name American Spitz, before being renamed American Eskimo Dog in 1917, and no one really knows why.
Not Only Do They Look Like A Samoyed, They Charm Like Them Too!
Like the Samoyed, the Eskimo loves being around people and needs a strong leader for guidance. The Eskimo comes in various sizes. A toy Eskimo stands 9 to 12 inches tall (22 to 30 centimetres) and weighs about 10 pounds (4.5 kilograms). Miniature Eskimos stand 12 to 15 inches (30 to 38 centimetres) and weigh about 20 pounds (9 kilograms). Standard size Eskimos stand 15 to 19 inches tall (38 to 48 centimetres) and weigh about 30 pounds (13.6 kilograms). Eskimos are clever and like their Samoyed doppelgangers, they are filled with energy. The two breeds bond over messing up their owner's homes if they aren't exercised properly. And like the Samoyed, the Eskimo is not a fan of being left alone for long periods of time. Be sure to give it lots of exercise and attention before leaving your home.
To avoid repeating ourselves in this section of the article, we'd like to point out that these two dogs are mirror images of each other, both physically and mentally. The same training and upbringing is required to make both dogs happy. With all this in common, you may be wondering how to distinguish the two breeds, other than asking them to talk about their histories!
The Tell-Tail Difference Between The Two Intelligent Dog Breeds
The key difference is actually their size! The Samoyed is larger than all three varieties of American Eskimo. Other differences include eye shape. A Samoyed's eyes are oval, while the Eskimo's eyes are round. Then if you look closely at their coats, the Samoyed is usually an off-white, almost cream color. While the Eskimo is pure white. Lastly, if you really want to tell the difference between the two dogs, look for the Samoyed's winning smile. The upturned corners of their mouth are both cute and purposeful, preventing the Samoyed from drooling all over your house.
Now let's stop seeing double and move on to another fun, active, and intelligent dog breed, the Akita.
4. Meet The Akita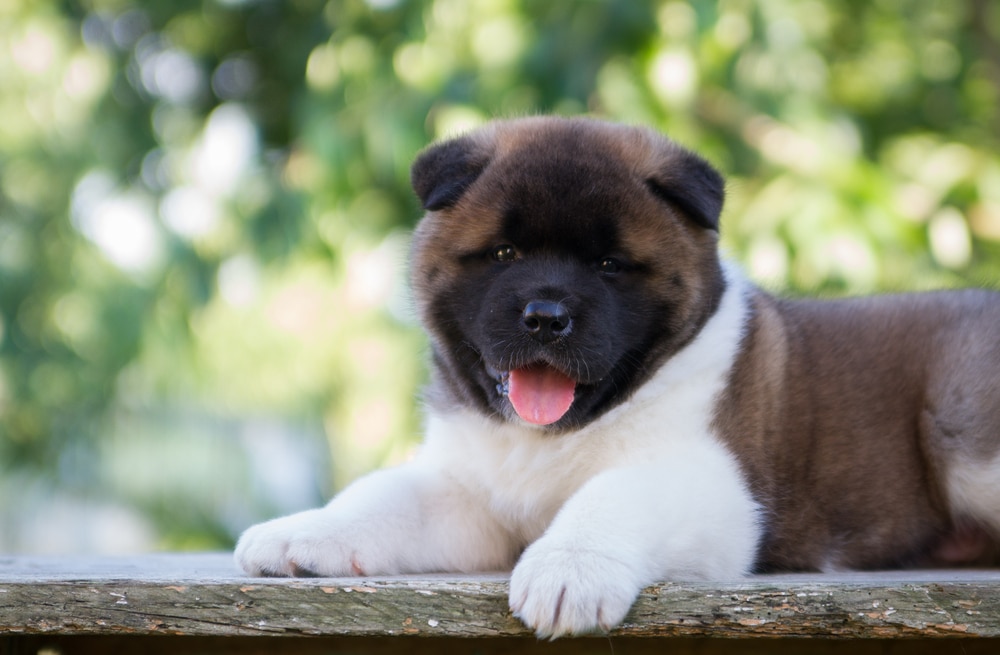 Let's take a journey all the way to Japan, where the Akita once guarded royal families. Their strong powerful stance makes them quite intimidating. And if you think they are all bark and no bite, Akitas tracked and hunted wild boar, deer, and even black bears. Don't let their fluff fool you, they are not a dog to take lightly. They do not get scared easily and they are fiercely loyal to their owners. They may sound like a bunch of stiffs, but a properly trained and socialized Akita can be loving, friendly, and amusing. 
A Companion To Royalty & One Of The Most Intelligent Dog Breeds
The Akita is named after a province in northern Japan, where the breed originates. In Japan, they were hunters and protectors of royalty. Helen Keller first introduced the Akita to America. After World War Two, soldiers stationed in Japan brought more Akitas back to America. An Akita was used to raise a Siberian Tiger cub in a London Zoo. It certainly has no fear and offers immense loyalty to its family and owners.
Who Are They Under The Fur?
The Akita is by far the largest dog on our list, with males standing at over 28 inches (71 centimetres) and weighing 110 pounds (49.89 kilograms) on average. Akitas require more training than any dog mentioned so far to make them sociable. They are far more difficult to train than Huskys. It requires patience and dedication to see an Akita's training through to the end. The Akita is stubborn, willful, and just as intelligent as other dog breeds, but it also has an aggressive streak. Owners must spend as much time with their Akita as possible to keep them from becoming destructive. They should be willing to take charge and show their Akita who is the boss.
Their aggressive nature makes them good guard dogs, who have a duty to protect those they love. While other breeds like the Samoyed will also protect those around them, they are not aggressive enough to attack a threat. Akitas have no problem attacking first and asking questions later. It is particularly aggressive with dogs of the same sex and it is best to keep the Akita as the only animal in your house.
Keep Your Akita Calm
The Akita needs to let out all this built up aggression. Daily exercise is key. They don't require as much exercise as a Samoyed. Thirty minutes is more than enough to satisfy an Akita. They love to carry items, so bring a few toys for the Akita to grab onto during your walks. Try to keep the Akita on its toes with your exercise routine. The dog's intelligence makes it crave variety. The more exercise you can give your Akita the happier it will be. Since it likes to carry objects, a good game of Frisbee may be just what your Akita needs.
Nerf Dog Nylon Flyer Dog Toy, Flying Disc, Lightweight, Durable and Water Resistant, Great for Beach and Pool, 9 inch Diameter, for Medium/Large Breeds, Single Unit, Red
NERF-TOUGH: Nerf-quality materials make our Nylon Dog Toy perfect for fetch and for teaching your dog new tricks
HIGH VISIBILITY: The bright red nylon flyer is easily trackable for both you and your pet, no matter where or how far you toss it
MADE TO LAST: Lightweight, durable, and weather & water resistant, the flyer is the perfect toy to take to the lake, beach, or pool
FOR MEDIUM AND LARGE BREEDS: Lightweight and flexible flyer is ideal for medium and large breeds
SAFETY FIRST: Designed with your dog's safety in mind, each of our dog toys are tested to ensure endless hours of family fun
Like any other intelligent dog breed on our list, there is a trend of exercising before heading out. It's no different for the Akita, who can do big damage if left alone and bored.
Now let's introduce you to the final dog on our list. A foxy looking dog who steals some of its looks from the Samoyed and Eskimo, the Shiba Inu.
5. The Shiba Inu: The Original Doge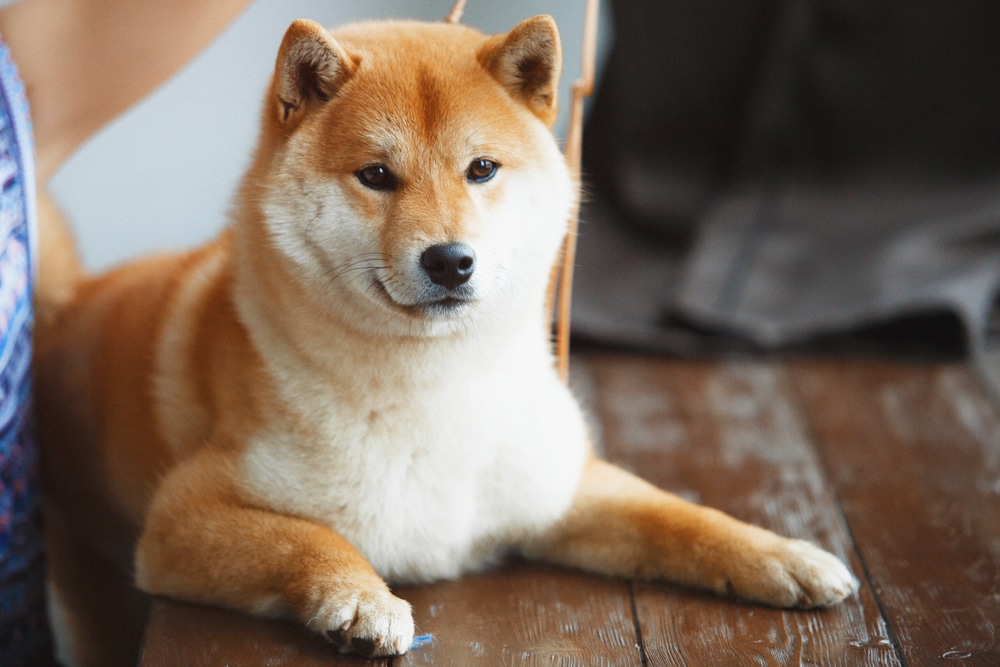 I'm sure you've seen memes all over the internet featuring the web's most popular breed, the Shiba Inu. Like the Akita, the Shiba Inu hails from Japan and is one of the country's 6 native breeds. It shares plenty of spitz characteristics with the American Eskimo.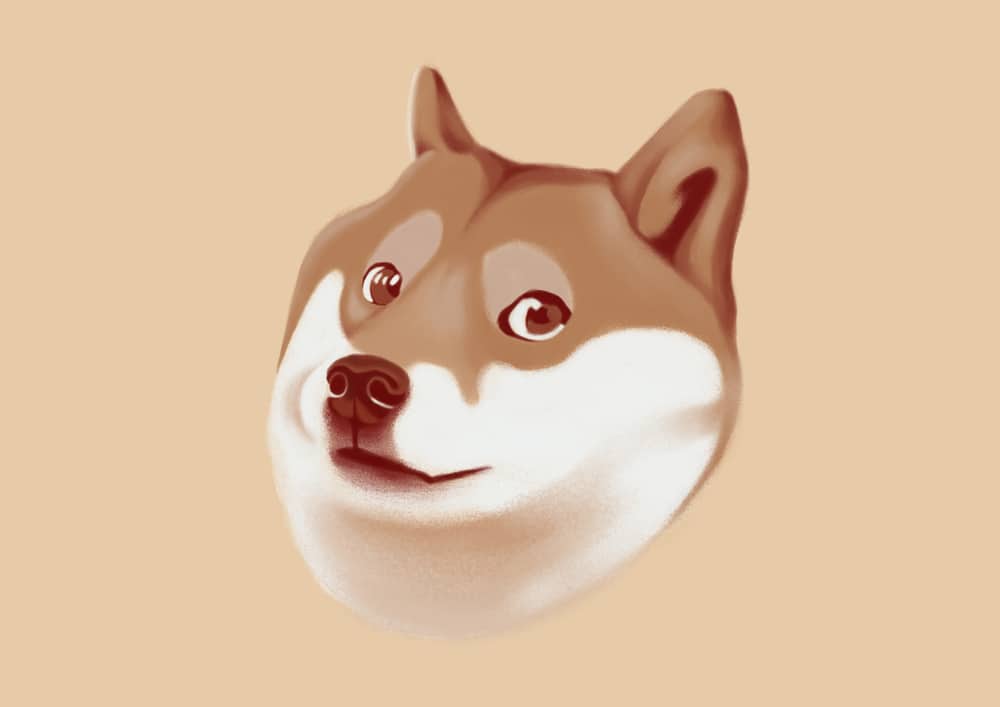 One Of The Smallest Hunting Intelligent Dog Breeds
The Shiba Inu is known for hunting small game. With its small size, usually standing no taller than 16.5 inches (41 centimetres) and weighing 17 pounds (8 kilograms), you wouldn't think it would be helpful for hunting like the Akita. But it was the perfect dog for hunting small game. An American service family imported the first Shiba in 1954.
Cute But Fierce
The Shiba Inu may look as friendly as the Samoyed and the Eskimo, but it has an aggressive streak like the Akita. It shares love and affection with its owners, but it is very protective of its toys and territory. Its hunting mentality makes the Shiba a guard dog by nature. It is often suspicious of strangers and has a mind of its own. Its free thinking makes it difficult to train. It's almost cat-like. While other intelligent dog breeds will come to you when called, the Shiba only tends to your calls when it feels like it.
The Shiba offers a mix of bad tendencies from all the other dogs on the list. Much like the Samoyed, it tends to chase animals, and even though it is small in stature, it requires a fenced backyard like the Husky. The Shiba is incredibly swift and can take on an escape plan quickly.
Doesn't Like To Be Restrained
In addition to being a free-thinker, the Shibia also wants to be a free body. You may find it hating its leash. But a leash is necessary for the dog's protection. With time and patience, the Shiba will eventually take to being restrained. A properly sized leash is a must.
SENYE PET Retractable Dog Leash,16ft Dog Traction Tape for Large Medium Small Dogs,One Button Break and Lock System
Retractable Leash up to 16Ft: SENYE retractable traction rope can be extended to 16 Ft, giving the dog enough room for activity.
One Button Brake Brake and Lock Safety System: Reliable lock button can adjust the length of the belt as needed, the belt can be kept constant, you can absolutely control your dog and your own distance.
Comfortable Handle: Ergonomic TPE anti-skid handles are easy to grip, even if your dog is pulling and running without worrying about damage your hand.
Heavy Duty: The traction rope is suitable for large dogs, medium and smaller dogs, giving them maximum freedom under security control.
To ensure that the product is in good condition. If any part of the damage, please do not use this product, so as to avoid danger.
A plus about the Shiba is that it doesn't require as much quality time with you as the other breeds. You still need to give it love and affection, but it will not destroy your house if you forget to say goodbye before heading off to work. Once you crate train the Shiba it will know its place in your home, and will often take naps when you head out. However, the Shiba is still an active dog who will enjoy exercising with you.
Carlson Pet Products SECURE AND FOLDABLE Single Door Metal Dog Crate, Small
DIMENSIONS: 24-inches long by 18-inches wide by 19-inches tall
SECURE ALL STEEL: Single door design with secure locking system for your pet's safety
REMOVABLE AND WASHABLE: Includes a black removable and washable pan
FOLDABLE AND TRAVEL: Foldable system for portability, storage and car travel
BREEDS: For smaller breeds and puppies, up to 25 pounds
Let's Roll Over All This Info On Intelligent Dog Breeds
So there are our top 5 intelligent dog breeds for active owners. All of these breeds are thinkers who need stimulation to be happy, and exercise is the best way to keep them stimulated. The Husky is a great intelligent dog breed for those who have the time and dedication for proper training and exercise. The same goes for the Akita, who is the most aggressive breed on our list. The Akita requires the most training and things can go south if it is not trained at an early age. Underneath their tough guy persona they are still loving and fun natured dogs. With the proper care they can become great additions to your life. We do not recommend either breed for first-time dog owners. You need to have enough confidence in yourself to handle a Husky or an Akita, otherwise you will not be alpha, they will.
Then there is the Shiba Inu, the Akita's fellow country dog. The Shiba Inu is physically similar to the Eskimo and Samoyed, even offering a foxy version of the Samoyed smile. The Shiba is also more of an aggressor like it's Akita relative. It's a hunting dog used to take on small game, which means it is protective of its belongings. They are not as difficult to train as the Akita or Husky, which makes it a friendlier option for first time dog owners. However, it's speed and agility make it a challenge, even for seasoned owners. If you're looking for something calmer and less aggressive, then the Eskimo is the dog for you. It's calm nature makes it similar to the Samoyed. It requires more love and affection than the Husky, Shiba, and Akita, but as long as you keep it preoccupied and stimulated it will obey.
Our Pick For One Of The Most Well-Rounded Intelligent Dog Breeds
For someone looking for a partner in crime when it comes to getting active and life as a whole the breed we recommend is the Samoyed. While the Eskimo is almost a mirror image, we cannot resist the signature "Samoyed Smile" and subtle off white coat. In addition to appearance, this dog is eager to please, more so than any other dog on our list. This dog is a ball of energy, requiring the most exercise, which will help keep both of you active. The more exercise it gets, the happier it will be.
Samoyeds quickly become part of your life and the life of your family. They are protective, but not aggressive towards their belongings. Samoyeds are watchdogs, warning you about potential danger with their barks, but leaving the decision to act up to you. They require training, but if you are a keen and patient owner, you will be able to see this training through. Become the alpha, keep the Samoyed active, and they will always be at your side smiling.
Do you agree with our pick, or did another breed win your heart? Let us know in the comments below!