Picture this. Your bathroom is covered in muddy puddles. There's loose fur floating all through the room, and an unpleasant wet dog smell fills your nostrils. That's right, it's doggy bath time. And we know, after a long, taxing shampoo you're probably wondering, do dogs need conditioner too? The short answer is yes.
Just like us, conditioners make it far easier to brush your dog's fur. And if you own a long-haired dog like a samoyed, you know how important regular brushings are. Conditioner also adds healthy oils into the fur that shampoo may strip out. Basically, dogs need a conditioner for the same reasons we do. That said, you should only ever use a conditioner or shampoo that's specifically designed for dogs. Dogs have far more sensitive skin and a different pH balance than humans. This means human conditioners will likely leave them with irritated skin.
How often should I condition my dog's coat?
You should use a quality dog conditioner every time you bathe your dog. If you find that your dog's hair is getting tangled in between washings, you can try a leave-in spray conditioner like the The Blissful Dog Shine-On + Sheen Coat Spray, All Natural, Leave-in Conditioner and Coat Detangler for Your Dog, 8 Oz instead. If bath time is a real struggle for your pup, don't sweat it. There are plenty of 2-in-1 dog shampoo and conditioners like the Arm & Hammer for Pets 2-in-1 Shampoo & Conditioner for Dogs | Dog Shampoo & Conditioner in One | Cucumber Mint, 20 Ounces - 2 Pack Dog Shampoo and Conditioner for All Dogs that can help speed the process along.
How to use dog conditioner
Most dog conditioners will require you to dilute them with water first. So always start by reading the manufacturer's directions to see how much water you'll need to add. After you've shampooed and rinsed your pup, it's time to apply the conditioner. Some formulas will direct you to leave the dog conditioner in for 5-10 minutes. During this time, it's smart to comb your dog's hair, as this is easier to do while the conditioner is in. Combing the conditioner also helps it spread all over your dog's coat. You may also want to cover your fur Samoyed with an Dog Towel for Pets while you wait, so they don't get too cold.
When you're ready to rinse, make sure you're being as thorough as possible. Leaving in any shampoo or conditioner residue can cause irritation. It can also cause your dog's coat to look heavier.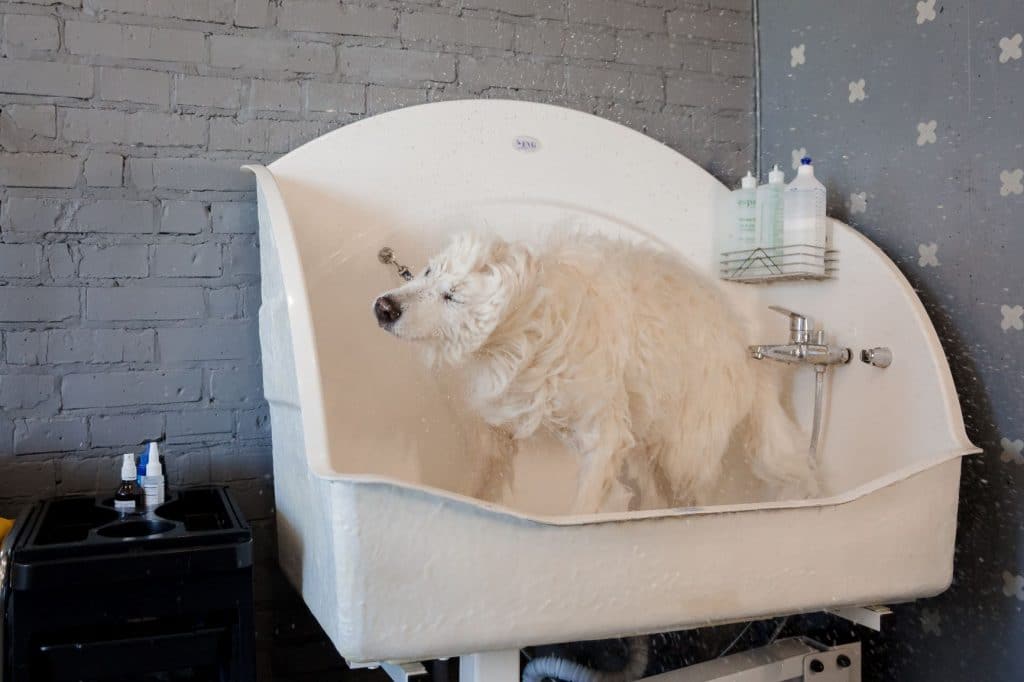 Our Favourite Dog Conditioners

If you own a Samoyed or other long-haired dog, you know the shedding is constant. That's why we love the TropiClean Lime & Coco Butter Deshedding Dog Conditioner for Shedding Control | Natural Pet Conditioner Derived from Natural Ingredients | Cat Friendly | Made in the USA | 20 oz.
It's designed to reduce shedding. And on top of that, it has a pleasant lime and coconut scent that will take care of your little stinker.
What we like:
Made from natural and naturally derived ingredients
Soap-free, paraben-free, and dye-free
From a trusted brand
What we disliked:
Scent may not appeal to all dogs or people
Check Price
Deshedding Conditioner
FURminator Ultra Premium deShedding Dog Conditioner, 1 gallon
Furminator deSheddign Ultra Premium Conditioner
Reduces excess shedding by releasing the undercoat during the bath
Contains no parabens or chemical dyes
Enriched with Omega 3 and 6 fatty acids, Chamomile Extract and Aloe Vera
Use monthly as part of the Furminator at-home professional grooming regiment for best results

The FURminator Ultra Premium deShedding Dog Conditioner, 1 gallon is another trusted brand with a quality deshedding formula. The one-gallon container is ideal if you have multiple dogs. And since you need to dilute this conditioner with water, it will last a long time. We love that the formula is enriched with Omega 3 and 6 fatty acids, as those are essential for healthy skin and fur. As with any quality dog conditioner, this one is free of parabens and chemical dyes.
What we like:
Reduces shedding
Paraben and chemical-free
Enriched with Omega 3 & 6 fatty acids
What we disliked:
On the pricier side
Large bottle can be tricky to work with
Check Price
Hydrating Conditioner

If you're looking for a trusted brand that utilizes natural ingredients, then the Burt's Bees Care Plus+ Hydrating Coconut Oil Dog Conditioner might be the conditioner for you. The conditioner uses coconut oil to naturally nourish and hydrate your dog's fur.
You won't find any artificial scents in this conditioner either. Though it may have a subtle, naturally occurring coconut scent. The gentle formula is safe for all dogs but is especially beneficial for those with dry skin.
What we like:
Free of colorants, sulfates, parabens, SLS, phthalates, and petrolatum
No artificial scent
pH balanced for use on all dogs
Botle is made from 80% recycled material
A little product goes a long way
What we disliked:
Does little in the way of removing dog smell
Product is on the runny side, be cautious when pouring it out
Check Price
Oatmeal conditioner
Sale

If your fur baby suffers from sensitive skin, the John Paul Pet Oatmeal Conditioning Rinse for Dogs and Cats, Soothing Sensitive Skin Formula, Moisturizes and Revitalizes Dry Skin and Fur, 16-Ounce might be just what they need. In addition to oatmeal, the formula contains four other conditioning agents like chamomile. We love that this conditioner comes from the same people who make Paul Mitchel shampoo for humans. For silky and manageable dog fur, this conditioner is great.
What we like:
Cruelty-free
Ideal for dogs with sensitive skin
Comes from a well-loved brand
Concentrated formula requires less product than other brands
What we disliked:
Check Price
Leave-in spray conditioner
On days when you don't have time for a full bath, The Blissful Dog Shine-On + Sheen Coat Spray, All Natural, Leave-in Conditioner and Coat Detangler for Your Dog, 8 Oz will save the day. We love this one from The Blissful Dog because it adds a beautiful shine to your dog's coat. If your dog is prone to tangle or matted hair, this detangling formula will make brushing far easier. There is a slight perfumey smell to the spray. However, the product is designed to be diluted with water, which helps with the strong scent as well.
What we like:
Leaves hair shiny and silky
Alcohol-free & hypo-allergenic
Quick and easy to use
What we disliked:
Scent may be unappealing to some
Not quite the same as a regular rinse-out conditioner
Check Price
Best Brands for Dog Conditioner
When it comes to brands for dog conditioners we love products that are made in the US. Always look for products from trusted brands, or ask your vet for recommendations.
Dog Conditioner FAQs
Can I use human conditioner on dogs?
No. Human conditioners don't have the right pH balance for dogs and can harm the skin.
Is a leave-in conditioner safe for dogs?
As long as the conditioner is from a reputable source and is specifically designed for dogs, you should be safe.