For a large dog breed, Samoyeds are very energetic and love their toys. You won't see them laying around too long. So, what are the best toys for Samoyed dogs?
The best toys for Samoyed dogs are the Classic Kong, dog toy balls, the Kong Flyer, reflection toys, and chew bones.
Why Are Toys Important For Samoyed Dogs?
It's no secret that Samoyeds need exercise. Without it, they start to go a little crazy and can become destructive. Toys are a great, fun way for them to get that.
Toys also give them some fun things to do at home. You should take your Samoyed out for exercise each day, but when they're not outside, toys give them something to do while you're gone. Some toys also help keep their minds sharp.
The 5 Best Toys for Samoyed Dogs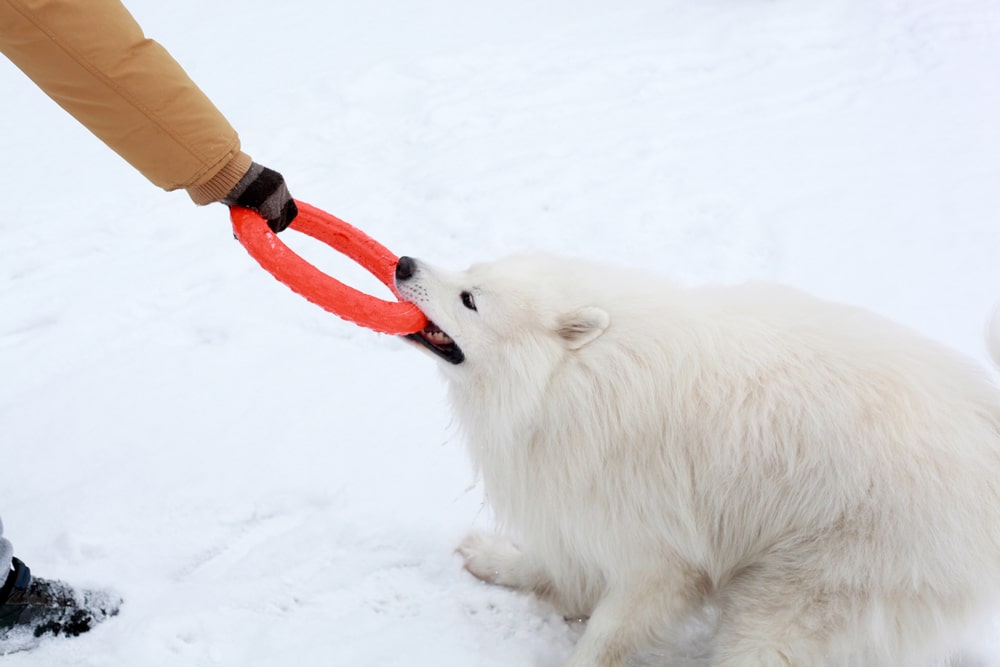 Choosing a good toy for your Samoyed dog can be a challenge as there are many things to consider. As your Samoyed grows and matures, it will need different types of toys along the way. Plus, you'll want to keep in mind that every Samoyed is a little different.
Some Samoyeds will like toys they can chew, some will like toys they can throw around. So, don't worry if the first toy or two you buy doesn't interest your Samoyed very much. It may change its mind later or it may just need a different toy. That said, here are the 5 best toys for Samoyed dogs.
1. The KONG Classic.
First up is the KONG Classic. What's great about this toy is it comes in 6 different sizes and different rubber strengths. So, there's a size and rubber strength that works for your Samoyed.
Okay, but how does the KONG Classic work? It just looks like a beehive. That's what makes this toy so great: it's a simple but effective design.
First, you'll want to make sure your Samoyed knows how to play with the KONG. It's hollow, so you can stuff food or treats in there. Once that's done, show them how excited you are about it, tease them with it, then let them go to town.
Soon enough, your Samoyed will be loving the KONG toy, especially once they find out it gives food and treats. Now, let's take a look at another toy for Samoyed dogs.
Check Price
2. Dog Toy Balls
Another classic, dog toy balls come in all shapes and sizes. Some of them, like the one we've linked below, are even good at cleaning a dog's teeth. Some will squeak too, keeping your Samoyed dog entertained while playing with them.
Check Price
3. The KONG Flyer
There's a reason KONG is one of the best dog toy makers in the business, and this frisbee toy helps prove it. First, it comes in two sizes: small and large. Second, it's a great toy for taking your dog to the park.
You can throw this frisbee toy long distances and watch your Samoyed dog chase after it. This is a great and fun way to help your Samoyed get the exercise it needs. Since it's made of rubber, it'll be easier on their teeth and gums than a plastic frisbee would be too.
Check Price
4. Puzzle Toys
Sometimes it's not just about the physical exercise a Samoyed gets from a toy, but also about the mental exercise too. Puzzle toys are great for this.
So, what's a puzzle toy? They're similar to the KONG Classic in that they're stuffed with food or treats. The difference is that the dog has to figure out the puzzle by pushing things around before they can get the food.
What's cool is that even if your dog figures out the puzzle, you can get a different one or a higher level of difficulty. Doing this will keep your Samoyed's mental game sharp, making this another one of the great toys for Samoyed dogs.
Check Price
5. Chew Bones
While not necessarily a toy, chew bones will nonetheless be a huge part of your Samoyed's playtime. It's no secret that dogs love to chew on things, and it's no secret that they love nothing more than to chew on bones.
The great thing about chew bones is that there are tons of options to choose from. Brands, sizes, flavors, and ingredients too. There are even chew bones for puppies versus adults.
One thing to be careful of is how much and how hard your Samoyed likes to chew. Choose a bone that's going to meet its needs. Some bones can splinter or cause choking or irritation in their mouths.
Check Price
Are There Any Other Toys I Can Try For Samoyed Dogs?
Yes, actually. Lacrosse balls are good toys for Samoyed dogs to play with.
Are There Any Toys I Should Avoid?
In general, avoid any toys that your Samoyed dog can swallow or that will be bad for their teeth and gums. Examples include tennis balls and golf balls. Also, check on the toys you do have to make sure they're not in danger of being ripped to pieces small enough for your Samoyed dog to swallow.
In Conclusion: The 5 Best Toys for Samoyed Dogs
The great news is that there are lots of options when it comes to toys for Samoyed dogs. If you find that one isn't working, you can always try another. Sometimes it just takes a little trial and error.
So, got any good toy ideas of your own for Samoyed dogs? We'd love to hear them in the comments below!