A Samoyed's pristine white coat is one of its notable features. The coat makes the Samoyed look fun, fluffy, approachable, and charming. Pair the Samoyed's coat with its positive personality and winning smile, and you have an irresistibly cute dog on your hands. But what if you're not particularly interested in a white Samoyed? What if you want a black Samoyed?
You might be interested in learning about the black Samoyed. A black coat would certainly be easier to clean and maintain than a white coat. But is there even such a thing as a black Samoyed? Or are they just urban legend? Let's find out!
Black Samoyed: Fact or Fiction?
You might've seen pictures of the black Samoyed around the web, however, Samoyeds cannot be born with black coats. If you come across a black Samoyed for sale, approach it with caution, because the dog is probably a mix.
There are options if you don't want a pure white Samoyed. According to the American Kennel Club, a Samoyeds coat can be one of four colors:
Biscuit
Cream
White
White & Biscuit
The cream and biscuit varieties of Samoyed offer a slightly yellow and brown coat, which can be easier for owners to clean and maintain.
The Great One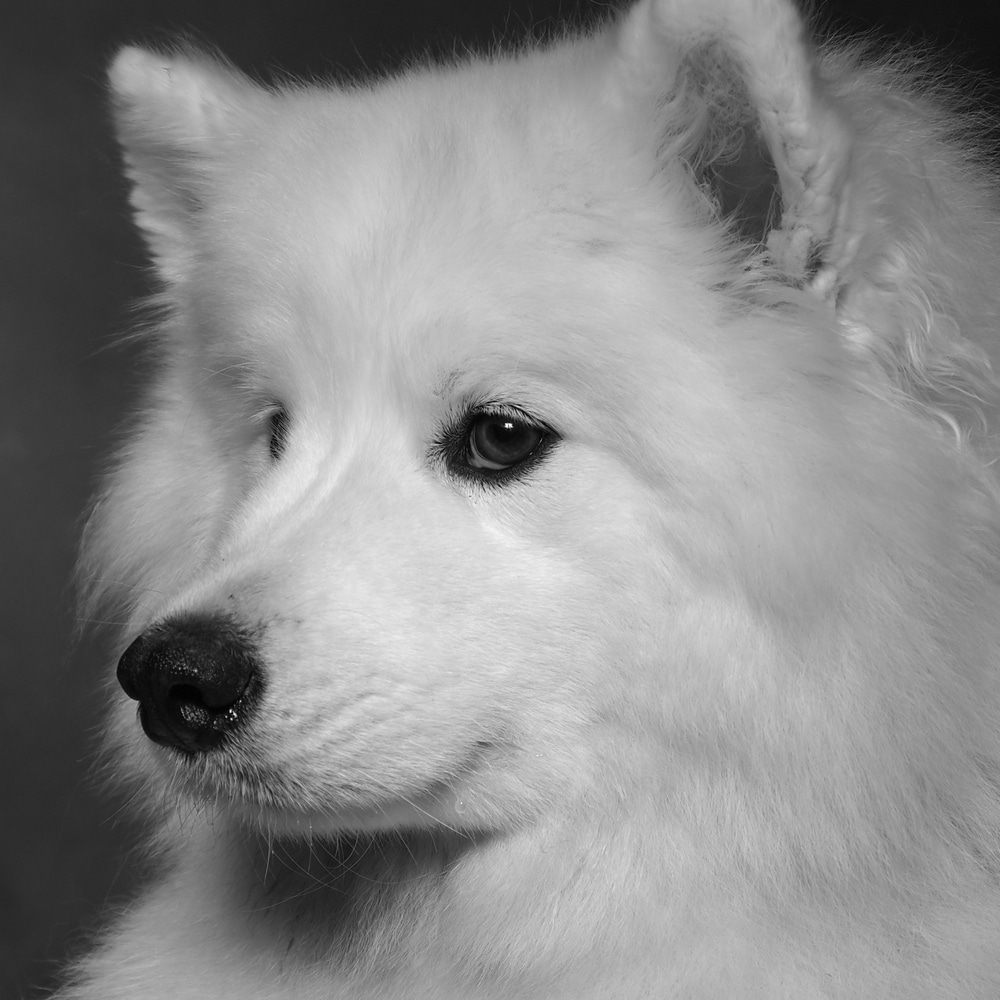 There are two historically famous black Samoyeds. They earned a feature article in a 1950s book entitled "The Samoyed," published by the Samoyed Association. And if you're interested in reading up on the breed, check out a variety of owner's manuals and training guides.
A black Samoyed named Peter The Great arrived in England with Mr. Killburn Scott. Those who saw Peter described the color of his coat as "deep biscuit." The book also details sightings of black Samoyeds in 1935, where Mr. Will Hally saw a black Samoyed in a show ring. However, even this Samoyed had patches of white on its chest and he believed the dog was not pure. Will Hally traced the origin of this Samoyed back to Russia. He dismissed these Samoyeds, referring to them as "mongrelly," which means he couldn't define their breed. He believed that true Samoyeds come from the area between the Kara and White seas near Russia, and they are always white, cream, or biscuit.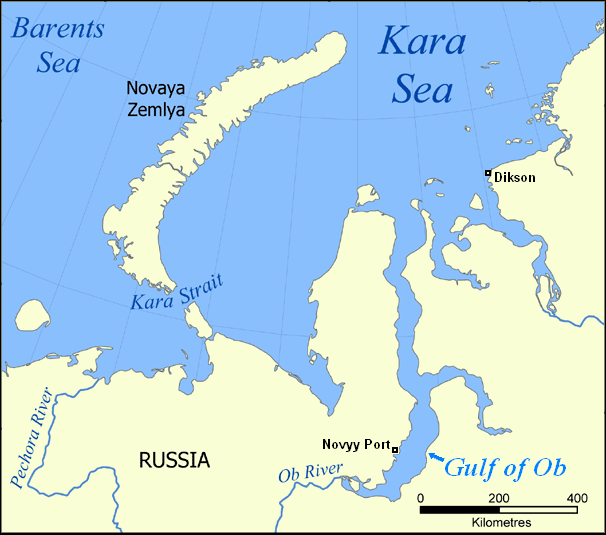 Map showing the Kara Sea across from Siberia.
So what about Peter the Great? This black Samoyed came on the scene in 1897, long before Will Hally's research. Peter the Great won first prize at the Cheltenham show with its owner Maclaren Morrison. But even Peter the Great has Russian ancestry and is not a pure Samoyed. There have been cases of the black recessive gene popping up in Scotland, where a litter of puppies featured black and white coats and no impure mating took place. But black purebred Samoyeds are more of an urban legend than a reality.
Other Options Instead Of A Black Samoyed
If you are in love with the Samoyed look but can't wrap your head around maintaining and cleaning its white coat, there are other options out there. These dogs look similar to Samoyeds but sport darker coats, making them low-key and low maintenance.
Belgian Sheepdog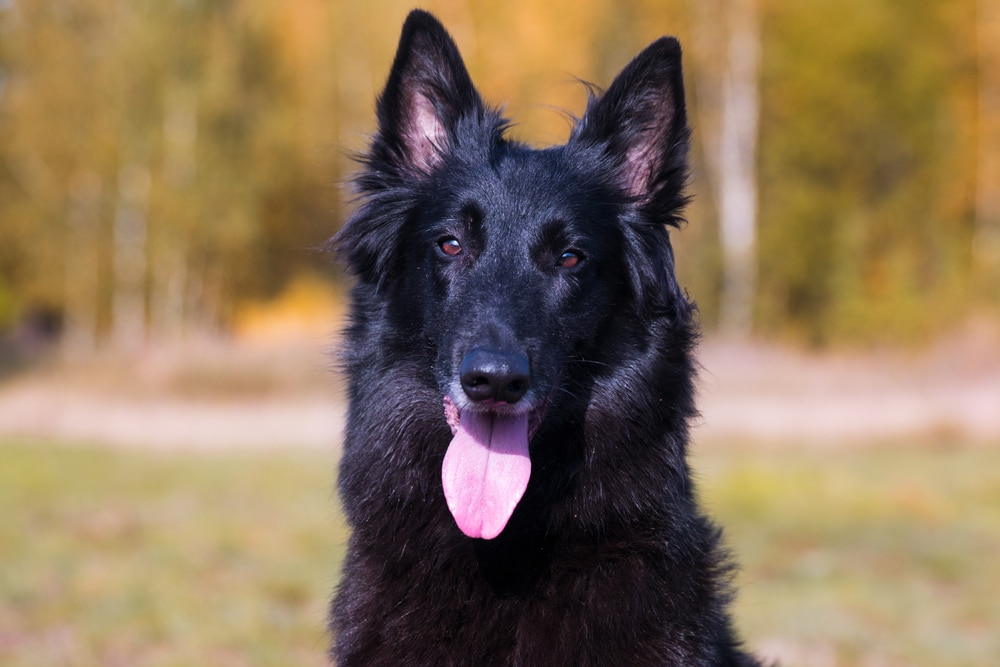 Similar to the Samoyed, the Belgian Sheepdog is a hard worker with herding responsibilities. Eventually, they got promoted to police dogs, and their versatility makes them useful for several other jobs and sports. Females are usually 45-60lbs (20-27 kilograms), and males weigh 55-75lbs (24-34 kilograms). They are very similar in temperament to Samoyeds. They require plenty of exercise and don't like being alone for long periods of time.
According to the American Kennel Club's breed standard for Belgian Sheepdogs, the only appropriate coat color is black. Sometimes they may have white markings on their chest, and between the pads of their feet, on the tips of their toes, or on their chin.
Eurasier: The Black Samoyed Alternative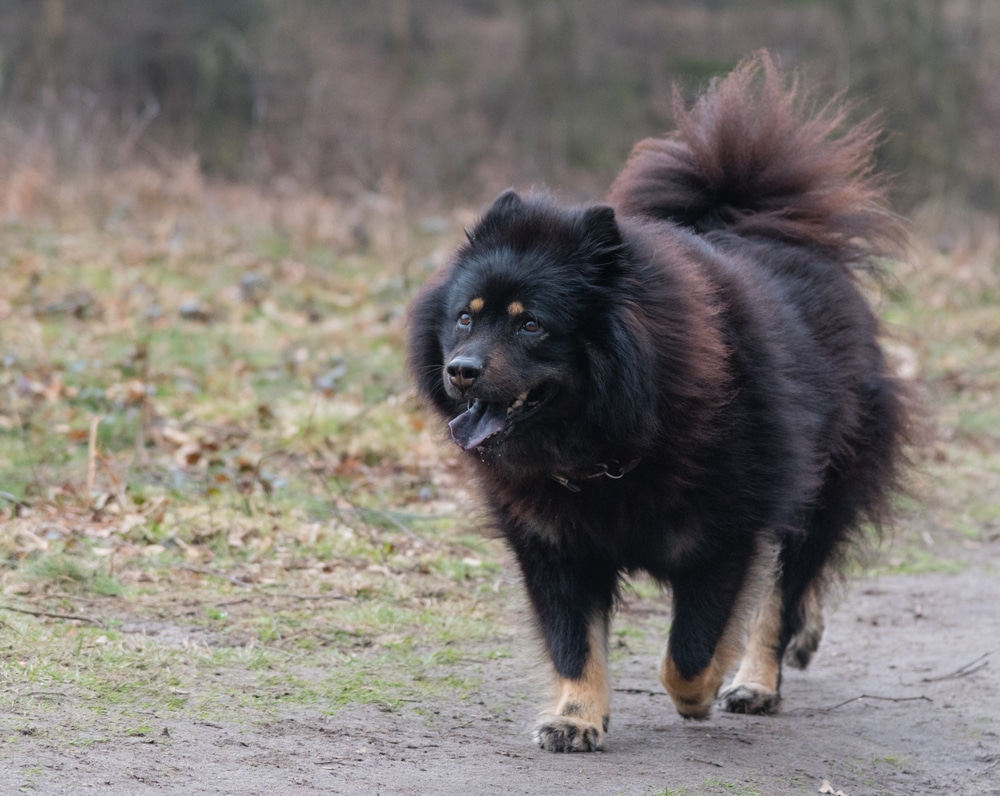 This breed rivals the Samoyed in cuteness. The Eurasier is a medium-sized dog of the German Spitz variety crossed with a Chow. In later years the Euraiser became a cross between the Chow, Samoyed, and Spitz. They can weigh anywhere between 40-70lbs (18 – 31 kilograms) and offer a medium build. They are known to be smart, loyal, and even-tempered. Eurasiers make great watchdogs and they are pack-oriented, which makes them very family-friendly. Again, these dogs don't do well when left alone for long periods of time.
The Eurasier's coat is a mix of their Chow-Chow & Wolfspitz descendants. Unlike the Samoyed, the Eurasier comes in a wide range of colors including black, red, and fawn.
Pomeranian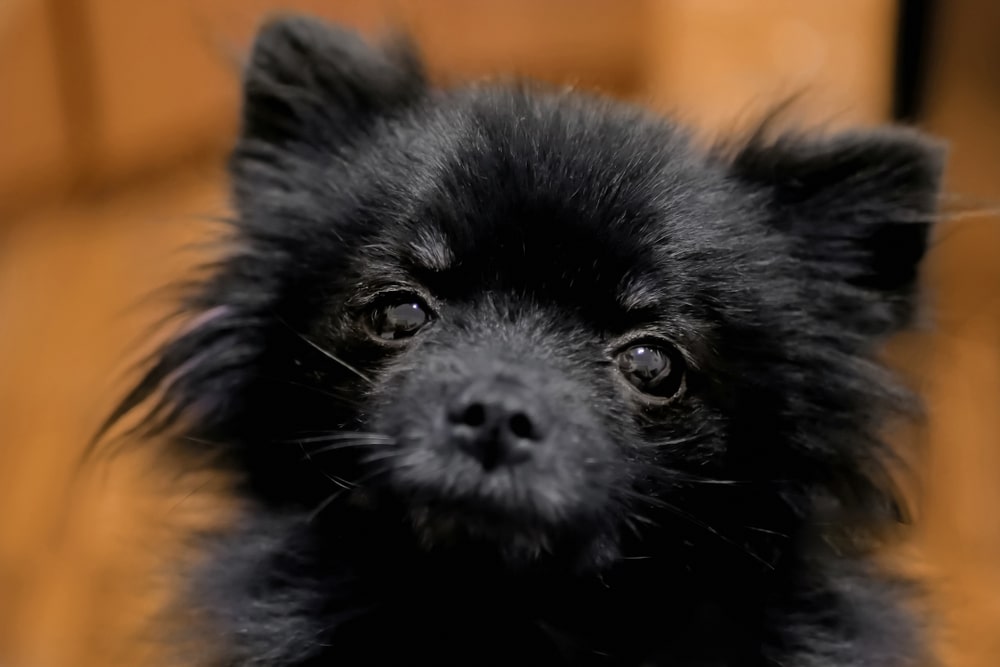 This dog stuffs the cute and fluffy aspects of a Samoyed into a small package. Pomeranians are actually descendants of larger sled pulling dog breeds, like the Samoyed. Because of this, the dog believes it is much larger than it really is. It exudes the confidence and sense of superiority that larger breeds often do. Pomeranians are compact, active, and capable of competing in agility and obedience activities. They also make an ideal family dog. With plenty of exercise and mentally stimulating events, Pomeranians won't get up to much trouble at home.
Pomeranians come in many different colors, similar to Eurasiers, including black, white, and red.
Mutts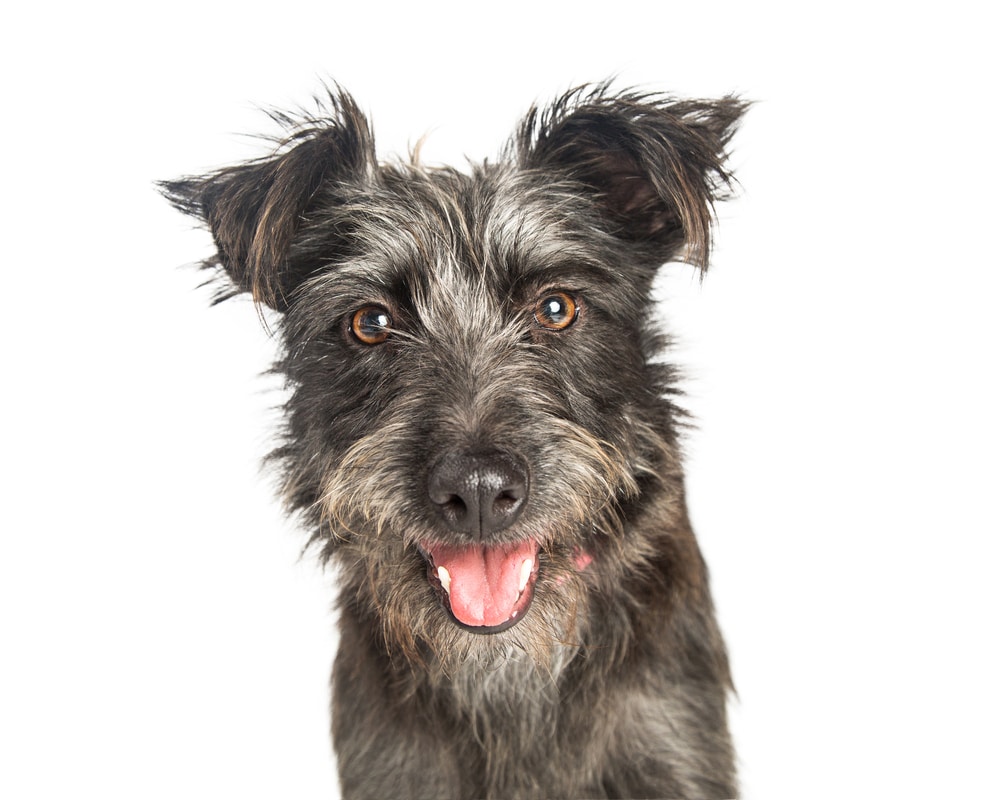 If you can't settle on one of the above breeds, then consider finding a mix. Check your local rescue and see if you can give a dog a new home. You can find a dog offering a mix of Samoyed traits and characteristics with a coat that suits your needs.
In Conclusion
The elusive black Samoyed is rare, and it is certainly not purebred. Throughout history, they have been spotted, but upon further research, they always link back to other breeds. Purebreds only come in a white, biscuit, cream, and a white biscuit mix. If your Samoyed is not one of these four colors, then it is not purebred. There are options out there for dog lovers who admire Samoyeds but could do without their white coats. But ask yourself this: If you can't appreciate the Samoyed's beautiful white coat, then do you really love Samoyeds?
There are whitening shampoos available that maintain the purity and elegance of your Samoyed's coat. Always contact your vet before using new shampoos or body care products on your Samoyed, as they may be allergic to some of the ingredients.
Alpha Dog Series - Grooming Natural Dog Shampoo and Conditioner with Aloe Vera, pH balanced Shampoo for Dogs, Tear-Free, Moisturizing Dog Shampoo for Sensitive Skin - 26.4 Oz (Pack of 2, Bright White Shampoo + Conditioner)
Deep Cleansing Shampoo and Softening Conditioner combined into one. It is a Gentle and Smoothing Shampoo & Conditioner 2-in-1 Formula, specially formulated for a dog's delicate skin and coat.
Long-Lasting Fragrance: Our dog shampoo formulas will thoroughly remove all bad and unwanted doggy odors and leave a soft and long- lasting, clean fragrance that adheres to the coat for up to 2 weeks.
Gentle and Effective: Our formulas are deep cleansing but gentle on the skin. Our gentle formulas are pH balanced and includes Aloe Vera so it will never dry out your puppy's skin or coat and will instead have a smoothing and moisturizing effect. Our formulas only contains natural, deep cleansing ingredients that enhances. Also, our products are Tear-Free so no need to worry about soap getting into your pet's eyes
Keep Your Dog Smelling Fresh: Our gentle formula is pH balanced and includes Aloe Vera so, it will never dry out your dogs skin or coat and will instead have a smoothing and moisturizing effects.
All Natural and Safe for Dogs: This Dog Shampoo and Conditioner is fortified with natural fruit extracts, plant extracts, and therapeutic oils that are gentle and safe for your dog.
Would you own a black Samoyed, or does the original have your heart? Let us know in the comments below!