Like all dogs, owners or groomers must regularly groom Samoyeds to keep their coats healthy and free of mats. A good quality shampoo is an important part of this grooming routine. But with so many shampoos on the market, how do you know which one is right for Samoyeds?
The best shampoos for Samoyeds are Espree Vanilla Silk Shampoo, Chris Christensen White On White Shampoo, Isle Of Dogs Silky Oatmeal, Healthy Breeds Oatmeal & Aloe Dog Shampoo, and Wahl Pet-Friendly Waterless No Rinse Shampoo. The shampoos on this list are all designed to be gentle on your Samoyed's coat and skin, and they will leave your dog smelling fresh and looking great. So, whether you're looking for a shampoo that will soothe dry skin, combat dandruff, or just cleanse its coat thoroughly, you can't go wrong with any of these five options!
5 Best Shampoos For Samoyeds Reviewed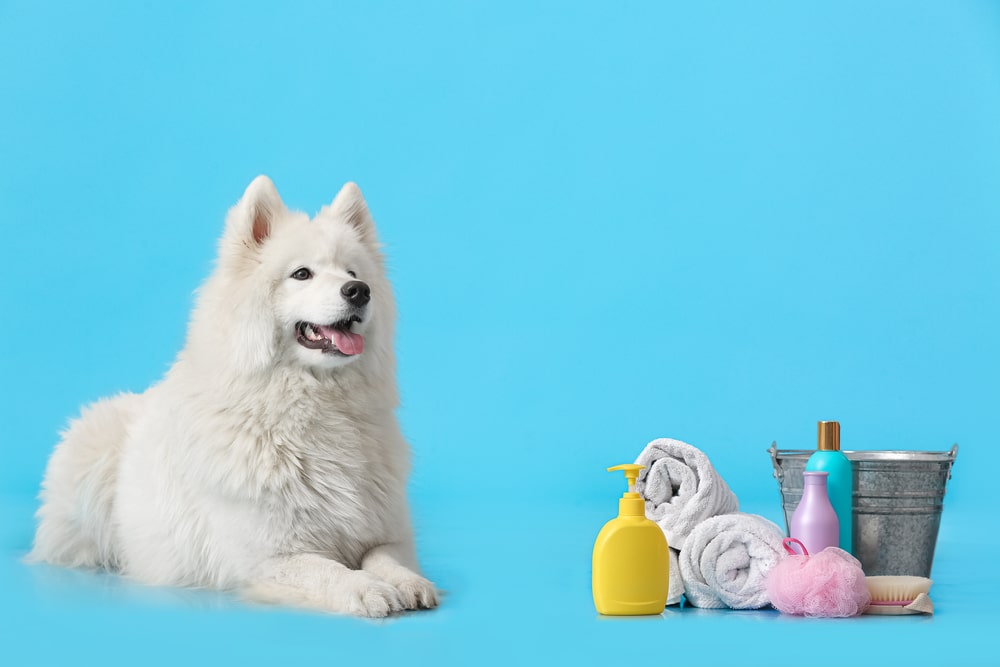 See below for the five best shampoos for Samoyeds. We'll start with Espree Vanilla Silk Shampoo.
1. Espree Vanilla Silk Shampoo
The Espree Vanilla Silk Shampoo not only cleans and conditions but also moisturizes with premium ingredients to restore and maintain optimal coat and skin care. Now, let's take a look at the pros and cons.
Pros
Provides a lovely silky smooth coat that smells great with its long-lasting vanilla fragrance
Organic aloe vera also provides ample hydration to prevent dryness and flakes
Dog will have a coat softer than silk, and it'll be safe to use alongside flea treatments
Made completely from organic aloe vera leaves
Cons
Strong coconut smell that might not be to everyone's liking
More expensive when compared to other dog shampoos
Formula is quite runny, so it might not lather as much as you are used to
Only available in one size
2. Chris Christensen White On White Shampoo
White On White is the perfect solution for removing unwanted stains or discoloration from white coats (which makes it great for Samoyeds!). It's a thorough and effective cleaner that removes excess oils, lipid deposits, dirt, and debris while leaving the coat lustrous and healthy. Here are the pros and cons.
Pros
Serves to deepen and strengthen colors
Most effective when used on white coats and can last up to 4 weeks
Comes in a ready-to-use state and should not be diluted.
Available in two sizes: 0.47 liters and 3.8 liters
Cons
Stains may reappear after a few weeks
Causes excessive dryness if used frequently
Not ideal for dogs with sensitive skin
Strong scent some people may find off-putting
3. Isle of Dogs Silky Oatmeal
NaturaLuxury™ Isle Of Dogs Silky Oatmeal Moisturizing Shampoo provides an instant and long-lasting solution to dry and itchy skin. It is a hydrating shampoo with a soothing lather that is gentle on the skin and coat, leaving Samoyeds smelling fresh and clean for weeks.
Pros
Keep your pup's coat healthy and looking great with this ultra-rich shampoo
Perfectly pH balanced and is free from sulfates, parabens, and added dyes
Formulated with jojoba oil and coconut oil to help maintain a healthy coat.
Can be diluted 15:1 water-to shampoo ratio
Cons
Some dogs may not react well to the oatmeal in the shampoo
Great choice for dogs with dry or itchy skin only
Cannot be used for dogs with flea and tick problems as it does not kill fleas or ticks
Cannot be used on puppies less than 12 weeks old
4. Healthy Breeds Oatmeal & Aloe Dog Shampoo
Healthy Breeds Oatmeal & Aloe Dog Shampoo is a soap-free shampoo that contains colloidal oatmeal and vitamins to relieve dry, itchy skin. This hypoallergenic shampoo is a natural cleanser that cleans the skin without harsh, irritating chemicals. 
Pros
This product is safe to use in conjunction with other flea control products, as often as necessary
It also provides relief from itchy, scaling, and sensitive skin, and the hypoallergenic formula is safe for use with topical flea control treatments
The pH-balanced formulation is packed with colloidal oatmeal and vitamins, making it perfect for sensitive skin
Cons
Makes the coat greasy if used too often
It is also not tearless, so be careful when using it around the eyes
The smell might be too strong for some dogs
Some dogs may be allergic to the ingredients
5. Wahl Pet-Friendly Waterless No Rinse Shampoo
This No Rinse Shampoo contains an oatmeal extract to soothe damaged skin effectively. With a coconut lime verbena scent, it is also refreshing and pleasing. The easy-to-use foaming applicator allows you to get a good lather without taking a full bath.
Pros
It is pH balanced and free of alcohol, parabens, and PEG-80s, making it a great choice for gentlly cleaning and freshening dogs
If your pet dislikes traditional wet shampoos, don't worry about rinsing it off. Simply dry their fur with a towel and brush through their coat
This plant-derived shampoo is perfect for cleansing, conditioning, detangling, and moisturizing your beloved animals and relieving dry, itchy skin
Cons
Not as effective as traditional wet shampooing, as we can't rinse the dirt and debris away
Oatmeal extract in this formula could irritate pets with sensitive skin
Coconut lime verbena scent may not be to everyone's liking
The foaming applicator can be a bit difficult to use and may not dispense the shampoo evenly
What To Consider When Deciding On A Dog Shampoo?
Here are some things you'll want to consider for any dog shampoo. This is true for all shampoos.
Address Any Skin Issues Your Pup Has
Before shampooing your pup, make sure to tend to any dry skin, dandruff, or other skin conditions it might have. Shampooing without properly addressing these issues can further irritate the skin and worsen its condition.
Make Sure There Are No Ingredients Your Dog Is Allergic To
Before using any new shampoo on your puppy, always check the ingredients list to make sure there are no substances your dog is allergic to. The most common allergens in dog shampoo are coconut, soy, wheat, and corn. If you're unsure whether or not your pup is allergic to any of these ingredients, consult with your veterinarian.
The Best Dog Shampoos Maintain The Perfect Skin pH Balance
The typical pH level for a dog's skin and coat is 7.0 to 7.5, which is more alkaline than human skin (pH 5.5-7.2). When shampooing your dog, use a product that is pH-balanced or slightly acidic in order to maintain their skin's natural pH level and prevent dryness, itchiness, and irritation.
Pay Attention To Your Canine's Skin Sensitivity
Dogs with sensitive skin might experience discomfort due to allergies, age, or health conditions. Choose a hypoallergenic or all-natural shampoo without harsh chemicals, sulfates, and other potential irritants to clean your pup's coat gently.
Always Be Aware of Your Dog's Skin Type
Dogs have different skin types, just like humans, which are:
Oily Skin: A clarifying or degreasing shampoo will remove the excess oil from the coat.
Dry Skin: Go for a moisturizing or hydrating shampoo to help replenish lost oils and keep the coat healthy.
Sensitive Skin: Choose a hypoallergenic or all-natural product that doesn't have any harsh chemicals.
Consider Organic and Biodegradable Options
When choosing a dog shampoo, look for organic and biodegradable options to help reduce your pup's exposure to harmful chemicals. Manufacturers make these products with natural ingredients that won't pollute the environment when the users wash them down the drain.
Confirm The Shampoo Is FDA Approved
Although the FDA does not regulate shampoo, it can oversee the safety and effectiveness of human drugs, biologics, and medical devices used in animals. The FDA uses standards that don't consider shampoo drugs or devices. However, if a shampoo product is found to be harmful, then the FDA has the authority to take action against it.
Can You Use Human Shampoo On Dogs?
Dogs have sensitive skin, and regular shampoo can strip away the natural oils that protect their skin. This can lead to dryness, itching, and other skin problems. Second, human shampoo is not always as effective for dogs because it is not formulated to clean a dog's coat thoroughly or under certain circumstances.
How Often Should I Use Shampoo On My Dog?
The frequency with which you should shampoo your dog depends on a variety of factors, such as including the dog's coat type, activity level, and exposure to dirt and pollutants. A good general guideline for dog baths is every three months, but if they're particularly dirty or smelly, once a month or even once a week may be necessary.
Final Thoughts On The 5 Best Shampoos For Samoyeds: Our Top Picks
When it comes to choosing the best shampoo for your Samoyed, you want to make sure it is gentle enough for their sensitive skin and will not strip away the natural oils that protect their coat. You also want to choose a shampoo that is formulated to clean a thick, double-coat thoroughly. The 5 shampoos we've reviewed above are all great options for Samoyeds and are sure to leave their coat clean, soft, and healthy.
So, what do you think is the best shampoo for a Samoyed? Have you used any of the products we've reviewed? What was your experience? Let us know in the comments below!