Choosing a suitable collar for your Samoyed is not only for the purpose of attaching its leash but also to hold ID tags. In an emergency, a suitable collar could save a Samoyed's life. So, what is the best collar for a Samoyed?
The best collars for your Samoyed are those that will not irritate your Samoyed's skin, fit securely and comfortably, and have strong hardware. For those who prefer using a leash over a harness, the collar must also be able to attach safely to the leash without​ putting too much strain on your pet. A dog's physical safety is always a priority, so we do not recommend prong or choke collars, as they can cause serious injury.
Different Types Of Dog Collars
There are many different types of collars available in the market today. We discuss some of the more popular ones below.
Flat Collars
The most common type of dog collar is the flat collar, which lays flat against your dog's neck. A ring, or metal loop, is often stitched into it so you can attach things like leashes and tags. The best part about flat collars is they are adjustable, so you can quickly and easily adjust them to fit your pet's specific needs.
Dogs who have been trained not to pull while walking can wear flat collars without the risk of straining their neck or having the collar slip off. However, it's still advisable to keep a flat collar on your dog at all times in case they need it.
These types of collars come in a variety of materials and styles such as:
Nylon collars
Leather collars
Biothane collars
Rolled Leather Collars
These collars are made of a single piece of heavy-duty leather that is rolled and stitched, making them durable and long-lasting. They have a metal alloy buckle with a D-ring to prevent rust and corrosion and increase the strength of collars.
Rolled leather collars are the perfect solution for dogs with coats that tangle and mat easily from the collar. This includes Rough Coated Collies, Samoyeds, Doodles, and other breeds.
Martingale (Limited-Slip) Collars
Martingale dog collars, also known as limited-slip or humane choke collars, are dual-looped collars that fit loosely around your dog's neck. These types of collars provide a bit more security over the dog, as they are designed to tighten if the dog pulls too hard. This helps keep your dog from slipping out of its collar, while still providing the comfort and convenience of a regular collar.
Martingale collars are ideal for small-headed pets like Greyhounds and Whippets who would otherwise slip out of a flat collar.
Head Collars
Head collars, also known as head halters or halter collars, fit around the dog's head rather than its neck, providing a secure fit and better control of your dog. Although a head halter may resemble a horse bridle, it does not restrict the dog's ability to sniff and open its mouth. This type of collar is especially helpful for strong pullers or dogs who have trouble staying focused during walks.
However, not all dogs will respond well to these collars (some dogs may panic or become overly subdued), so it is important to use them with proper guidance.
Slip Collars
Slip collars – also called choke chains or choke collars – tighten around your dog's neck when it pulls. This alerts it to stop putting tension on the leash. Though they can be effective if used correctly, slip collars present a choking hazard and can strain your dog's neck and trachea.
Prong Or Pinch Collars
Prong collars have metal or plastic prongs around the circumference of the collar, which can pinch or slightly choke your dog when pulled on. This type of collar can work well for breeds like Samoyeds due to the higher amount of strength they possess, as it will help you maintain control over them (however, we still don't recommend them as you'll see in the sentence below).
However, it is important to use a prong or choke collar properly in order to avoid hurting your dog.
Dog Harness
Dog harnesses are a type of collar that strap around the dog's body, typically near the front legs. This is common among small breeds since it provides an even distribution of strain and makes it harder for dogs to escape.
Harnesses come in many different styles and sizes and can be used for activities such as walks, hikes, and even swimming. They are also more comfortable than collars for your pet, as they don't put pressure on the neck area.
How To Choose The Best Collar For Your Samoyed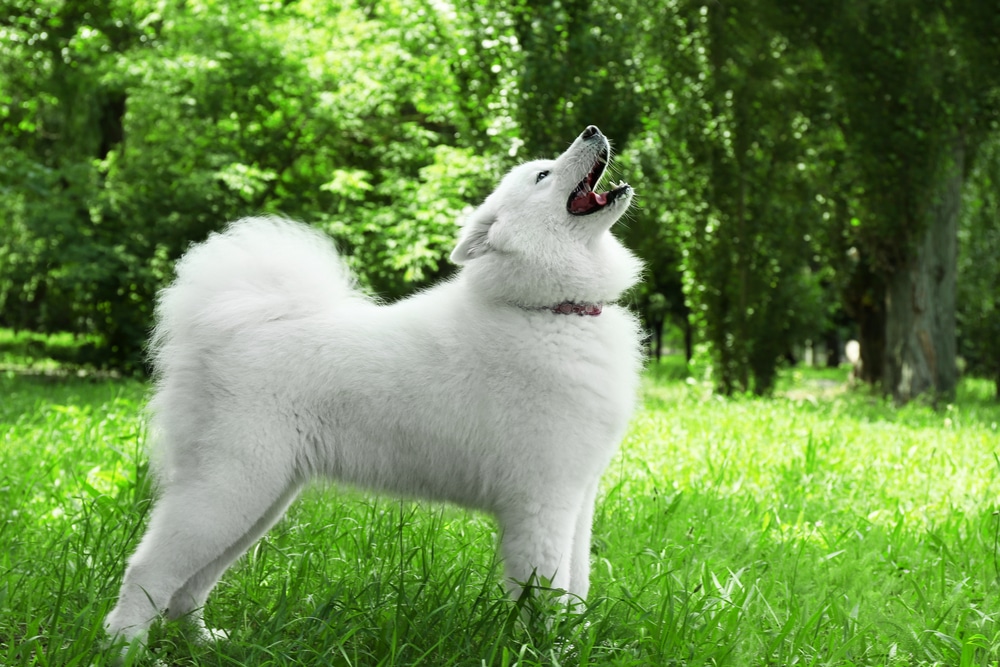 When it comes to choosing a collar for your Samoyed, there are a few things to consider.
Size
The first thing to consider when choosing a collar for your Samoyed is size. The ideal fit is comfortable without being so loose the dog can slip out of it.
To make sure you're picking the right size, measure your dog's neck with a measuring tape. There should be enough room to easily slide one finger beneath the collar once you've fastened it around your pet's neck.
Material
Samoyeds have thick, fluffy fur. So, it is important to select a material that will be breathable and comfortable for your dog. Leather, nylon, and plastic collars are all popular materials to use with Samoyeds.
Here are some things to keep in mind:
If you choose leather, look for leather that is thick and durable so it will last a long time.
Nylon collars are great if you want something lightweight and easy to clean.
Plastic collars are a good choice if you want something that is adjustable and waterproof.
Clasp
When selecting a collar for your Samoyed, choose a clasp that's easy to use and won't come undone accidentally. The most popular types of clasps are plastic or metal buckles and velcro clasps. The latter is adjustable and more durable.
Many collars also feature quick-release clasps, allowing you to easily take the collar off your pet if necessary.
Leash Attachment
Samoyeds are energetic dogs and need their owners to walk them frequently. A sturdy, reliable leash attachment is essential for safety. Both D-rings and O-rings tend to be strong and reliable options for attaching leashes to collars, so it really comes down to personal preference when choosing between the two.
Training Tool
Finally, if you're using the collar as part of your dog's training, you may want to look for a collar with special features. Some collars have built-in training tools such as vibration or sound, while others are designed with specific commands in mind.
Our Collar Recommendations For A Samoyed
Samoyeds look great in any type of collar, but for utility purposes, we suggest a wide, adjustable collar with a sturdy buckle. This type of collar is best suited to the Samoyed's thick fur and will give you greater control when taking your pup on walks. We especially recommend the following five collars for Samoyeds.
1. Unique Style Paws Dog Collar
If you're looking for a stylish, durable dog collar for your Samoyed, look no further than the Unique Style Paws Dog Collar. 
Made from pure cotton fabric, it's both comfortable and eye-catching – perfect for showing off your pup's personality. The metal buckle and D-ring keep it secure, while the bow tie adds a touch of flair.
2. Didog Leather Collar For Dogs
If you want something classic and comfortable for your Samoyed, go with the Didog Leather Collar. It's made of 100% pure-grain leather, which is both durable and soft – perfect for your pet's daily needs. This quality leash set also does well in walks or training sessions with your dog. 
The special material nameplate makes laser engraving much clearer too. Your information will be easy to read from far away, just in case your furry friend wanders off or gets lost.
3. Wolfgang Man And Beast Premium Collar
If you're looking for a top-quality collar for your Samoyed, we highly recommend the Wolfgang Man and Beast Premium Collar. The soft, breathable fabric and cooling color scheme are perfect for your Samoyed's sensitive skin and white fur. 
This collar is made from heavy-duty materials and features a wide, adjustable design with a sturdy buckle for extra security. Waterproof, odor-resistant, and easy to clean, this collar is a great option for your Samoyed.
4. Custom Catch Personalized Dog Collar (Soft Leather)
This collar is both beautiful and practical. It comes in multiple colors, and you can choose to have your Samoyed's name or your phone number printed on it. If your dog ever gets lost, this could help it be found again. The leather material is soft and won't hinder comfortable movement for your dog.
5. Blueberry Pet Essentials – Martingale Dog Collar
The Blueberry Pet Classic Solid Color Dog Collar is a great choice for dog owners who are looking for a simple and accessible design. The collar is adjustable in size, so it can be made to fit your pup perfectly, and it comes in multiple colors, so you can choose the perfect one to match your dog's personality. 
Plus, the heavy-duty hardware ensures the buckle won't come undone no matter how hard your Samoyed pulls on the leash.
In Conclusion: What Collar Is Best For A Samoyed?
When it comes to choosing a collar for your Samoyed, the best collar is one made of soft, lightweight materials that will not irritate your Samoyed's skin. It should fit snugly and securely without being too tight or causing discomfort. Strong hardware and secure attachments are essential for ensuring maximum safety when using a leash.
Avoid using prongs or choke collars as they can cause severe injury. Ultimately, the best collar for a Samoyed is one that is comfortable and provides the necessary safety features.
So, which collar are you planning on getting for your Samoyed? Let us know your thoughts and why in the comments below!