Going to the beach with your dog can be a fun and relaxing experience. Before you make the trip, however, it is important to take the time to plan and familiarize yourself with any laws or regulations regarding pet ownership on beaches. So, how do you go to the beach with a dog?
To ensure a safe and enjoyable trip to the beach with your pup, it is important to adequately prepare and follow certain guidelines. First, research which beaches are dog-friendly and check the local regulations for pet ownership on those beaches. Then be sure to pack all necessary supplies like plenty of food, water, shade protection, a leash or crate, and waste bags. Monitor the temperature and weather conditions while on the beach too.
7 Tips For How To Go To The Beach With A Dog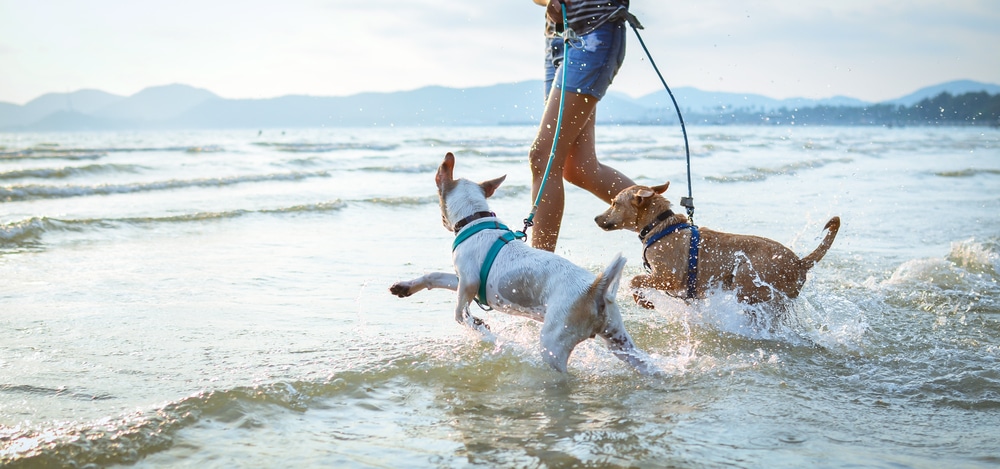 Visiting the beach with your furry best friend can be a great way to spend quality time together and have fun in the sun. With the right preparation and following certain guidelines, it can turn into an enjoyable experience for both you and your pup.
Research Dog-Friendly Beaches
Research dog-friendly beaches before visiting the seashore. Familiarize yourself with local laws and regulations concerning pet ownership on the beach, as many have restrictions. Dog-friendly beaches offer a great amount of space for your pup to frolic around while they take in all that nature has to offer! Make sure you plan ahead and enjoy the beach with your pup. 
Prepare Your Dog
Preparing your pup for a day at the beach is essential. Make sure their vaccinations are up to date, and they have a comfortable collar or harness. Bring plenty of water and some tasty treats as incentives for good behavior. If you plan on leaving them unsupervised, ensure they are well-trained to respond to your commands. 
Be mindful of any potential hazards or irritants as well, such as jellyfish stings or broken glass. With the right preparation, you and your pup can enjoy a safe day at the beach! 
Pack Necessary Supplies
Before you and your pup hit the beach, make sure to bring everything you need. Pack lots of food and water, a leash or crate, an umbrella or shelter for shade, and waste bags. Don't forget snacks for your canine companion too! It's always wise to also pack a first aid kit as well to make sure both of you are covered if something unexpected happens. With all the essentials taken care of, now it's time to hit the waves! Have fun!
Monitor Temperature And Weather Conditions
Monitoring temperature and weather is essential when visiting the beach. Too much heat could be harmful to your pup, so make sure they have adequate water and shade. 
Be aware of sudden gusts of wind and incoming storms, as well as pay attention to tide times before heading out. Taking these precautions will ensure a safe and enjoyable trip for you and your pup! 
Allow Your Dog Time To Explore
Give your pup a chance to get acquainted with the beach. Take them for a walk, letting them sniff and explore their new environment, but don't forget to keep an eye on them too. If they start digging or chasing birds, make sure to stop this behavior quickly. 
This will help your dog enjoy the beach experience in a safe and responsible way.  Your pup will feel more comfortable and have an even greater time in the sand.  
Follow Dog Beach Etiquette
For a safe and enjoyable visit to a dog-friendly beach, it is essential to follow proper etiquette. Always dispose of pet waste, and be considerate of other beachgoers. Keep your pooch on a leash or in a crate when in public areas, and never let them bother wildlife. 
These simple actions will ensure everyone has an enjoyable time on the beach!  By following these guidelines, you can ensure that the dog-friendly beach remains a safe and wonderful place for all.
Protect Your Dog From The Sun
Protecting your dog from the sun is essential when you take them to the beach. Dogs with lighter fur are especially susceptible to sunburns, so make sure to apply sunscreen designed for pets before heading out in the sun. 
Providing plenty of shade and having them wear a protective shirt will help keep them cool and shield them from harmful UV rays as well. Taking these steps will ensure your pup is safe and sound during their beach outing.
In Conclusion: How To Go To The Beach With A Dog
Heading to the beach with your pup can be a fantastic adventure for both of you! To ensure an enjoyable day, it's best to plan ahead. Choose activities everyone will enjoy, and bring plenty of supplies. Of course, don't forget to practice responsible pet ownership while at the beach. Keep your dog under control, clean up after them, and always follow beach regulations. With the right preparation, you can have a wonderful day at the beach with your furry companion! 
So, are you planning on taking your dog to the beach? Got any tips? Let us know in the comments below!