Visiting a dog park offers pet owners an enjoyable experience for their pups. Instead of playing catch in the backyard, a dog park provides active entertainment, and there are many benefits to it. But why should you take your pup to the park instead of just playing catch in the backyard? What are the benefits of visiting a dog park?
Dog parks are a safe and secure environment for both dogs and their owners, providing opportunities for socialization, exercise, and mental stimulation. They also encourage responsible pet ownership and create a sense of community for humans and dogs alike. Dog parks provide an opportunity to meet other pet owners and share tips, advice, and experiences too.
How Can A Dog Park Improve The Quality Of Life For Pets?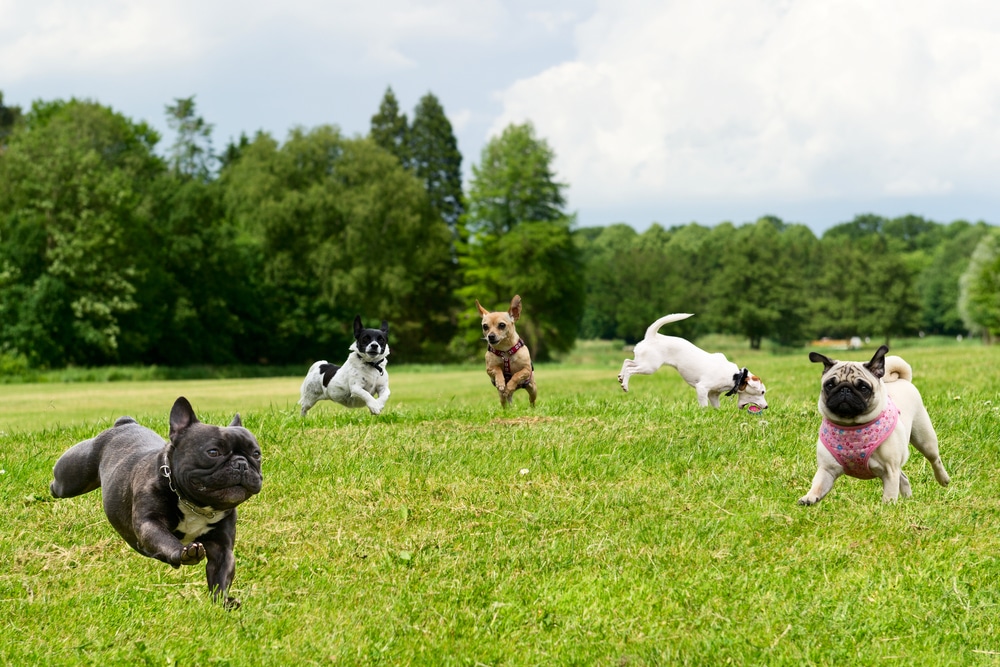 A dog park can provide a variety of benefits to the pet community. Dogs can make friends and play with other dogs, providing them with both physical and mental stimulation that they wouldn't get playing in the home alone.
Some of the benefits include the following.
Increased Exercise
Dogs can get some much-needed physical activity when they play in the park. The larger space allows them to run, jump, and stretch their legs, something that's not possible in a smaller backyard.
Stress Reduction
The open space of a dog park helps to reduce stress levels, allowing pups to act as their true selves without any restrictions. They can run, bark, and play with other dogs in the same way they would in nature.
Socialization Opportunities
Dog parks offer pet owners a chance to let their pups socialize with other canines. It's a great way for dogs to learn how to interact and play with other animals, building better behaviors when around other pets.
Improved Behavior
Regular trips to the dog park can provide mental and physical stimulation, reducing boredom-induced destructive behaviors like chewing or barking. This not only improves pet behavior but also provides a fun environment for socializing.
Enhancing Human-Animal Bonding Experiences
Enhancing the human-animal bond, these open spaces provide pets with the companionship they need while also allowing humans to socialize and interact outdoors in a unique way. It's an opportunity to connect with their beloved animals on a deeper level. Overall, it's a great chance to strengthen that special relationship.
Are There Any Downsides To Visiting A Dog Park?
While visiting a dog park can offer many benefits for pet owners and their furry friends, there are some potential risks to consider.
Risk Of Infectious Diseases
Dogs, like humans, can contract various illnesses and infections from other animals they encounter. Dog parks are hotbeds of contagion due to the close proximity of multiple animals in one area, resulting in the rapid spread of infectious diseases.
Aggression
Dogs are typically social, loving creatures, but the risk of aggression among any animal grouping remains. Even if your pet is amicable, it could be attacked by another pup.
Lack Of Supervision
Dog parks can be unsafe for pets if owners don't remain alert and take necessary precautions. Owner vigilance is key. Be aware of your pup's surroundings and intervene if a fight or other issue arises.
Don't take chances with the safety of your pet. Stay alert and proactive to ensure their well-being when visiting the park.
Injury To Humans Or Dogs
Dog parks may pose risks to both humans and dogs. Fights between dogs can result in a variety of injuries. It's important to remain vigilant when visiting a dog park to minimize any potential harm.
Legal Liability Issues
If your dog causes an injury to another dog or person, you could be legally liable. Even if the incident was inadvertent, you might still face repercussions for any ensuing harm.
When visiting a dog park, it is paramount that you comprehend potential risks and take all necessary precautions.
What Advantages Does A Dog Park Provide For Pet Owners?
These specially designed outdoor areas offer many benefits that make them an ideal spot for both dogs and their owners to enjoy time together.
Training Possibilities
Dog parks provide a safe, enclosed area for owners to train their pets. This is beneficial because dogs are distracted less in a fenced-in area than they would be in an open one. Owners can use this time to work on commands or tricks their dog may need help with, such as calling them away from distractions or staying focused in spite of other animals.
Stress Relief For Owners
Dog owners can experience a great deal of stress from exercising their pets, especially in areas with a lot of people or other animals. Dog parks provide pet owners with the opportunity to relax and take part in activities without worrying about how others are reacting. This allows them to get out and enjoy some fresh air without feeling concerned about their dog's behavior.
Opportunity To Observe Dog Behaviors
Dog parks are an ideal spot to watch various breeds interact with each other. Taking in the actions of others' dogs can provide owners with valuable insight into their own pet's behavior, tendencies, and emotions. Such observations can also be extremely helpful when it comes to catering to a dog's needs and understanding how they respond in specific scenarios.
Increased Awareness Of Pet Care Practices
The presence of other pet owners in dog parks provides an excellent opportunity for owners to ask questions and exchange advice. This can be very useful in learning more about their own pet's needs and proper care practices. This improves general pet care knowledge, securing a better quality of life for their four-legged friends.
What Safety Considerations Should Be Taken Into Account When Visiting a Dog Park?
Visiting a dog park can be a fun experience, but it's important to take safety precautions. Pet owners should consider potential risks and take the necessary steps to ensure their pup's well-being. Here are some things to keep in mind:
Ensure your pup has up-to-date vaccinations and is protected from parasites.
Refrain from bringing items that may induce aggressive behavior, such as toys or treats.
Be aware of signs of aggression or behavioral issues in other dogs, and always have an exit strategy ready if needed.
Have control of the environment, and keep your pup on a leash or under close supervision.
Check for any cuts, scrapes, or parasites, such as ticks, after play.
Look out for overly excited and aggressive dogs, which can create an unsafe atmosphere.
In Conclusion: What Are The Benefits Of A Dog Park?
Taking your pup to a dog park is beneficial in many ways. From observing and learning more about your pet's behaviors to providing a safe environment for relaxation and training, it offers owners quality time with their fur babies. However, there are risks that require vigilance and precautions, such as keeping them leashed or protected from aggressive dogs. Ultimately, dog parks provide a great opportunity to bond with your pup in a safe and entertaining way!
Are you planning on taking your dog to a dog park? Have you already? Let us know in the comments below!