You are already planning your next summer vacation, but you remember you have your dog, and it can't stay at home because there is no one to look after her. So, you think maybe you should take your dog with you. But how do you fly with a dog?
Before flying, you'll want to contact the flight company and learn whether they allow pets onboard and what their rules are for that. Then you need to contact your vet about what you need to do in order to prepare your dog for a flight.
Can My Dog Fly With Me, And What Do I Need To Know?
Whenever you are considering flying with your pet, this is the first big question that comes to your mind. If you are planning a trip, make sure you plan early and start doing research on whether your pooch can join you on the trip, especially if you're flying internationally. Certain countries may have specific rules to follow, for instance.
The first thing you need to consider is if the company you're flying with accepts pets and what the rules are for that. This means they may ask you to book the ticket for your dog earlier. You will probably need to ask if your dog stays in the cabin with you or if it flies in the cargo of the plane. Flight companies usually ask owners to provide the dog breed and the weight of the dog as well. This is part of what determines where your dog will stay during the trip.
Another thing you'll want to plan in advance is talking to your vet about the health checkups your dog may need. You'll also want to talk to them about any additional things such as vaccines or microchipping. This means your dog will have to be vaccinated at a specific time before the flight in order to be allowed to board the plane. Talk to your vet about all of this at least a couple of months before the flight.
Flight charges are also important as different flight companies charge differently. Make sure to ask how much it would cost to fly your dog. Also ask when you are supposed to make the booking for your dog if needed. Different flight companies have different rules regarding this.
Flying Your Pet Cargo Versus In Cabin
As mentioned above, where your dog will fly usually depends on size and weight. But regardless of where they are put, they will need to be put in a proper kennel during the trip. The rules about what type of kennel you need are usually provided by your flight company, and they are quite strict about this. Failing to follow their guidelines might mean you will not be allowed to board the flight, or you may need to leave your dog behind.
Flying In As Checked Luggage Or As Cargo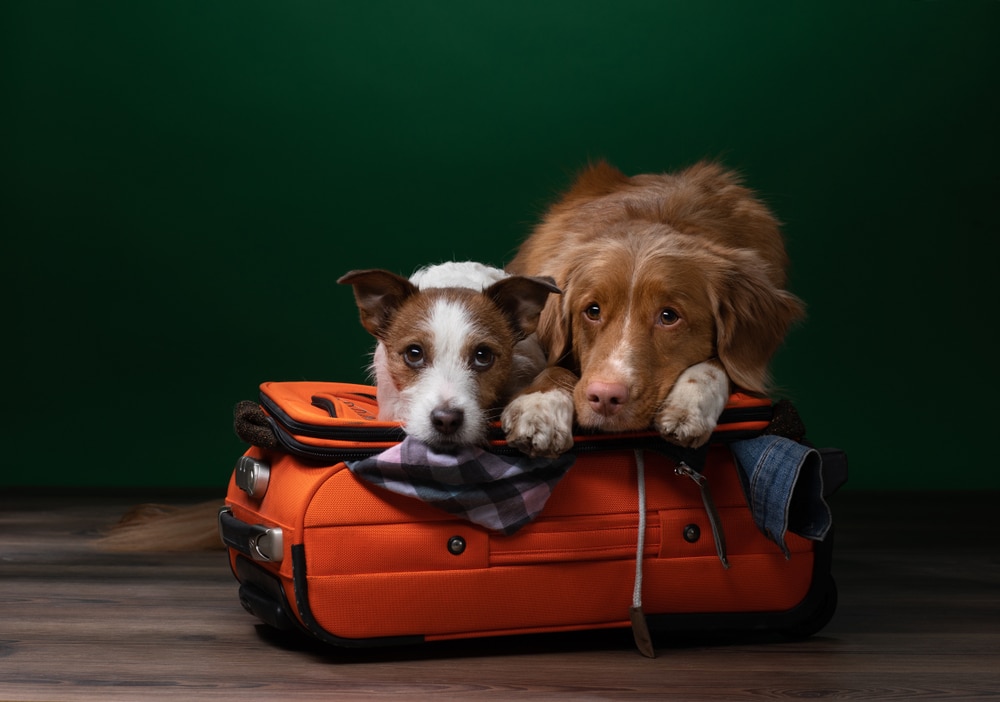 This means that your dog will go to the cargo department, where your suitcase is staying. Don't worry, it is pressure- and temperature-controlled, and it is perfectly safe for your pet. Unfortunately, this is the only way to fly a dog that is on the bigger side, meaning they are a medium to giant breed of dog. When they are checked in as luggage, it means they follow your flight plan just as a normal suitcase.
In some cases, dogs are shipped as cargo, unaccompanied, which means they follow another flight manifest. This is important to know because, depending on the layovers they may have between flights, they need to have food and water. This is why it is important to ask. If approved, prepare a small bag of food in the kennel so the personnel can feed the dog between flights.
Service dogs and emotional support dogs are usually excluded from this rule. However, as an owner, you may need to provide proper paperwork that confirms this. Those dogs are usually allowed in the cabin with you.
We also recommend doing research on a flight company's history with dogs flying in the cargo area of a plane. That way, you can determine how well they take care of and keep dogs safe. Also, accidents can happen, and ultimately it's your decision which company you fly with, not theirs.
Flying In The Cabin
Dogs that stay in a carrier that can fit under the seat are usually allowed to stay with you in the cabin. This means that your dog is traveling as extra carry-on luggage. You are usually not allowed to take more than one pet with you. Remember, you won't be allowed to take your dog out of the carrier either. This is why your dog needs to be properly trained for this.
If you want to avoid accidents and upset tummies, you should not feed your dog before flying. When you get to the airport and before boarding, make sure your dog goes to the potty, as this will make the flight more comfortable for them too. If you have an anxious dog, talk to your vet about options on how to calm your dog during the flight and what they might offer.
Conclusion: How To Fly With A Dog
Flying with your pet doesn't have to be stressful. But in order for everything to be perfect, you need to consider the time when to start preparing and to do your homework properly. This means that you need to be prepared for everything when you come to the airport. After that, you can just sit back and enjoy the flight. And so can your dog!
So, do you plan on flying with your dog? Let us know in the comments below!