Maybe you're interested in becoming a vet, or you're just curious to learn more about the profession. Veterinary medicine is an extremely challenging yet rewarding field, but what qualities and skills does someone need to be a vet?
Many people think vets spend their days playing with puppies and kittens. And that is definitely a perk of the job! However, being a vet is a lot more complex than that. Most days are spent caring for a wide variety of patients, from wellness care, minor illnesses and injuries, severely ill pets, and end-of-life care including euthanasia. There are also many types of veterinarians ranging from small animal, large animal, specialist, emergency vet, exotic animal, shelter vet, zoo vet, industry, public health, and more. In order to be a vet you must at minimum have an undergraduate degree and attend an accredited veterinary school for four years. Detailed knowledge and technical skills, hands-on experience, and an affinity for science are critical in this highly competitive profession. Leadership, compassion, empathy, and clear communication are also extremely important qualities.
Education and Experience
Let's start with the level of schooling and experience someone will need to become a vet.
Undergraduate Degree and Prerequisites
Most people pursuing veterinary medicine will opt to get an undergraduate degree in the sciences. Some universities may also offer an animal studies or pre-vet program. Either way, there are certain courses that are required before attending veterinary school, ranging from organic chemistry to physics. They may vary slightly from school to school, but an example can be found here.
Practical Hands-On Experience
Another requirement for attending veterinary school is hands-on experience in the field. This may be through volunteer work or paid work experience, for example at an animal shelter or vet clinic. This is an important way to become familiar with veterinary medicine, determine if you have what it takes, and if it is something that truly interests you.
While there is no set requirement, data from the Association of American Veterinary Medical Colleges shows an average of around 1,110 hours of animal experience per applicant. You will also need a letter of recommendation from a vet for your school application, and this can be a good way to get to know one and demonstrate your strengths and interest.
Veterinary School
There are 32 accredited colleges of veterinary medicine in the United States (compared to approximately 141 medical schools). The competition to get in is tough and the tuition is high. In-state tuition is significantly lower, therefore many people opt to attend their local vet school. Nonetheless, the average veterinarian still graduates approximately $157,146 in debt per the American Veterinary Medical Association.
Veterinary school is a four-year program, which includes 2.5 or three years of classes followed by clinical rotations in the associated veterinary teaching hospital. Students will graduate as doctors of veterinary medicine (DVM). However, in order to practice medicine they must first pass a national licensing exam (NAVLE) and a state-specific exam, depending on where they want to practice.
Internship and Residency
If a veterinarian wishes to pursue a specialty (such as radiology, cardiology, internal medicine, etc.), they will then attend a one-year internship and a four-year residency, followed by another board exam!
Continuing Education Requirements (CEUs)
Each state has different requirements for continuing education which must be met to renew a veterinary license. This is to ensure vets remain up to date on the constant advances and changes that occur in the medical field.
Skills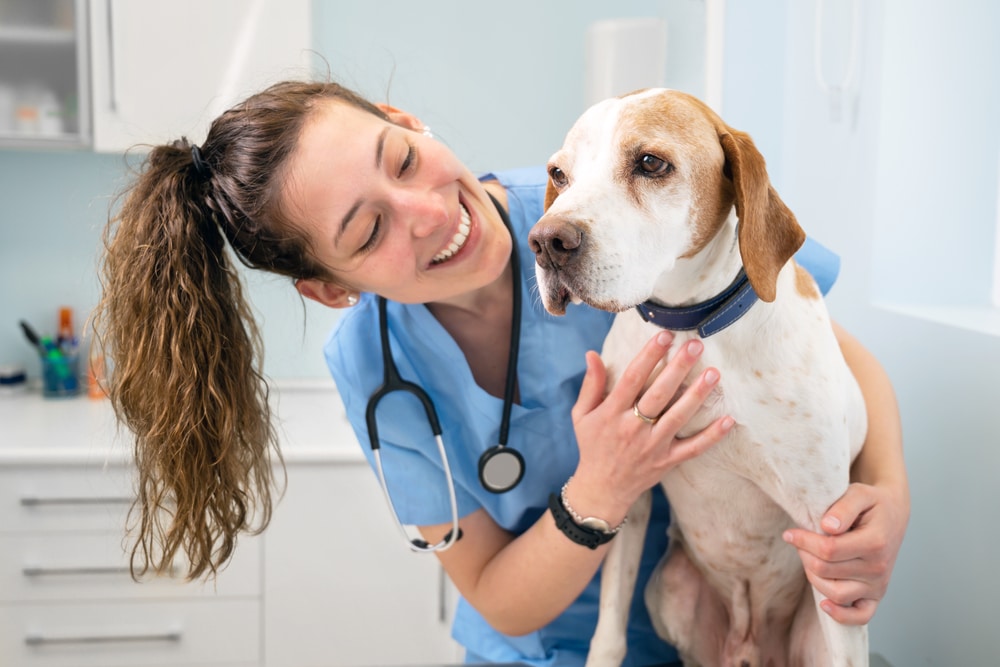 Next up, skills.
Technical Skills
These skills are taught in school and also learned through experience during clinical rotations and after entering the workforce. Veterinarians must be excellent with their hands. They need to know how to perform nose-to-tail physical exams of all body systems on multiple species, diagnostic skills such as drawing blood, collecting urine, and taking x-rays, procedures such as laceration repairs and unblocking cats with urinary obstructions, and surgical skils including spays/neuters, dental extractions, mass removals, and more.
Detailed Knowledge
As the saying goes, "real doctors treat more than one species." Because most vets work with multiple species, this requires a lot of learning – about different types of animals, body systems, disease processes, medications, etc. This is taught during classes in vet school, but a lot is also learned on the job. There are great books, online resources, and colleagues that can help vets find any information they need to best treat their patients.
Clear And Empathetic Communication
Although most veterinarians work with animals, clear and empathetic communication with human clients is also a critical part of the job. In fact, in-school vet students practice client communication with actors pretending to be owners. If a vet is not able to communicate effectively, an owner may not approve the care their pet needs. Some of the most difficult and important conversations revolve around finances and end-of-life decisions.
Leadership
This degree comes with a lot of responsibility. Whether you become an associate veterinarian or own a practice, you will be in a leadership position, working with a team of other employees, including receptionists, assistants, and technicians.
Qualities
Vets need more than academics and skills. They also need solid life traits. Here's what they are.
Compassion And Passion
This one goes without saying. Many vets are animal lovers from the start and begin on this career path from a young age. A love of science and critical thinking are also extremely important.
Calm Under Pressure
Emergencies happen frequently in this profession. A vet must remain calm under pressure and be able to make quick decisions and guide their team to help save lives when necessary. They must also be comfortable handling angry and upset clients and working long hours, all of which come with a large amount of mental and physical stress.
Dedicated And Motivated
Veterinary medicine is a big commitment. Not only is there a large financial investment, the job generally requires long hours and is physically and mentally demanding. Just like in any other caring profession, compassion fatigue and burnout are common in veterinary medicine.
While there are many wonderful parts to the job, an article on being a vet would be lacking if it did not mention the mental health crisis facing the profession, including the higher-than-usual rate of suicide. There are groups available to help support vets, such as Not One More Vet (NOMV), but the support of friends, family, and clients is also crucial.
Also, learn to be honest with yourself about your needs. Accept that you are human and will need breaks and relief sometimes. Develop self-care routines as well.
Conclusion: What Does Someone Need To Be A Vet?
Veterinary medicine is a wonderful yet challenging field. There are many qualities and skills that can help someone become a successful veterinarian listed above.
So, what else do you think it takes to be a great veterinarian? Let us know your thoughts and why in the comments below!