You are excited that you are finally going to get your fluff ball in just a couple of weeks, and you decide to go on a shopping spree. That's what I did! Before picking up my dog, Fred, I first went to the pet store and pretty much bought the whole store. Half of those things Fred does not need, though! So, what are the dog products every owner and their dog needs?
Among the tons of things you will need, the most important ones are the food and water bowl, plenty of toys, grooming supplies, a collar, a lead, and a crate. 
The Top Five Dog Products Every Owner Needs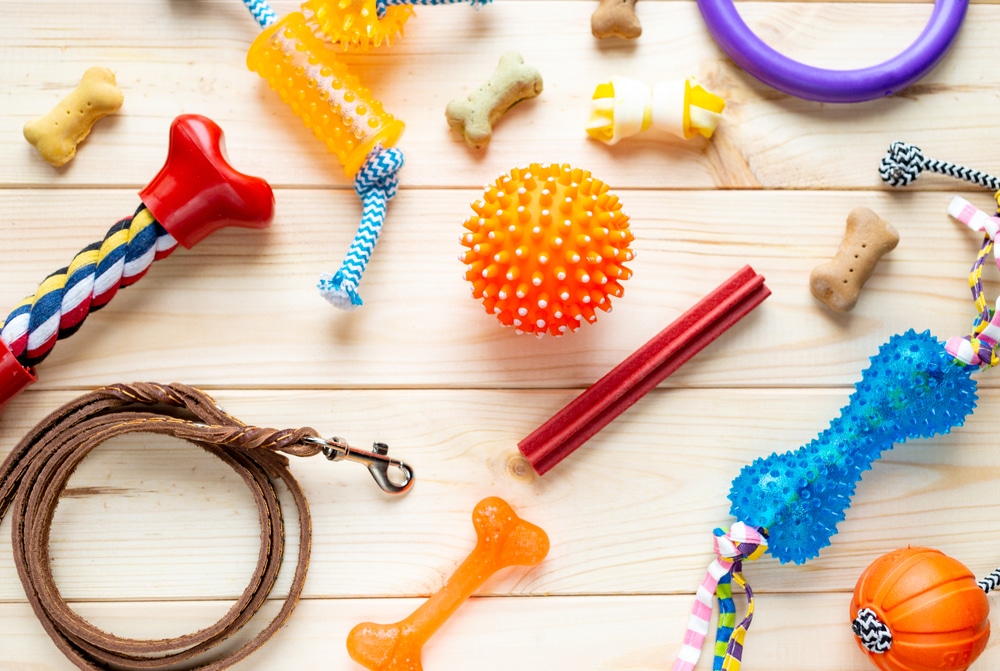 Many owners do what I did, and I get it. Even as a vet and being as prepared as I am, the excitement is still there. However, now that I look back at it, I wish someone would've stopped me and just given me a list of the most important things to get for a dog.
With that in mind, these are the top five dog products every owner needs.
A Dog Collar And A Leash
If you are getting the puppy or the dog from either breeder or a shelter, they will usually provide you with both. However, I personally always want to have at least two because you never know what might happen. In that case, rather than running to the pet supplies store to get a new one, you'll have one ready at hand. Of course, some people just want their pups to be very stylish, so they change them very often as well. As long as they are safe for the dog and reliable, trust me, the dog won't care about the color.
A Set Of Easily Washable Dog Bowls
Even though the plastic bowls may look more stylish, my personal recommendation is to always get stainless steel ones that have rubber bases. The reason for this is that plastic gets scratched, and it cannot be completely cleaned. This means that bacteria may take hold there, and some dogs start to have a rash or pimples on their limbs or around the chin. The rubber base prevents skidding when your dog has its meal. These bowls also are more easily washable too.
Crates And Baby Doors
I personally am a strong believer in proper crate training. Firstly, because it is safe for your puppy, and secondly, because it is safe for everyone and everything else too. Dogs, especially puppies, are known to chew, for example. Also, crates are a good thing to prevent accidents happening during the night or when you are away. 
Heck, I have a labrador that still loves to chew something, anything! That is why he doesn't have a single complete toy! 
Also, as far as baby doors go, those are a great way to prevent your dog from going into rooms you don't want them in. Just make sure they're big enough so your dog can't get over them.
Toys, Lots And Lots Of Different Toys
Nowadays, the pet market is full of different types of toys for owners and dogs to choose from. So, you might as well get a few different ones and see what your puppy or dog fancies more. Trust me. You will be making a lot of trips to the pet store. 
Toys are a good idea, especially when you are leaving your dog at home for some period of time. They need to keep themselves entertained, so this is a good investment. Your shoes and furniture will thank you later. 
Grooming Supplies
No matter what dog breed you will own, every dog needs to be brushed or combed at least once per day. This is to make things easier for you and your groomer. But also, this way, you get to give your dog a check-up to notice things and changes on the skin, like redness, rash, or bald spots. 
This is especially helpful because, many times, vets have been able to prevent more serious situations when owners have noticed changes while grooming. If you are not sure what to get, my advice for you would be to ask your groomer what you need to have for an everyday fur treatment of your pooch. You could also ask your vet too!
Conclusion: What Are The Dog Products Every Owner Needs?
There are far more things that owners should most certainly buy to have while they are waiting for their fluff ball to arrive. But, for me, this is actually everything I needed to start off when my dog came. Good luck with your new puppy!
So, what dog products would you recommend every owner have? Let us know in the comments below!