All vets enjoy providing the best care possible for our furry friends! Trips to the vet are a normal part of caring for any animal. But how do you know if your vet is a good one? In other words, what are the signs of a good vet?
A good vet will explain all procedures and answer any questions thoroughly while handling your pet with the utmost care. They'll also offer high-quality services without charging too much or taking advantage of you as an owner.
Signs Of a Good Vet: In The Clinic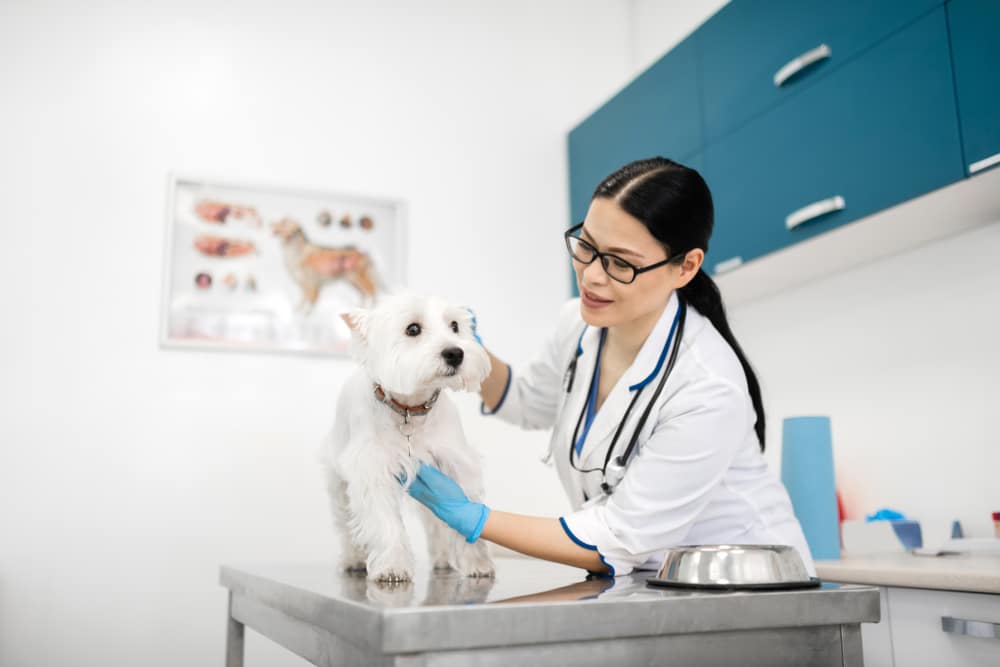 During your first visit to a particular vet, there are a few things to look out for!
In this section, we'll run through the signs of a good vet within a clinical setting.
Communication Skills
A good vet will have well-developed communication skills. These skills enable them to retrieve all necessary information from pet parents. This helps them to understand the problem and reach a diagnosis as fast as possible.
Aside from this, your vet should take the time to explain all procedures and terms to you as an owner. This is so you understand everything going on with your pet. They should also answer all your questions honestly and to the best of their ability.
Sometimes situations with our pets can be a little stressful as well. A good vet will be able to communicate well with you as an owner, no matter the scenario.
Cleanliness
A good vet will make sure their practice is always clean and tidy. The same goes for their staff too.
Doctors should always wash their hands and the examination table between patients. They should also wear scrubs or a white jacket.
Services
Most vets will be able to offer the usual routine procedures such as:
Dentistry
Vaccinations
General health checks
Minor surgeries – spaying and neutering
Basic diagnostic procedures – taking blood, clinical examinations, etc.
A vet who offers most of these often-needed services could be a good one! This is because they can build a relationship with you and your pet by lessening the need for your to visit another clinic.
The routine of going to the same vet is also beneficial because it helps reduce stress for your pet as well. It also makes things easier for you as a pet parent.
Pet Care
A good vet should also be able to educate you on the following:
Parasite control
Nutrition
Training
Pet behavior
Care products
The weight of your pet
Any question you can think of is best answered by the experts! A good vet will give you all the information you need transparently and honestly.
Signs Of a Bad Vet
If you feel uncomfortable in any way during communication with your vet, then it might be time to get a new one. Since our pets can't talk, vets rely on good communication with owners to get to the bottom of any problems.
If you don't feel at ease with your vet, you most likely won't tell them all the information they need to reach a diagnosis.
Examples of inappropriate behavior that could make you feel uncomfortable include:
Shouting
Not listening to you
Not taking into account your circumstances or budget
Not explaining everything clearly or giving you all the information
Often being late for appointments or not returning your calls or emails
Pressuring you to pay for services or products you don't want.
When talking with your vet, you should feel calm and comfortable enough to tell them as much as possible about your pet. If, for whatever reason, you don't feel this way, then it could be time to look for a new vet.
How To Choose Your Vet
If possible, it's nice for your pet to see the same vet throughout their life. In this way, both your pet and you as a pet parent will build a strong relationship with the vet. This helps ensure your pet gets the best care possible.
If possible, it's a good idea to look for recommendations or reviews for clinics you're interested in. Some examples of things to look for include:
A friendly and well-communicated service (as we discussed earlier!)
A clinic with diagnostic equipment such as blood analysis and diagnostic imaging
A clinic that can perform basic surgical procedures (dentistry and neutering)
Weekends and out-of-hours service (not essential, but good to have).
Conclusion: Signs Of a Good Vet
Aside from their services and hygiene, the most important sign of a good vet is their ability to communicate with pet parents.
So, have you had an interesting or unusual encounter with your vet? Tell us about it in the comments below!