Yey, you finally took your first step and decided to get a dog. Congratulations, you are in for a fun ride filled with many smooches, cuddles, but most importantly, a loyal companion that will be here in sickness and in health. But is it better to adopt or get a dog from a breeder?
Getting a dog from a breeder or adopting one only depends on your situation. Adopting is cheaper and gives a dog a good home, but while they may up to date on health procedures, they may also come with trauma from their past. Getting a dog from a breeder is more expensive and may require you to pay for those early health procedures, but you will get the kind of dog you want.
Adopting From A Shelter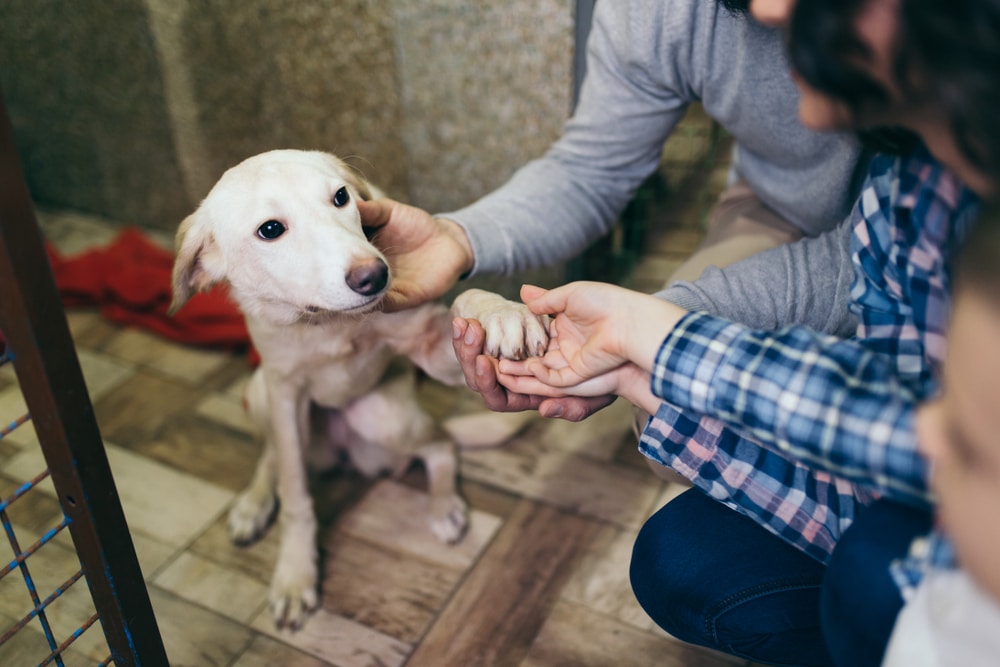 Nothing is more rewarding than giving new meaning to an abandoned dog's life.
Dogs are in our lives for a short time, and while there is nothing we can do to change their past and the life the dog lived before coming into our lives, we can help re-write their future.
However, there are some things to consider when adopting a dog. Thus, let's look at the pros and cons.
Pros
Wondering why you should choose a puppy or an adult dog from the shelter? Here's why.
You Save A Life
By adopting a dog, you are saving the life of the dog that's coming home with you, but also, you are leaving space for another rescue dog to take its kennel and be given the opportunity for a new happy life as well.
The latest survey shows that 40% of people in the USA tend to adopt their pets from a shelter or rescue group.
Most Shelter Dogs Have Received Veterinary Care
More shelter dogs have already been pre-chipped, vaccinated, and received the necessary veterinary care.
Once dogs enter the shelter's establishments, the workers need to follow the strict guidelines for the use of vaccines in shelters.
This means that you won't have to go through the expensive process of getting a puppy, and, additionally, the dog leaving the facility is more likely to be sprayed or neutered, so it saves you another expense.
Many Dogs Are Already Potty Trained
Not all dogs you find in shelters are rescue dogs from the streets or have been abused by their previous owners. Sadly, dog owners often have to give up their perfect dogs due to their financial situation, moving somewhere new, or something similar.
So, many dogs in shelters are already well trained, know how to behave indoors, and, most importantly, have been potty trained.
You Save On The Initial Expense
Adopting a dog is less expensive than getting one from a breeder. Of course, we don't mean shelters give dogs away for free, but they are not there to make a profit out of it.
Cons
Let's look at the cons now.
Possible Trauma
Not all dogs entering through a shelter's doors are well cared for. Many of them have experienced trauma, even abuse, by their previous owners and might require extra care.
You Might Not Find The Breed You Are Looking For
Shelter dogs are often mixed-breed dogs, and more often than not, if you are looking for a specific breed, you might leave the facility empty-handed.
But keep in mind that mixed breeds are just as smart and capable and are even less prone to have inherited the genetic problems of purebreds.  
There May Be A Dose of Mystery Behind The Dog's Health
As dogs enter shelters from all backgrounds, sometimes it's hard for the shelter to know the exact medical history of the dog, even though they carry out medical screenings. This is just something to be aware of.
Getting A Dog From A Reputable Breeder
Just like with adopting a dog, getting a dog from a breeder has its pros and cons too. Let's take a look.
Pros
First, let's look at the pros.
You Get The Breed You Want
With shelter dogs, it's a bit tricky to get the breed you want. But, with breeders, you get exactly what you want. So, if you are only interested in one particular breed, look for breeders for that type of dog.
You Get A Puppy From The Start
Getting a puppy is everyone's dream. You get to watch as the dog gets older and more mature, and even those sleepless first few months are worth all the joy that comes after. You get to train your dog to behave the way you want to.
The Dog's Been Socialized
Most breeders take particular care to ensure the dog you get from them receives the proper socialization. The puppy stays with its mother for the first eight weeks while getting mixed with people and dogs too.
You Get Informed About The Dog's Health
Every breeder knows how important it is for people to be aware of a dog breed's possible health issues upfront. For instance, Samoyeds have some common health problems as a particular breed, so the breeder informs you of their inherent genetic problems upfront.
Cons
Now, let's take a look at the cons.
It's More Expensive To Buy From A Breeder Than To Adopt From A Shelter
The cost of getting a dog from a breeder may be twice the cost when adopting from a shelter. But, if there is a particular breed you want, money shouldn't be an issue.
Puppies Need More Vet Care In Their First Year
However good it sounds to get a puppy, they are quite costly the first year. This includes all the necessary health procedures such as vaccines and spaying and neutering.
And even then, studies show that purebred dogs are prone to more health challenges, so you might spend a lot to keep your dog healthy and happy.
Final Thoughts: Is It Better To Adopt Or To Get A Dog From A Breeder?
Nothing is purer than a dog waiting for you at home or wiggling its tail when it's walking time. Is it better to adopt or to get a dog from a breeder, though? Ultimately, that's up to whatever your situation and needs are.
So, do you plan to adopt or get a dog from a breeder? Let us know which one and why in the comments below!