Do your dog's paws look dry? Argan oil sounds like the correct answer for a doggy's dryness problem. But, as incredible as it sounds, I have to ask myself, "Is argan oil safe for dogs' skin?"
Argan oil is safe for dogs' skin. Over 20 years of research about this oil shows us two things. One is that it's safe and good for moisturizing our dog's skin, and two it helps with itchiness.
Where Does Argan Oil Come From?
Geographically from Morocco, where the argan tree is native, this tree is a slow‐growing spiny tree whose lifespan can exceed 200 years. It is particularly adapted to survive in arid conditions.
Argan kernels, from which argan oil is prepared by mechanically cold-pressing them after being slightly roasted, are trapped in the fruit of the argan tree.
What Are The Benefits Of Argan Oil For Dogs?
When used externally, Argan oil is well known in Morocco for:
Its skin healing effect. Even though it is promoted for humans, it has proved it can help to cicatrize small and superficial wounds in dogs' skin.
Revitalizes and hydrates dry skin. It is perfect for when we have dogs that scratch constantly. By applying argan oil regularly to the skin of dogs, we can correct and prevent the dryness and itching that comes with it.
Makes hair shine. Thanks to the fatty acids in the argan oil like linoleic acid (omega-6), oleic acid (omega- 9), and linolenic acid (omega-3) among others, argan oil makes the dogs' fur smooth and shiny.
How To Use Argan Oil For A Dog's Skin?
First, make an allergy test. Apply a little bit directly to its belly skin. If it doesn't get a rash after 30 minutes, you can safely use it on the rest of its skin,
As it is a natural oil, you don't need to be afraid for the well-being of your dog if you used the argan oil just on its skin. If you want to know if you can give your dog argan oil as an oral supplement, you should consult with your head veterinarian. It's also a good idea to consult with them before performing the skin allergy test too.
Argan oil spreads easily so you will only need a little amount of it. Put the oil in your hands and softly massage your dog's skin, including its paws, between its claws and its nose. Be careful with its eyes. Also, make sure your dog is clean before you use the argan oil so you won't make a mess with dirt and dust (giving a bath first is a good idea).
How Often Can I Use Argan Oil For A Dog's Skin?
Once a week is a good idea; you can make a routine of it. First, brush its fur, then apply the oil with a soft massage. Once a month you can cut its claws too, so, that way, you'll give it a full spa experience at the time you take care of its health.
How Can I Get Argan Oil For A Dog's Skin?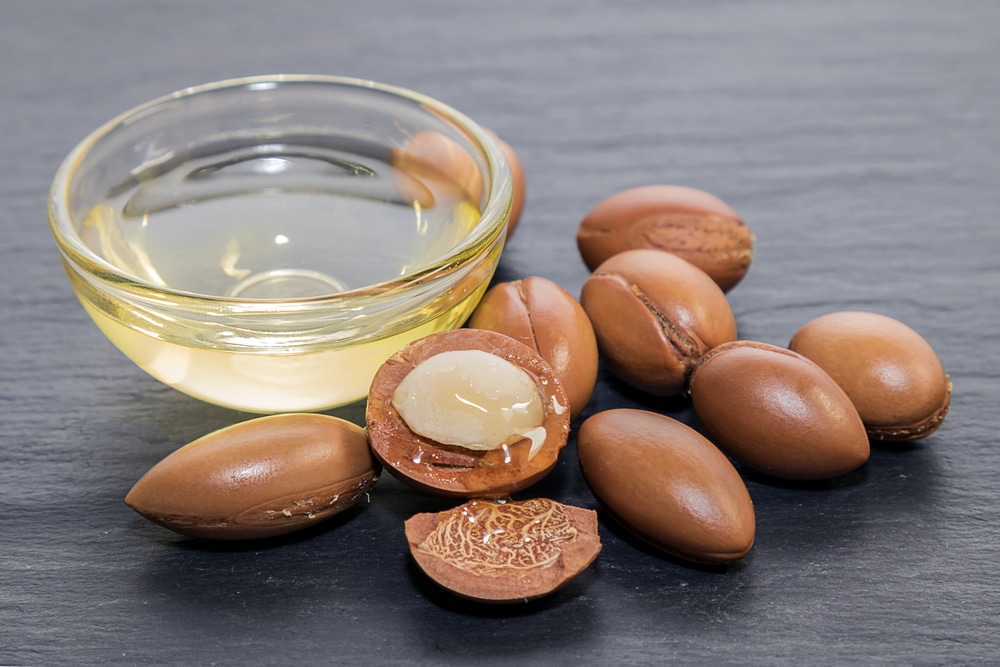 There are some animal-use products in the market with argan oil as shampoos and supplements, but the edible argan oil you can find easily at the supermarket, at Amazon, or at a health food store. Using edible argan oil will ensure that if your dog licks it, it won't get intoxicated or vomit.
Similar Products To Argan Oil
Coconut oil is just as safe as argan oil but cheaper. It doesn't have its healing properties, but it will still moisturize the skin.
Are There Any Risks For Dogs With Argan Oil?
As safe as argan oil is a dog should never be in danger unless it has an allergic reaction. In that case, you always can use coconut oil.
Also, despite its healing properties, you should always get veterinary advice if the wound is too deep, if it doesn't heal after 3 days, or if it gets red and hot after the first use of the argan oil.
Key Takeaways: Is Argan Oil Safe For Dogs' Skin?
So, is argan oil safe for dogs' skin? It's one of the many questions that dog owners ask themselves in the search for techniques and products that keep their dogs in good health and comfort. We have begun to use human health products whose effectiveness and safety have been scientifically studied and proven. This includes argan oil too.
So, what are your reasons for wanting to use argan oil on your dog's skin? Let us know what's going on and why in the comments below!