Getting a dog is exciting but there are lots of things to think about since it's a big commitment to take on. Dogs need a loving home, plenty of exercise, a healthy diet, a comfy bed, toys to keep them occupied, and so on. This takes a lot of time and also costs money. So, how much money does it cost to take care of dogs?
The average monthly cost of owning a dog ranges between $40 and $290. These costs also vary greatly depending on where you live, your lifestyle, and your unique dog. It is important to consider monthly expenses, annual expenses, and one-time expenses. When it comes to matters like the cost of dog care, everything is relative.
A Quick Note About This Article
Please remember expenses can change for a variety of reasons. They can be based on the breed, area, and more.
Also, these numbers are, of course, best approximations based on experience and research. Always estimate expenses higher than what you see here so you're not caught off-guard.
Expenses For Taking Home A New Puppy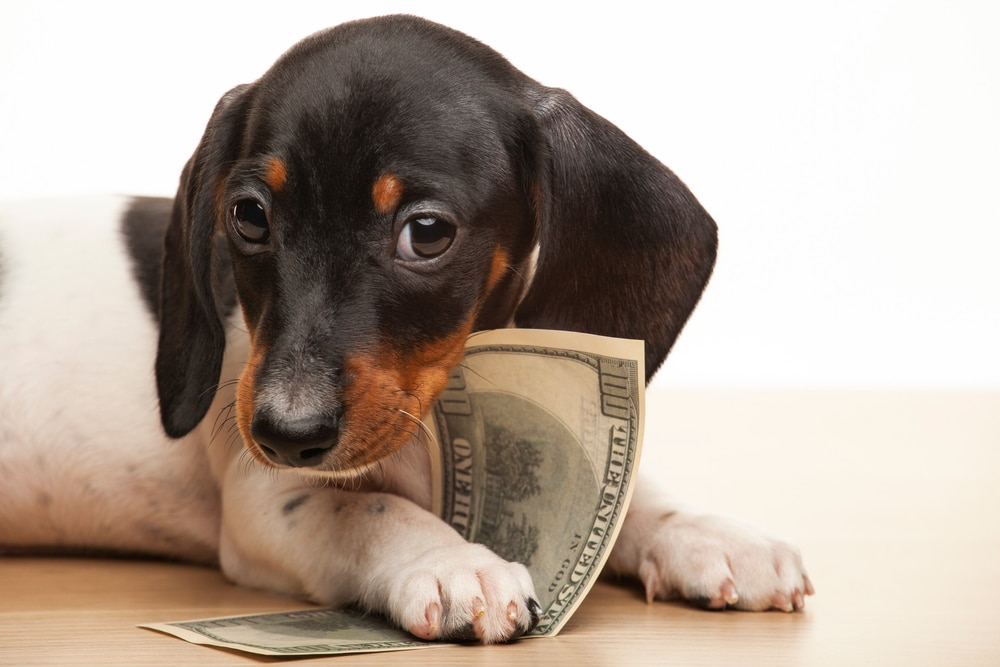 Puppies are adorable, but they are also a great responsibility. Being a responsible pet parent (and a new one at that!) requires you to be aware of the expenditures involved in caring for a puppy, and new puppy parents can be taken by surprise.
So, let's dig in and count everything so you are ready for your new puppy!
Adoption And Breeder Fees
Whether you adopt a puppy from a shelter or buy one from a breeder, getting your new dog will usually cost you money.
The most expensive initial choice is to purchase a puppy from a reputable breeder, who often charges $500 to $2,000 or more for each puppy. Many respectable breeders make an effort to produce healthy puppies and avoid breeding animals with inherited medical issues, such as those affecting the hips, eyes, heart, skin, or other organs.
Considered one of the priciest breeds available for purchase, Samoyed puppies range from $600 to $1,500. Some can cost $3,000 or more, particularly if they come from bloodlines with awards.
Vet Visits, Spaying/Neutering, And Vaccinations
Puppies must have routine veterinary care to ensure their development and well-being are on track.
At about eight, twelve, and sixteen weeks old, puppies have routine health examinations, so paying for multiple visits to the vet over the first year is to be expected.
Microchipping and treatments to prevent flea, tick, and heartworm infections are additional veterinarian costs.
Puppies are vaccinated at six, eight, ten, twelve, and sixteen weeks of age. When puppies reach adulthood, they typically only require a booster shot here and there.
The overpopulation of dogs is reduced by spaying and neutering. Other benefits of these procedures are better health and lowering the risk of cancer.
Depending on the veterinarian's office, where you reside, and the size and age of your dog, neuter/spay surgery can cost anywhere from $35 to $500.
It's Expensive Being A Dog Parent
Apart from the initial expenses when you're bringing home a new puppy, there are a lot of ongoing expenses when raising a dog throughout the years. We gathered, calculated, and listed some of them.
Health – Regular Visits, Emergencies, And Dental Hygiene
Regular veterinary checkups and treatments are crucial to maintaining your dog's health. A wellness visit at the vet will cost between $200 and $300 every year, so budget on going there once or twice a year.
You should brush your dog's teeth with special toothpaste and brush as well as do regular checkups. Dental cleanings are typically priced between $300 to $800 for simple cleanings and may be advised as frequently as once a year.
Of course, if your dog develops a health issue, vet bills will be higher, which typically comes with age.
Nobody can accurately predict the future because unexpected events frequently occur in life. Emergency situations, chronic illnesses, disasters, and other unplanned expenses can cost hundreds or even thousands of dollars each year.
It can cost anywhere from $500 to well over $5,000 to visit the emergency veterinary facility.
Food And Treats
It's crucial to provide your dog with nutritious dog treats and high-quality dog food. Typically, this costs between $20 and $60 each month ($250 to $700 a year).
The cost of feeding your dog varies depending on its size, level of energy, and the quality of the food.
Pet Gear – Toys, Beds, And Collars
Dog toys are a crucial component of mental and physical stimulation for your dog, and they cost money too. A really destructive dog may go through toys more quickly, so if you have one of these dogs, invest in toys made for "tough chewers."
Every dog should have a comfortable bed, and maintaining one or two in your home will cost you $50 to $200 a year. Investing in long-lasting, high-quality, and inexpensive dog beds can help them last longer and cost less overall.
Your dog has to wear a collar and needs at least one leash. Most dog owners spend $20 to $50 on leashes and collars a year, although one leash and collar combination might be durable enough to survive for several years.
Entertainment – Boarding And Daycare
You'll need to consider dog walking expenses if you work all day or if you're busy the whole day. A professional dog walker charges $15 for a 30-minute walk.
If you enjoy traveling but are unable to bring your dog along, you may need to either find a pet sitter or board it at a kennel. One-night boarding for one dog costs, on average, $40. If you travel with it, you have to get your dog a passport.
Grooming Costs
Dogs with thick, unmanageable coats or long hair need regular special grooming at least once per month.
With specific dog breeds like the Samoyed, you have the option of bathing them yourself or taking them to a skilled groomer. Groomers most likely bill by the amount of time used on the dog. Usually, Samoyeds cost $80-$90 and require 2 hours to groom.
Obedience Classes Or Training Resources
Your canine companion will learn polite behaviors including how to sit, stay, and walk on a leash in dog training sessions like puppy kindergarten.
By enrolling in group sessions, you may socialize your puppy with other dogs and people from an early age and save money compared to hiring an individual dog trainer.
Your Dog's Breed Could Determine How Much You Spend
Breed influences the cost of everything on a variety of levels. It might be due to size, body weight, fluffiness or temperament, or many other characteristics.
Mixed breeds, Dachshunds, Chihuahuas, or Beagles are the breeds that require spending the least on them on a monthly basis (less than $100).
Australian Shepherds, Goldendoodles, Pit Bulls, and German Shepherds fall towards the middle of the price spectrum somewhere between $100 and $149 each month.
Depending on your dog and some of the choices you pick, the monthly cost of your Samoyed might range from $60 to $300.
You'll spend much less money if you adopt a puppy from a shelter, and you will be doing a good deed. However, this source does not offer a guarantee for breed, characteristics, and health, and for a medical issue you can end up paying thousands of dollars.
Final Words: How Much Money Does It Cost to Take Care of Dogs?
Every new dog owner might ask themselves, "How much money does it cost to take care of dogs? Can I afford it?" Well, the average monthly cost of owning a dog may differ depending on different factors. However, it usually ranges between $40 and $290, and we always advise planning for emergencies too.
So, how much do you think you spend or will spend on your dog monthly? Let us know in the comments!