A career as a vet is an exciting and fulfilling one! Even from a young age, many of us have aspirations to help animals and care for the environment. But how does someone become a vet?
The journey to becoming a vet begins during the application process (which varies between countries). It then continues through a long course at university with many subjects and exams. Afterward, it means applying to jobs and finding one that fits your needs.
Getting Into Vet School
The road to becoming a vet is a difficult one but doable! Before allowing students to enroll, most universities have strict entry requirements across a range of criteria.
In this section, we'll explain what vet schools often look for during the application process.
As a disclaimer, please note in this section, we describe the requirements in general. Please refer to your specific school of interest, as specific criteria vary from country to country and between universities.
Academic Requirements
Usually, admissions tutors will want to see a strong academic background. This is especially the case in the areas of biology, chemistry, and mathematics.
If possible, the student should have studied the above courses to an advanced level relative to their current education.
Extra-Curricular Activities
During the application process, admissions tutors often look for evidence that a student has lots of motivation to study veterinary medicine. They also want to see that the student understands what a career as a vet entails. This is to decrease the chances they'll quit the course before they graduate.
Essentially, they want to see that prospective students understand veterinary medicine is not just about cuddling cute animals in the clinic!
Examples of extracurricular activities which could help boost an application include:
Roles demonstrating leadership or teamwork (participating in clubs or societies)
Placements in veterinary clinics, on farms, and in slaughterhouses
Volunteer work (especially in animal-related organizations)
Other Requirements
Some schools may also ask applicants to take an entrance exam or attend a preparatory course. Most universities also hold interviews before they make the final decision.
The Journey To Becoming A Vet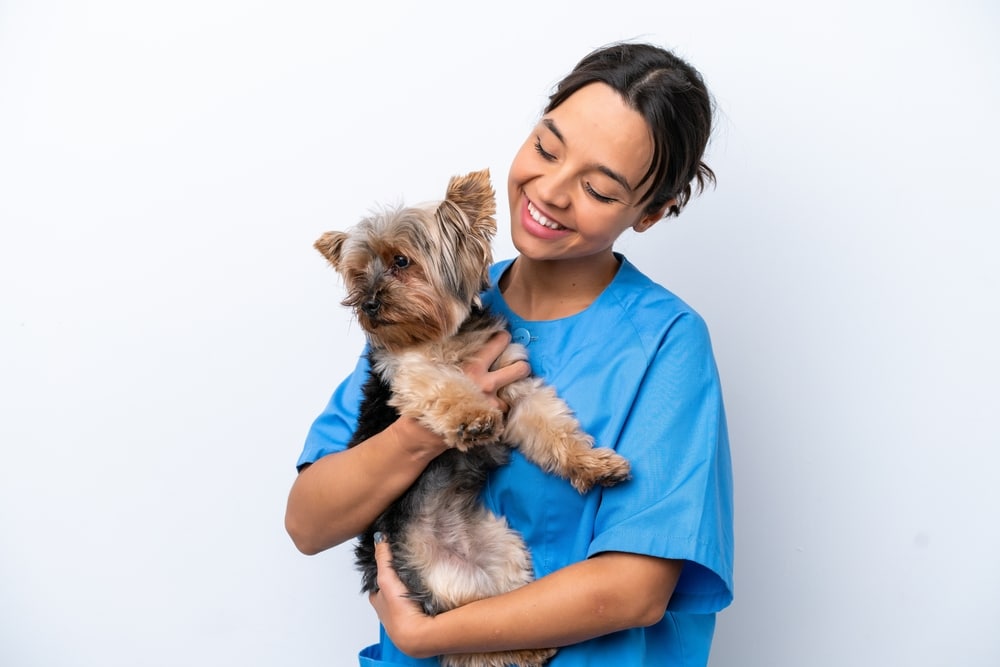 Studying medicine is very different from most other university degrees! In this section, we'll briefly explain how.
Study Subjects
Before learning how to help sick animals, first, it's important to learn everything related to how a healthy animal functions.
Usually, the first part of the degree focuses on the following subjects:
Anatomy
Physiology
Biochemistry
After mastering the basics, students are then ready to learn more advanced subjects such as:
Pharmacology
Pathology
Clinical skills
Surgery
Exams
It wouldn't be a university without some exams! After each course is complete, students must usually take exams before moving on to the next study year. Exams can be in written or oral form (sometimes even both!).
Some subjects may also require students to pass midterms or collect activity points before taking the final exam.
Placements
Although veterinary schools have a reputation for keeping their students for a long time, it's not possible to learn everything during the studies!
Many universities also require students to complete compulsory placements at different types of veterinary institutions during their holiday periods. This helps ensure they get hands-on experience in all areas of veterinary medicine.
Extra-Curricular Activities
Veterinary school is hard work, so it's important for students to have opportunities to relax or pursue their interests.
Often veterinary universities will offer the following opportunities to students:
Social events (parties, celebrations, and career days)
Participation in sports teams or events
Participation in veterinary student societies
Volunteer positions within clinics or projects.
After Vet School
The education veterinary students receive enables them to apply for a range of positions after graduation.
It's a common misconception that all veterinarians work in clinics! Many vets perform vital roles in public health, food production, laboratories, slaughterhouses, and working with wildlife.
Conclusion: How Does Someone Become a Vet?
To become a vet, students undergo training and education within a range of subjects and environments. They also must pass lots of exams and complete placements outside of their university.
So, do you plan on becoming a vet? Let us know your thoughts and why in the comments below!