When choosing a veterinary clinic, there are a few factors that are good to take into account. Price, location, services provided, and relationship with pet parents are all important in making your choice. But should we also be looking for veterinarians who are specialized in relation to a specific breed? For example, how could you find out if your vet works with Samoyeds?
Usually, most veterinarians do not have a preference for specific breeds of dogs. So, it's usually safe to presume your vet will work with Samoyeds. If you want to find out whether a vet has previous experience with Samoyeds, you can always contact them prior to your visit.
Do All Vets Work With All Species?
The training veterinarians receive at university gives them the theoretical knowledge and basis to be able to treat all species. Depending on their experience and personal preference, most vets then choose the type of work they want to perform.
Below we've listed some examples of jobs performed by veterinarians:
Small animal clinician (dogs, cats, exotics)
Large animal clinician (farm animals and or horses)
Zoo veterinarian
Rescue center veterinarian
Public health veterinarian
Food safety veterinarian (for example, in an abattoir or food production facility)
Wildlife veterinarian
After finishing veterinary school, there is a range of career opportunities for veterinarians. Vets play an important role not only in animal health but in human health and the health of the environment as well.
How To Find A Suitable Vet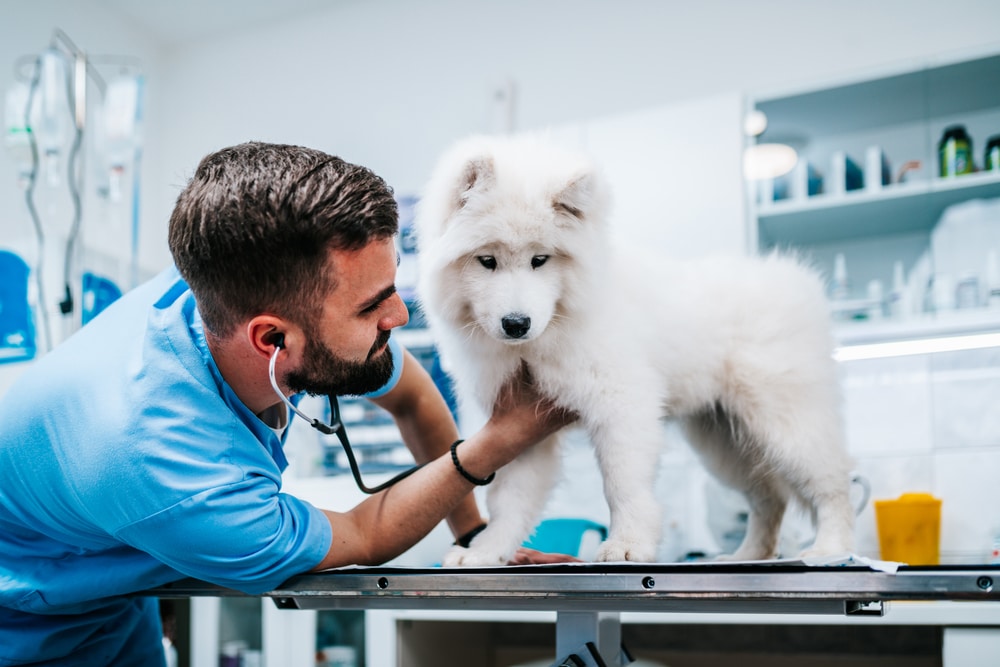 Finding a suitable vet doesn't just involve finding a doctor who has experience and good knowledge. It also involves finding a clinician who you feel comfortable with and trust, in addition to having a good relationship with your pet.
Finding a suitable vet can involve researching the doctors in your area and asking for recommendations from people you know. You might also want to visit the facility beforehand and talk with the veterinarians working there.
Conclusion: How Can I Find Out If My Vet Works With Samoyeds?
If you're particularly interested as to whether a vet has experience working with Samoyeds, feel free to give the clinic a call before your visit.
It's important to find a veterinarian who gets along well with both you and your dog so that any problems or concerns can be addressed in an efficient and relaxed way.
So, how are you going to find out if your vet works with Samoyeds? Let us know in the comments below!