No matter how well we look after our pets, sometimes health problems occur that need emergency veterinary attention. How do we, as pet parents, know that a particular situation is an emergency, and where can we find emergency vets?
Veterinary clinics usually clearly display an out-of-hours or emergencies page on their website. On this page, pet parents can see the number to call when their pet needs emergency veterinary attention. Additionally, owners can search for emergency clinics online.
Where To Look For Emergency Veterinarians
In an emergency, finding a vet in your local area is best so you can get there without delay. If possible, it's preferable to go to your usual clinic. This is because your pet will already be registered in their system, which makes the process of admitting them smoother.
If it's not possible to go to your usual clinic, look online for other veterinarians in your area. If your pet needs to see a clinician outside of usual practice hours, such as during the night or on the weekend, you'll probably need to look for the phrase "out-of-hours service."
Before you rush to the clinic, though, it's best to call the vet and ask about:
Your pet's symptoms to determine if it really is an emergency
Whether your pet can be seen straight away
The possibility of a home visit
Signs Your Dog Needs To See An Emergency Veterinarian
Below we've listed some examples of situations and symptoms indicating your pet needs to be examined by a veterinarian as soon as possible:
Unconsciousness
Seizures
Difficulty breathing
Bloody diarrhea or vomit
Bleeding
Eye injuries
Choking or serious coughing
Unable to move, pass urine or feces
Swollen or very painful abdomen (especially large breeds)
Blue color of tongue or paw pads
Suspected broken bones
Contact with hazardous chemicals
Eating foreign objects or poison
Hit by a car
Falling from a high level
Disclaimer: the above points are to be used as a guide only. It's best to contact your veterinarian before you arrive at the clinic if you think your pet is in critical condition. This can also help them to prepare for their arrival. Also, the above is not an exhaustive list, and it's always better to be safe than sorry when it comes to pets.
What To Do While You Wait For The Vet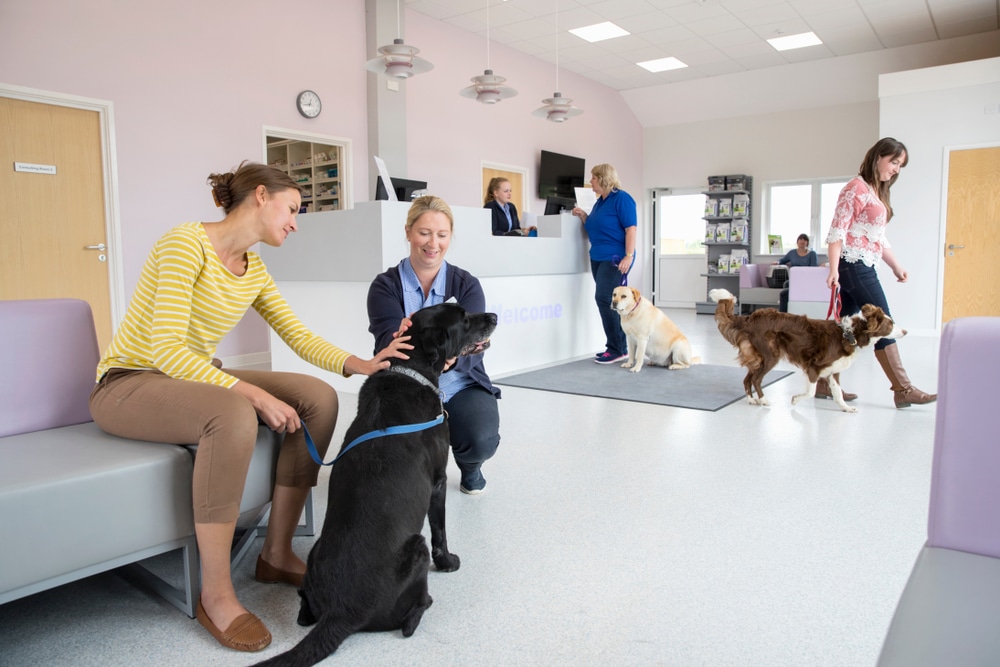 In an emergency situation, there are a few things you can do to help your pet. In this section, we'll give a few examples of things pet parents can do, either on the way to the clinic or while waiting for the vet at home or in the waiting room.
Try to keep calm and remember the first thing to do is to bring your dog's medical records.
My Dog Is Bleeding
Just as you would in the case of human bleeding, apply firm pressure to the affected area. If you can, do this using a sterile material (such as gauze or cotton). However, don't waste time finding such material if it's not readily nearby. The priority is to stop the bleeding and help the blood clot.
My Dog Ingested A Hazardous Substance
If you think your dog has ingested the substance, try to bring a sample of any feces or vomiting with them. Additionally, be sure to advise the veterinarian of any suspicion as to what it may have been and how much you think your pet has eaten. If you can, bring a sample of the suspected substance with you as well.
It Came Into Contact With A Hazardous Substance
If you think your dog has got something hazardous on their skin or in their eyes, wash the affected area with lukewarm water. Additionally, bring a sample of the suspected substance with you.
It Is Having A Seizure
As heartbreaking as it may be, in this situation, the best thing is not to touch your dog. Try and minimize the risk of them injuring themselves by moving any objects they could come into contact with.
My Dog Experienced Trauma
If your pet has suffered a mechanical injury, such as falling from a high area or being hit by a car, it's important to move them as little as possible. To bring them to the clinic, you can try maneuvering them using a strong, flat surface (such as a plastic sheet) as a kind of stretcher.
How To Be Prepared For An Emergency
Unfortunately, sometimes, emergency situations can occur, leaving little time for thought or discussion. Below, we've listed a few things pet parents can do to help prepare for such circumstances:
Consider pet insurance
Research local emergency veterinary services
Keep your pet's documents in an easy to access place
Conclusion: How Can I Find Emergency Vets Near Me?
Veterinarians in your area can usually be found by researching online. When you've found a suitable vet near you, be sure to check their opening hours and whether they offer an emergency or "out-of-hours" service.
Taking these steps, in addition to the tips we mentioned, can help pet parents be more prepared for an emergency situation with their pet.
So, how prepared are you in case of an emergency like the above? Let us know what you plan to do in the comments below.