Mashed potatoes are an all-time favorite for us humans. Combined with mixed veggies and some meat, it makes the perfect lunch whenever your family or friends are visiting. But can you share some of the leftover mashed potatoes with your dog? In other words, can dogs eat mashed potatoes?
Generally speaking, potatoes and mashed potatoes are safe for your dog, but only if they are cooked without any additives.
Do Potatoes Have Nutritional Value For Dogs?
This root vegetable brings many good things with it that are beneficial for both humans and dogs. Potatoes are rich in vitamin C, vitamin A, and vitamin B6. A great number of antioxidants also help the body fight off cell oxidation, prevents the deterioration of the nervous system, and help boost immunity.
Another nutritive value is that they are rich in fiber, which helps in keeping the digestive system healthy, as well as helps maintain healthy digestion. Potatoes are also rich in minerals and micronutrients such as magnesium, iron, potassium, and calcium, which are helpful for maintaining healthy kidneys, heart, bone growth, and metabolism.
Another not that commonly known thing that is actually becoming more and more popular is a disease in dogs known as DCM or Dilated Cardiomyopathy. This condition is connected with the excessive ingestion of legumes, and studies have shown that dogs that have had lots of peas and lentils in their diets are more prone to developing this condition. Luckily, potatoes were not on this list, which is why they are used as an ingredient in balanced meals, especially in dogs that may show or are suffering from DCM.
Are There Downsides To Dogs Eating Potatoes?
Unfortunately, there are several. Potatoes are vegetables that are incredibly rich in carbohydrates. This means that if your dog is diabetic or prone to obesity, you should avoid feeding it potatoes in any way. Sometimes owners are not aware their dog is diabetic, which means excessive and regular feeding with potatoes could make things worse for your dog.
Potatoes also contain an ingredient called solanine, which is both toxic to humans and dogs if the potato is ingested raw. If, by any chance, your mischievous dog has gotten its paws on raw potatoes and you see it chewing, please make sure to remove it as soon as possible. Here are the signs every owner should look out for if they think their dog has ingested a raw potato:
Tummy problems
Vomiting
Abdominal pain
Weakness
Lethargy
If this happens, please contact your vet right away.
So, Can Dogs Have Mashed Potatoes?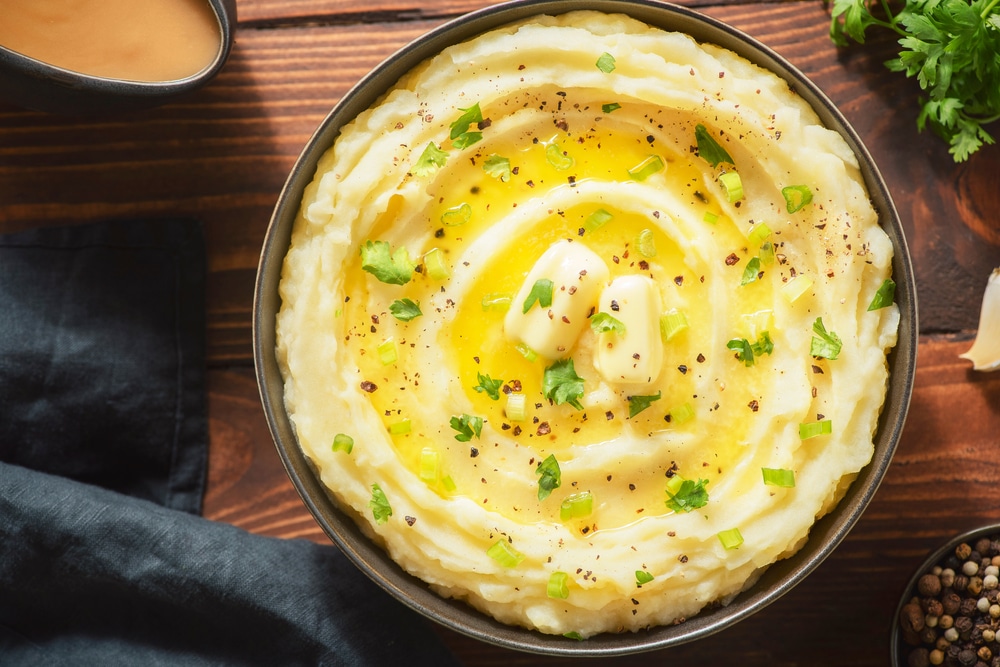 Mashed potatoes are great for your pooch if you prepare them for them. That means that you need to peel, bake, roast, or boil the potatoes and then serve them. Add-ins like seasoning, salt, pepper, or butter and milk are not recommended for your dog, as it could cause them some tummy issues.
Also, if you are thinking about making mashed potatoes for yourself and you add garlic or onion and consider sharing with your dogs, please don't! Garlic and onion are highly toxic for dogs.
Instant mashed potatoes should be okay as long as they don't contain any of the above ingredients and just mashed potatoes, but don't make it a habit of giving them to your dog.
The Final Verdict About Mashed Potatoes
Our recommendation is to boil a potato just for the dog and then mash it without adding anything to it. That way, you can make sure your dog will be safe when they eat the mashed potatoes.
So, do you plan on giving your dog mashed potatoes to eat? Let us know in the comments below!