We all have seen either in person on TV how dogs can help people. Because dogs are man's best friend, they would pretty much do anything for us, and they do not expect a lot in return. With that said, there are some breeds that can make great therapy dogs because of their characteristics to help humankind even more. But just what are the dog breeds that make for the best therapy dogs?
Some of the best dog breeds for therapy dogs include the Miniature Poodle, Yorkshire Terrier, French Bulldog, Cavalier King Charles Spaniel, Dachshund, Labrador Retriever, Golden Retriever, Newfoundland Dog, German Shepherd, and the Standard Poodle.
Defining Therapy Dogs And Service Dogs
To everyday humans, whenever they see a dog with a vest on that says, "Do not pet me, I am working," it does not make a difference if the dog is a service or a therapy dog. However, there are differences between the two dogs, as we explain below.
Service Dogs
These are dogs who have gotten specific training in order to better assist a human with disabilities, or they are dogs who are specifically trained to be used in the military or alongside police.
Therapy Dogs
These dogs are usually helping their owners, and they provide comfort and compassion in senior citizen homes, schools, or hospitals.
Keep in mind that not every dog can be called a therapy dog, though. Even they need to pass an exam in order to get certified as therapy dogs. Training usually begins with the dog learning some basic commands like sit, stay, paw, etc. These dogs usually pass the Canine Good Citizen test. After that, they may need to pass a specific setting test provided by a different organization, depending on what type of environment the dog has been trained in.
Are There Different Types Of Therapy Dogs?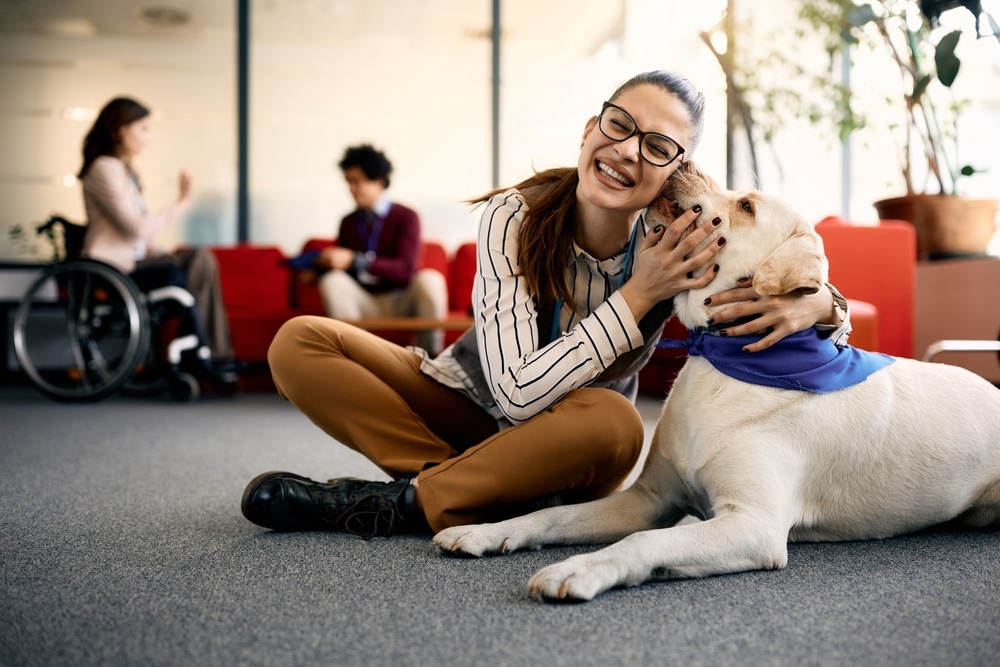 Therapy dogs can be classified into two groups.
Therapeutic Dogs
These are dogs that have been certified to visit hospitals, nursing homes, schools, or any facility where they can provide comfort and calmness to patients and students.
Animal-Assisted Therapy Dogs
These dogs usually stay in one institution, and they usually are used for even more tasks, such as helping people start walking again.
What Traits Should A Therapy Dog Have?
Not every dog can be a therapy dog. Maybe they can, but they may require a lot of training. However, people who prepare dogs to be service and therapy dogs always look for certain traits in puppies when they hand-pick them out of a litter.
For starters, the puppy needs to be willing to please, meaning they should accept training with ease. But the most important thing is character. Trainers who work with these dogs always prefer calmer, mellow, and patient dogs, dogs who are not afraid of constant human contact.
They need to be gentle and loving and must always be ready to follow a command. This is why not every breed is suitable to be a therapy dog, and it is why trainers are quite picky when it comes to future therapy dogs.
What Are The Most Commonly Used Therapy Dogs?
Even though not every dog and every breed are meant to be a therapy dog, there are certain breeds that will fit right into the profile. Here's what they are, starting with the small breeds.
Small-Breed Therapy Dogs
Here's what they are, starting with the miniature poodle.
Miniature Poodle
This does not come as a surprise because this breed is known to be very smart and easy to train. Also, they do not shed, which makes them perfect for people who may suffer from allergies.
Yorkshire Terrier
Small, fast, and very lovable, this terrier is the perfect therapy dog for nursing homes and schools.
French Bulldog
These are lap dogs and couch potatoes who love the companionship of people. French bulldogs are great for kids and the elderly, however, they may give them a smell bomb from time to time.
Cavalier King Charles Spaniel
This breed is small, energetic, and easily trainable.
Dachshund
The famous sausage dog could also be a famous therapy dog. They are small cheerful pups that love the company of people.
Medium-To-Large Breed Therapy Dogs
Here's what they are, starting with the labrador retriever.
Labrador Retriever
These dogs are famous for being lovable, playful, and an easy-to-train breed of dogs that is commonly used as therapy dogs.
Golden Retriever
These are the cousins to the labs, so it does not come as a surprise that they fit the therapy breeds group just perfectly! However, they are a bit bigger than the labs, and they do require a bit more grooming
Newfoundland Dog
This gentle giant is known to have a mellow character, which is why it is the perfect dog for therapy. The only downside would be all the slime it may produce and leave on you.
German Shepherd
These are big loyal dogs that can be easily trained. They make the perfect therapy dog when you need assistance with physical therapy because they can be there with you.
Standard Poodle
Just like the miniature one, this dog is great for therapy. Don't let that long curly hair fool you! Just as an example of how versatile the standard poodle can be, this breed has been used in the army too!
Conclusion: What Dog Breeds Make The Best Therapy Dogs?
Many different breeds can be helpful to individuals and their communities. Basically, dogs are amazing, and the fact they can be therapy dogs just adds to a long list of already incredible things they can do.
So, what dog would you like for a therapy dog? Let us know which one and why in the comments below!