Dogs are often considered part of the family and deserve to be showered with love. As their birthday rolls around, most owners may wonder though, "Should I celebrate my dog's birthday?"
Birthdays are the perfect opportunity to make your pup feel special. Obviously, they're special every day, but a birthday is a great excuse to make the day all about them! They'll probably have no idea what all the fuss is about, but we're sure they won't complain about any extra love and attention.
Top Five Reasons To Celebrate Your Dog's Birthday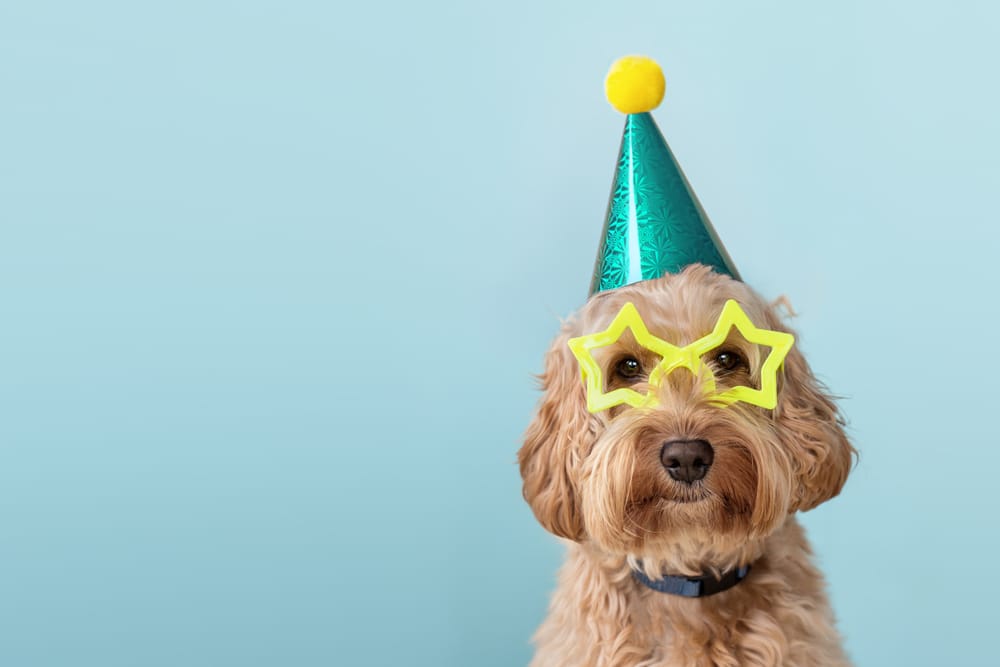 If you're still not convinced, here are our top five reasons to celebrate your dog's birthday.
It's A Great Way To Bond
It's easy to take the interaction with our pets for granted, especially when they are around us for most of our time at home. An upcoming birthday is an ideal reason to put time aside in our busy schedules to really focus our attention on the ones we're celebrating. Your dog may not know it's their birthday, but they'll love the extra attention they receive because of it.
Creating Shared Memories
Dr. Seuss once said, "Sometimes you will never know the value of a moment until it becomes a memory." As we know, our furry best friend's time on Earth is usually much shorter than we would like it to be. The years often fly by, and many people end up regretting not grabbing more opportunities to create memories with their pups. Celebrating your dog's birthday is one of the many ways you can put in the extra effort to create those memories that both of you will cherish for a lifetime.
Excellent Photo-Ops
Birthday paraphernalia makes great props for some incredible photos. Whether they showcase full-fledged party decorations or a simple celebration, nothing is cuter than pictures of your pet on their birthday. I shared 13 wonderful years with my childhood dog, Ruby, and my most cherished picture is one we took on her 6th birthday, featuring her smiling behind a single cupcake with a candle on it.
You just have to make sure all the food and decorations are pet safe, and your dog doesn't end up hurting themselves at their own party! Some pups may be afraid of balloons, and strange new things like party hats, so make sure to introduce them slowly to avoid making your pet uncomfortable during their celebration.
It's A Chance To Try Your Hand At Baking
There are lots of recipes for yummy, pet-safe dog "cakes" that will allow your furry friend to indulge in the best part of a birthday: the cake! Plus, you can choose your dog's favorite treats and snacks to include in your creation to make sure your dog gets the ultimate birthday treat made especially for them.
Birthday cakes meant for humans can be harmful to dogs because of their high sugar and fat content, which puts your pet at risk of tummy upsets and painful diseases such as pancreatitis. Chocolate cakes are especially toxic. Furthermore, foods containing any form of chocolate should never ever be given to a dog because the theobromine in chocolate can be fatal if they eat enough of it.
Make It A Social Event
Throwing a pooch pawty for your dog and all its furry companions is a great way to encourage them to meet new friends and develop important social skills. It's always a good idea to start them young and make sure your dog is well-equipped for socialization before throwing them a big birthday bash, though.
Some dogs may not be thrilled at the idea of having lots of strange dogs running around their home. If your dog seems nervous around new dogs, invite only one or two familiar or well-mannered dogs over to celebrate with them. If your dog seems territorial and aggressive, it might be a good idea to move the party out of their home territory to allow them to get to know the other dogs in a more neutral space first.
How To Celebrate Your Dog's Birthday
Just like us, dogs have different personalities. It is important to consider their needs when planning their celebration. While the extroverts may love a big party with lots of friends, the more timid pups may enjoy a more quiet celebration at home with their family.
The way you celebrate will depend on that and many other factors, but here are some ideas for your dog's next birthday:
Throw them a party with their favorite human or doggy friends
Treat them to their favorite food
Whip up a dog-safe smash cake for them to enjoy
Sing happy birthday to them!
Book a photoshoot with your dog
Make birthday decorations and props
Plan a day out with your pup
Try a new experience with them, like swimming or hiking
Get them presents!
Just hang out and spend some quality time with them
In Conclusion: It's Time To Start Planning Your Next Pooch Pawty!
Whether it's an all-out party or a quiet evening at home with just you and your dog, celebrating your dog's birthday will remind you to intentionally take the time to be present with your pet. Even though they may not know why the day is special, they will surely appreciate the extra affection, and the experience will bring you even closer to your pet. Dogs are so special and deserve to feel loved and appreciated; celebrating their birthday will do just that!
So, how do you plan to celebrate your dog's birthday? Let us know in the comments below!