Life is full of adventure, and one of the most enjoyable activities for many people is taking a road trip with their beloved dog. Road trips provide a wonderful opportunity to explore and create unforgettable memories with your furry friend. But how can you prepare yourself to go on a road trip with your dog?
When going on a road trip with your dog, it is important to make sure you are prepared. First and foremost, be sure to bring all the necessary equipment for your pet, such as a leash, food and water bowls, toys, treats, and any medications they may require. Plan for regular potty breaks so you can easily pull over when needed, and research pet-friendly hotels to stay overnight. Observe local regulations on animals and consider safety measures to ensure your pet's safety.
How To Prepare A Dog For A Road Trip
If your dog has never been on a road trip before, it is important to properly prepare them so they are comfortable on the journey. Start by taking short car rides around town and gradually increase the length of your trips.
This will help your dog get used to shorter travel distances and the motion of being in a vehicle. Make sure you reward good behavior with treats and play breaks throughout the journey. Additionally, invest in a dog seat belt or car harness to keep your pet safe while driving.
8 Tips For How To Go On A Road Trip With A Dog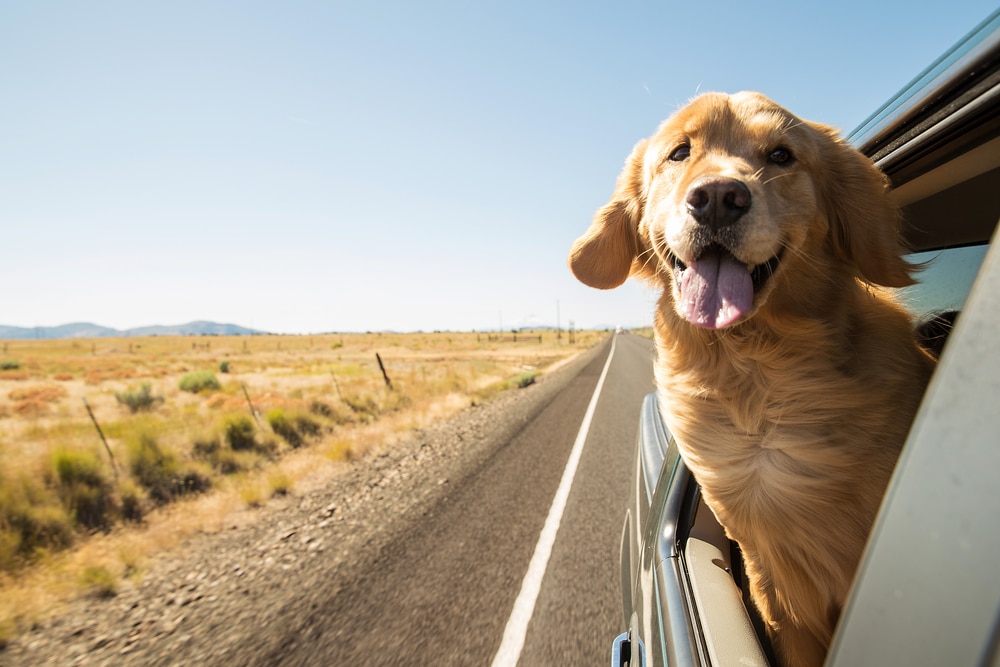 Road-tripping with your pup can be a memorable and enjoyable experience. Proper preparation is essential to make sure everyone has an enjoyable journey. Here are eight tips for making the most of your adventure.
Prepare Your Car For The Trip
Ensure your car is in good condition and you have all the necessary supplies for your pet before taking a trip. Check brake fluid levels and tire pressure, and fill up on gas. Bring a pet seat cover to protect the seats from dirt and wear, as well as a water bowl to keep your furry friend hydrated during the ride.
Bring Necessary Equipment And Food
Before embarking on your road trip, make sure to have the necessary items for your pet. This includes a collar and leash, food and water bowls, toys, treats, any medications they require, poop bags, and a blanket or bedding for extra comfort.
Additionally, it's important to stock up on food specifically designed for your pet so that they get the nutrition and energy needed for a successful journey. Preparing ahead of time in this way will ensure you're off to a good start.
Plan For Regular Potty Breaks
Planning for nature calls is a crucial part of the road trip. You should stop every two or three hours for your pet to stretch its legs and do its business.
Be sure to find safe and pet-friendly places for your pups to relieve themselves, such as parks, rest stops, or grassy areas. This will help keep them comfortable and avoid any accidents in the car.
Consider Safety Measures
Safety should always be your top priority when traveling with a pet. Invest in a pet seat belt or crate to secure your pup while driving and keep them safe if you need to stop suddenly.
There are also car harnesses available that will help protect your dog from injury due to airbag deployment in the event of an accident.
Plan for Emergencies
Be prepared to face unexpected circumstances while on the road. So, it's always important to plan for emergencies when traveling with your pet. Have a first aid kit ready with items like bandages, gauze, antiseptic ointment, and tweezers.
Also, research the nearest animal hospitals in case of an emergency. Ensure you have the contact information of your vet and any pet insurance information.
Ensuring Your Pet Is Appropriately Identified
It is important to ensure your pet is properly identified with a collar, including contact information such as your phone number and address. Investing in GPS tracking devices may help in the event of them becoming lost or separated from you during the trip as well. This can help you quickly locate them if necessary.
Research Pet-Friendly Hotels
When planning your road trip, you should research pet-friendly hotels along the route in advance. This will help you find a place that is comfortable for both you and your pup when it comes time to rest for the night.
Be sure to check with each hotel regarding their pet policies and fees to ensure you know exactly what is expected of you.
Observe Local Regulations On Animals
Be sure to observe local regulations regarding animals when traveling with your pet. There may be restrictions on where your pup can go or how long they are allowed to stay in certain areas, so be aware of these regulations to avoid any potential issues.
It is also important to make sure your pet is vaccinated, as some areas may require proof of vaccination before allowing your pup to enter.
In Conclusion: How To Go On A Road Trip With A Dog
Taking a road trip with your pup can be an unforgettable experience. Ensure their comfort and safety by preparing the essential items, planning frequent potty breaks, considering safety precautions, properly identifying them, researching pet-friendly hotels, and observing local animal regulations. With thoughtful planning, you and your furry friend can create lifelong memories on the journey!
Are you planning on taking a road trip with your dog soon? Got any other tips? Let us know in the comments below!